Over 100,000 protest against Netanyahu's government in Israel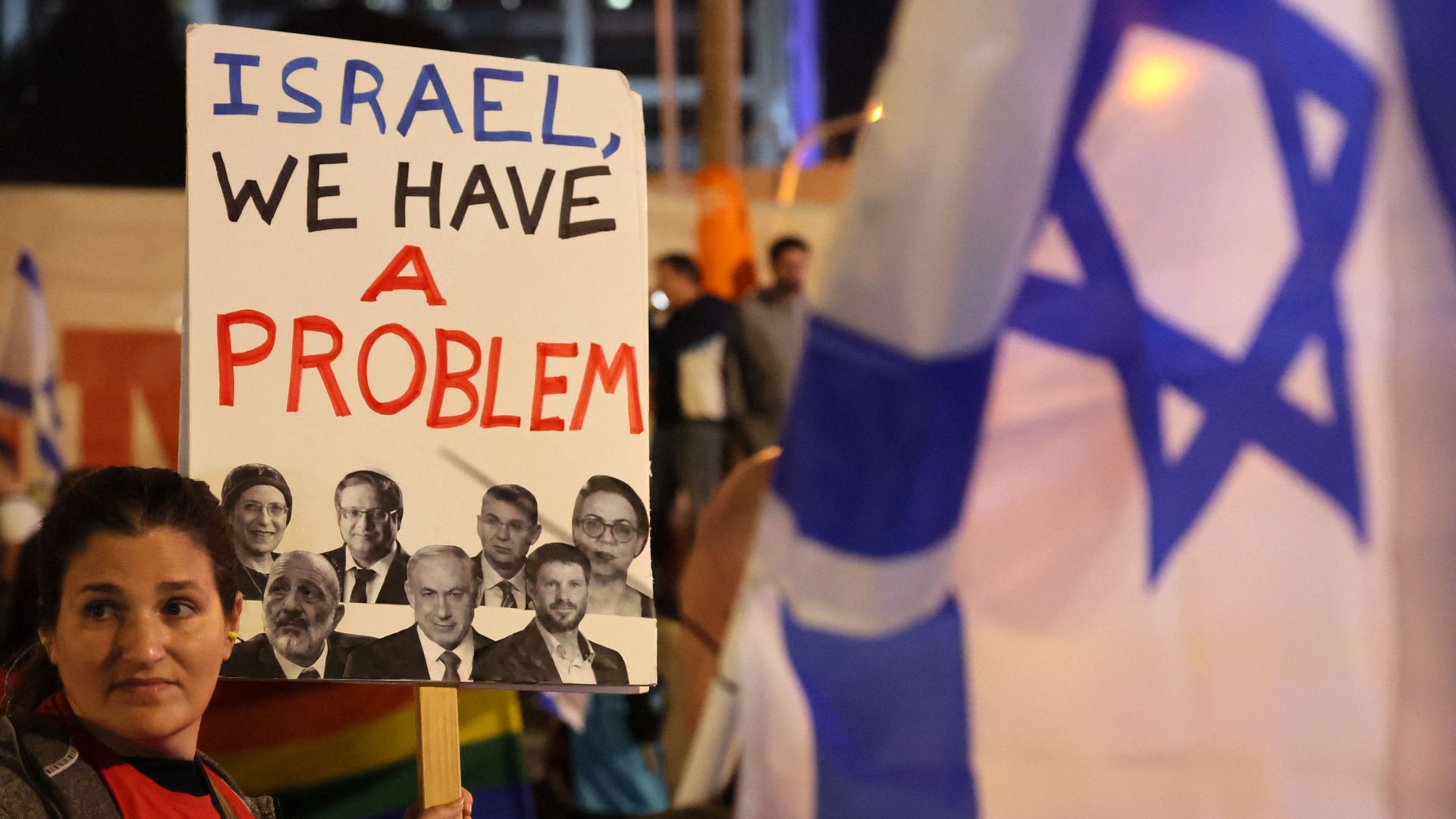 TEL AVIV — Over 100,000 people across Israel on Saturday rallied against Prime Minister Benjamin Netanyahu's government amid growing anger over the ruling coalition's plans to weaken the Supreme Court and other democratic institutions.
Why it matters: It's one of the biggest shows of public protest against an Israeli government in years. It also comes amid an unprecedented standoff between the government and the judiciary.
Driving the news: In addition to anger over the judicial overhaul plan, protesters are outraged that Netanyahu still hasn't said how he will respond to this week's Supreme Court ruling revoking the appointment of Aryeh Deri as a senior minister.
Deri has said he will not resign, leaving Netanyahu with a decision that risks either defying the judiciary — a move that would be unprecedented — or potentially upending his coalition.
The Supreme Court said the appointment of Deri, leader of the ultra-Orthodox Shas party and a key Netanyahu ally, was "extremely unreasonable."
Deri, one of Israel's most powerful politicians, has been convicted of criminal offenses twice, including last year, when he agreed to a plea bargain in which he admitted to tax offenses.
When Deri signed his plea deal, the prosecution and the judge made it clear that they understood he was leaving political life. But less than a year later, he ran for office again, claiming he never said his departure from public life would be forever.
State of play: Thousands on Saturday also rallied in Herzliya, a coastal city just north of Tel Aviv that rarely sees protests.
At least 10,000 protested in the northern city of Haifa, and at least 3,000 rallied outside the president's residence in Jerusalem. Another anti-government demonstration took place in the southern city of Beersheba, a stronghold of Netanyahu's Likud party. Demonstrations were seen elsewhere across the country as well.
Protesters in Tel Aviv carried Israeli flags and chanted "democracy" and "shame."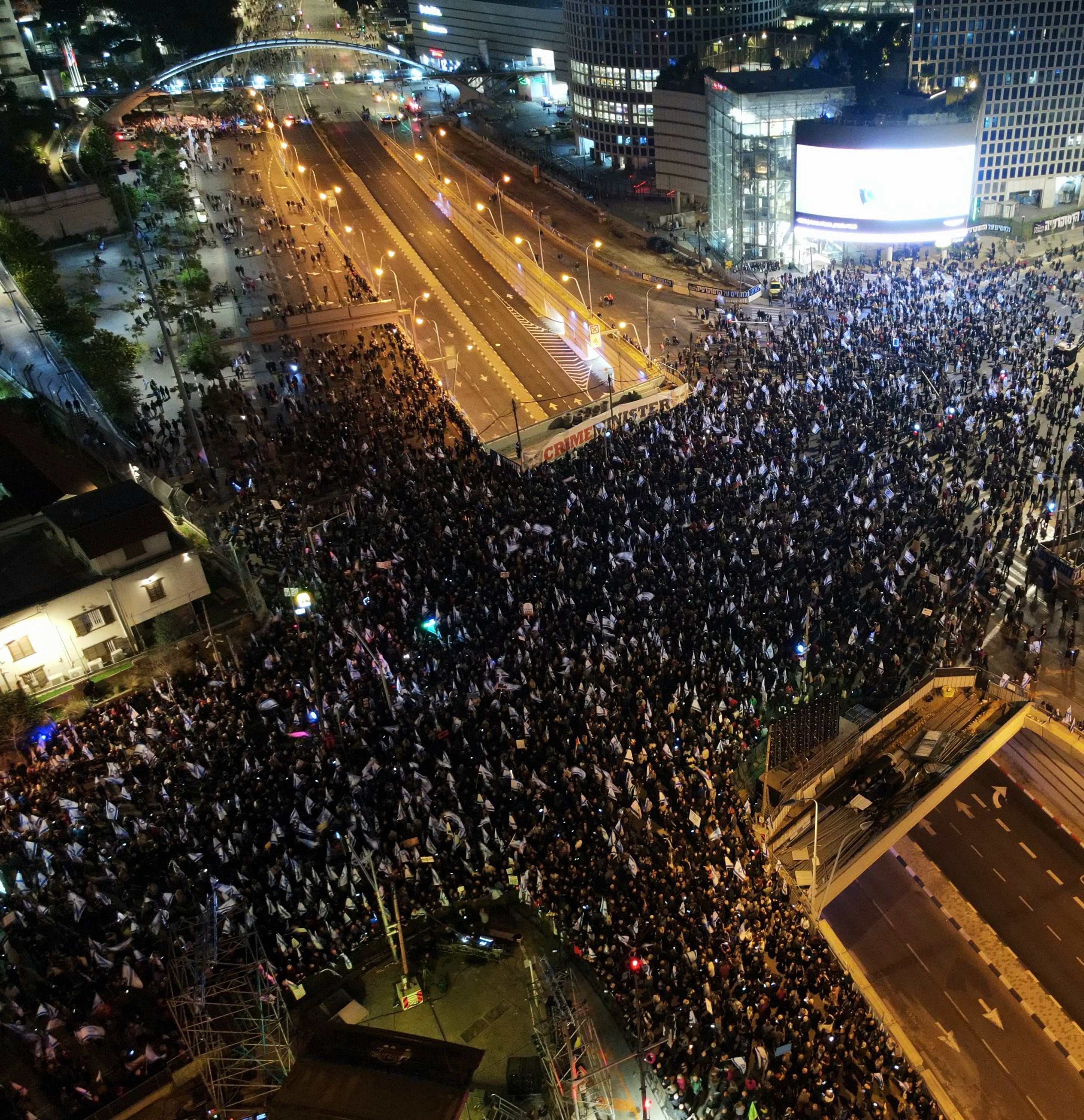 The big picture: Netanyahu's government, defined by the most right-wing and religious coalition in Israel's history, has been in power for less than a month.
Its judicial overhaul plan, if implemented, would significantly limit the Supreme Court's ability to review laws and strike them down.
The plan includes passing a law that would allow the governing coalition to override Supreme Court rulings by a simple majority of 61 votes in the 120-member Knesset.
It also seeks to end the Supreme Court's ability to revoke administrative decisions by the government on the grounds of "reasonability," significantly decreasing judicial oversight.
The plan envisions giving the government and the coalition in parliament absolute control over appointing judges.
Additionally, the plan includes changing the law so that ministers would be able to install political appointees as legal advisers in their ministries, something that is not under their authority today.
Between the lines: The judicial overhaul plan was presented as Netanyahu stands trial for fraud, breach of trust and bribery. He denies any wrongdoing.
Former Defense Minister Moshe Ya'alon in a speech in Tel Aviv told protesters that "a country in which the prime minister appoints all the judges when he is on trial is a dictatorship."
What they're saying: Israeli opposition parties, grassroots organizations and others have come out strongly against the plan, with legal experts saying it will eliminate the ability of the judicial branch to do the checks and balances against the executive and legislative branches, which are both controlled by the governing coalition.
What to watch: Deri's aides said he is planning to attend the cabinet meeting on Sunday — a move that would be seen as defying the Supreme Court ruling.
This is a developing story. Please check back for updates.
Go deeper