Zelensky: West has "vaccine against Russian tyranny" — more weapons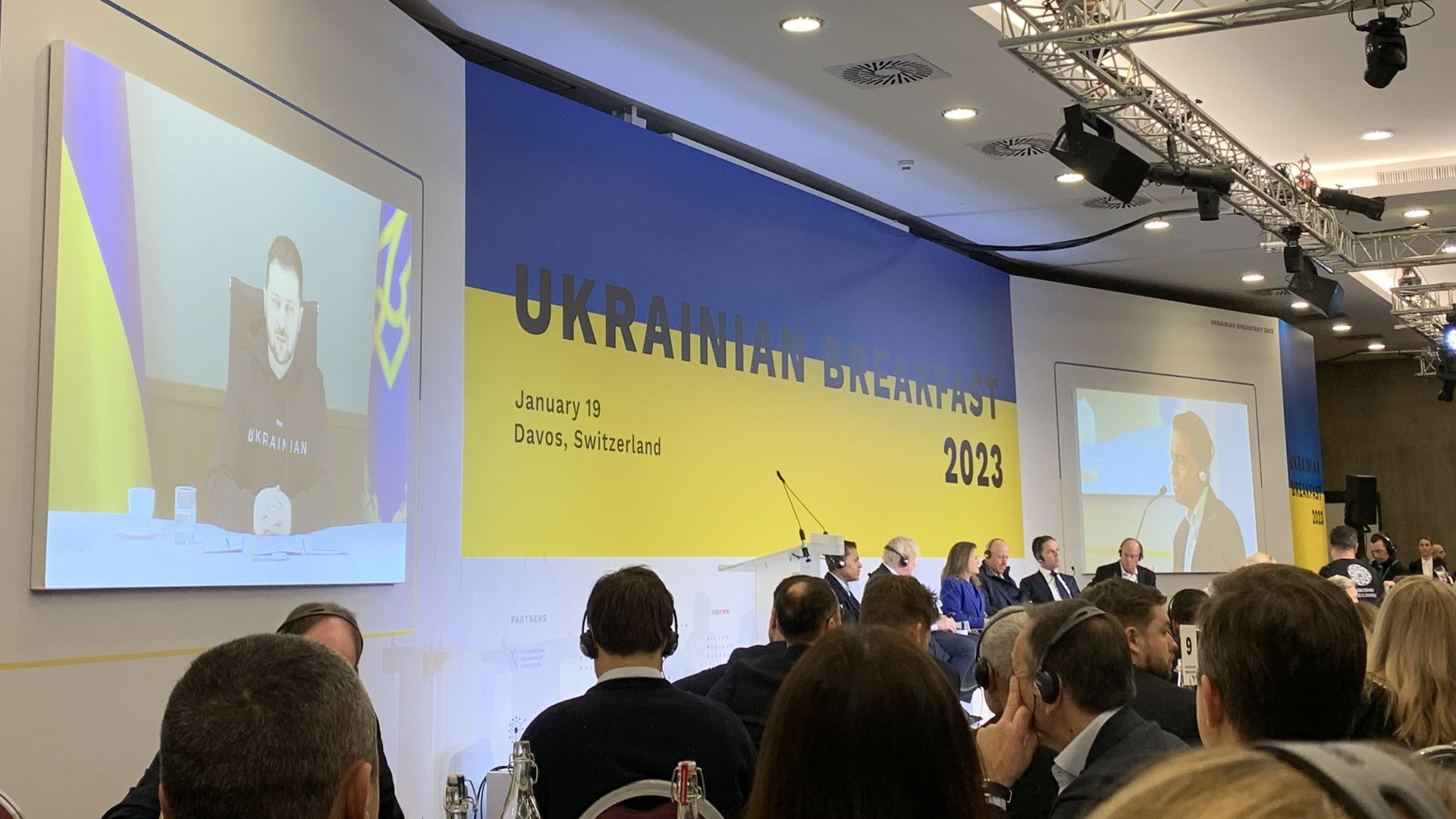 Ukrainian President Volodymyr Zelensky on Thursday urged his Western partners to deliver Ukraine "the vaccine against Russian tyranny" — more sophisticated weapons, particularly longer-range missiles.
What he's saying: "The vaccine against Russian tyranny is available. There is a list of countries that have it, there is a list of what we need. There doesn't have to be dialogue, just do it," Zelensky said in a virtual address to a breakfast event packed with Western officials and billionaires in Davos.
Referring to concerns in Washington that U.S.-made weapons might be used to attack Russian territory, Zelensky said Ukraine needed longer-range weapons just to defend against Russian strikes inside its own territory.
Asked whether he intended to use those weapons to try to re-take Crimea, Zelensky replied: "This is not an intention. This is our land. Our target is to de-occupy all of our territories. Crimea is our land, it is our territory, it is our sea and our mountains. Give us your weapons and we will bring our land back."
Zelensky was far less definitive when asked about when peace talks with Moscow might begin. He claimed he was not even certain Vladimir Putin was still in charge, and expressed skepticism that anyone in the Kremlin was seeking peace.
"Who is the circle of people making decisions? I don't understand clearly who are we dealing with here. When we talk about peaceful negotiations, I don't understand with whom," he said.
Driving the news: Zelensky got a boost from former U.K. Prime Minister Boris Johnson, who was among the several high-profile speakers at the breakfast on the sidelines of the World Economic Forum. Johnson called on Western leaders to stop worrying about provoking Putin and give Ukraine what it needed to win the war as quickly as possible.
"He's not going to use nuclear weapons, ok? He's never going to do it," Johnson said, contending that Putin knows he would lose the support of countries around the world including India and China, face "economic cryogenic paralysis," and terrify his own population.
"Give them the tanks, give them the tanks, there is absolutely nothing to be lost," Johnson said.
Speakers at the event, which attracted one of the largest crowds Axios has seen in Davos, included Netherlands Prime Minister Mark Rutte, Canadian Deputy Prime Minister Chrystia Freeland and U.S. climate envoy John Kerry. BlackRock CEO Larry Fink, Goldman Sachs CEO David Solomon and other business leaders spoke about the challenge of rebuilding Ukraine.
Freeland argued that the rebuilding should be funded in part by handing frozen Russian assets over to Ukraine, an idea that is gaining traction internationally.
After Freeland quoted ice hockey legend Wayne Gretzky, Johnson quipped that Putin should "get the puck out of Ukraine."
Kerry referenced his own experience fighting in Vietnam, a war he felt was a mistake. "There's no one who has picked up a weapon in Ukraine who has put their life at risk for a mistake."
Between the lines: The breakfast came toward the end of a week where Ukraine featured as one global crisis among many, rather than squarely at the top of the Davos agenda, as it was last spring.
Go deeper