Alec Baldwin to face involuntary manslaughter charges for "Rust" shooting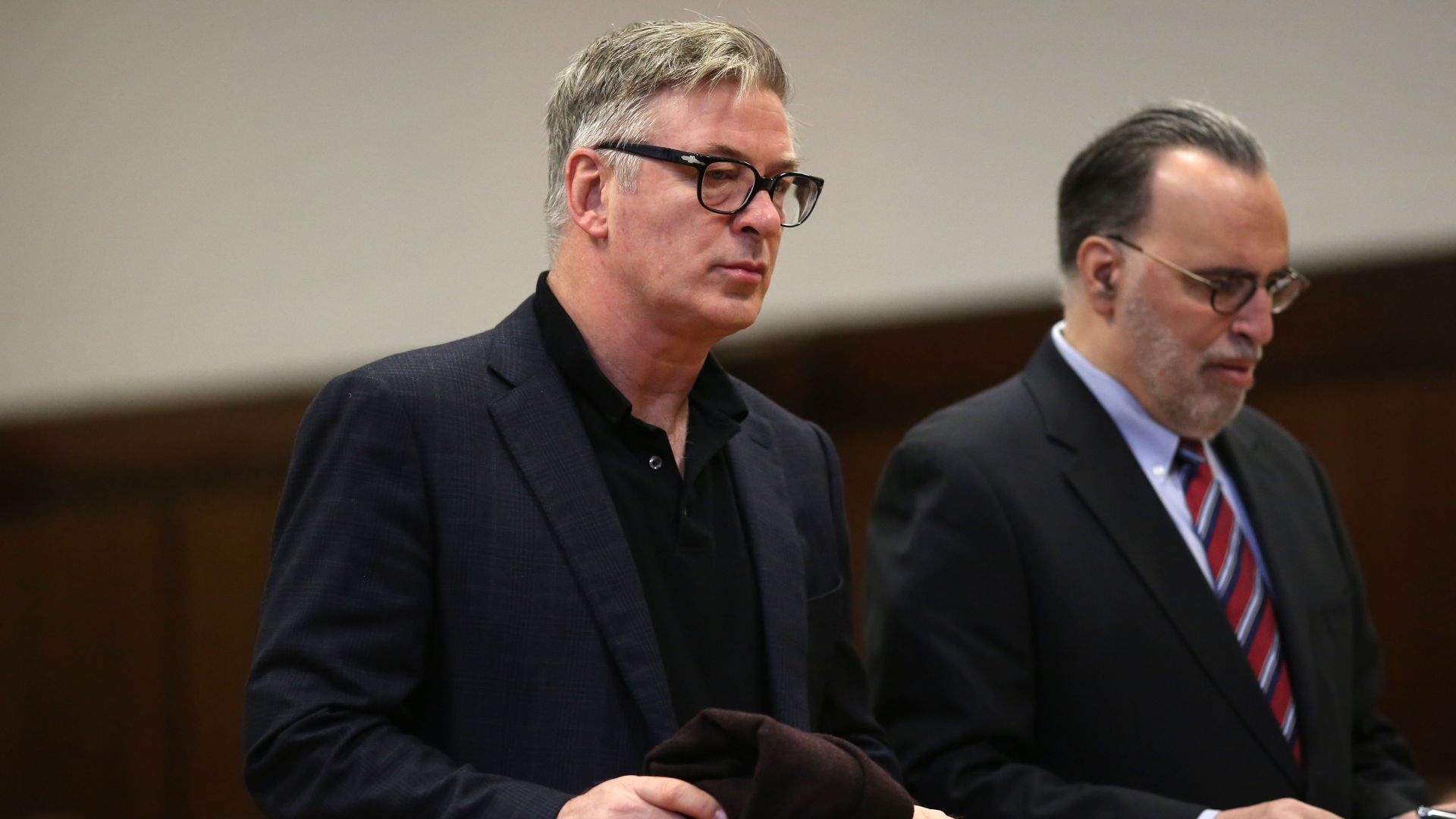 Actor Alec Baldwin will be charged with two counts of involuntary manslaughter in the fatal "Rust" set shooting, New Mexico's district attorney's office said Thursday.
The big picture: The announcement comes after Baldwin allegedly fired a prop gun, killing "Rust" crew member Halyna Hutchins and injuring another person on the movie set in October 2021.
Baldwin has denied responsibility for Hutchins' death, arguing there should not have been any live rounds on set, per Reuters. He told ABC News he never pulled the trigger on the firearm that led to Hutchins' death.
He filed a lawsuit in November against members of the film crew, alleging there was wrongdoing on the set.
Driving the news: The film's armorer, Hannah Gutierrez-Reed, will also be charged with two counts of involuntary manslaughter, district attorney Mary Carmack-Altwies said in a statement posted to social media.
The movie's assistant director, David Halls, has agreed to a plea agreement on a charge of negligent use of a deadly weapon. Halls will face six months of probation, Carmack-Altwies said.
No charges will be filed on the specific shooting of "Rust" director Joel Souza, who was injured on set.
Carmack-Altwies said Baldwin and Gutierrez-Reed will be "charged in the alternative" with the manslaughter counts, meaning the judge will decide "under which definition of involuntary manslaughter they were guilty."
The district attorney's office did not immediately respond to Axios' request for comment.
What they're saying: "On my watch, no one is above the law, and everyone deserves justice," Carmack-Altwies said in a statement.
The district attorney told CNN in an interview Thursday that the charges are meant to send a warning to future filmmakers in New Mexico.
"We want you to come here," she said. "We want you to film movies, but we want you to do it safely. And we certainly want to get justice for anyone that is that is a victim like in this case."
"If any one of these three people — Alec Baldwin, Hannah Gutierrez-Reed or David Halls—had done their job, Halyna Hutchins would be alive today. It's that simple," said Andrea Reeb, the special prosecutor appointed by the DA to the case, in a statement.
The Hutchins Family said in a statement released through attorney Brian Panish that they "support the charges" and "will fully cooperate with this prosecution."
"It is a comfort to the family that, in New Mexico, no one is above the law," the statement said.
The other side: "This decision distorts Halyna Hutchins' tragic death and represents a terrible miscarriage of justice," said Luke Nikas, Baldwin's attorney, in a statement to Axios.
"Mr. Baldwin had no reason to believe there was a live bullet in the gun – or anywhere on the movie set. He relied on the professionals with whom he worked, who assured him the gun did not have live rounds.
"We will fight these charges, and we will win."
Worth noting: Involuntary manslaughter carries a maximum sentence of 18 months in prison, according to New Mexico law.
Catch up quick: During production in 2021, Baldwin allegedly fired a prop gun after he was reportedly told by Halls, the assistant director, that the weapon wasn't loaded, per AP.
The Santa Fe County Sheriff's Office did not charge anyone in the shooting. But the office released a full report in 2022 about the incident, suggesting there had been several issues with weapons on the movie set.
In October of last year, Baldwin reached a settlement with Hutchins's family in a wrongful death lawsuit, the family attorney told Axios.
As a part of the settlement, Matthew Hutchins, the widower of Halyna Hutchins, will now be credited as an executive producer on "Rust" and receive a share of the film's profits once it's released.
The film was slated to resume production this month.
Editor's note: This story has been updated with additional details.
Go deeper