The tech economy is not an island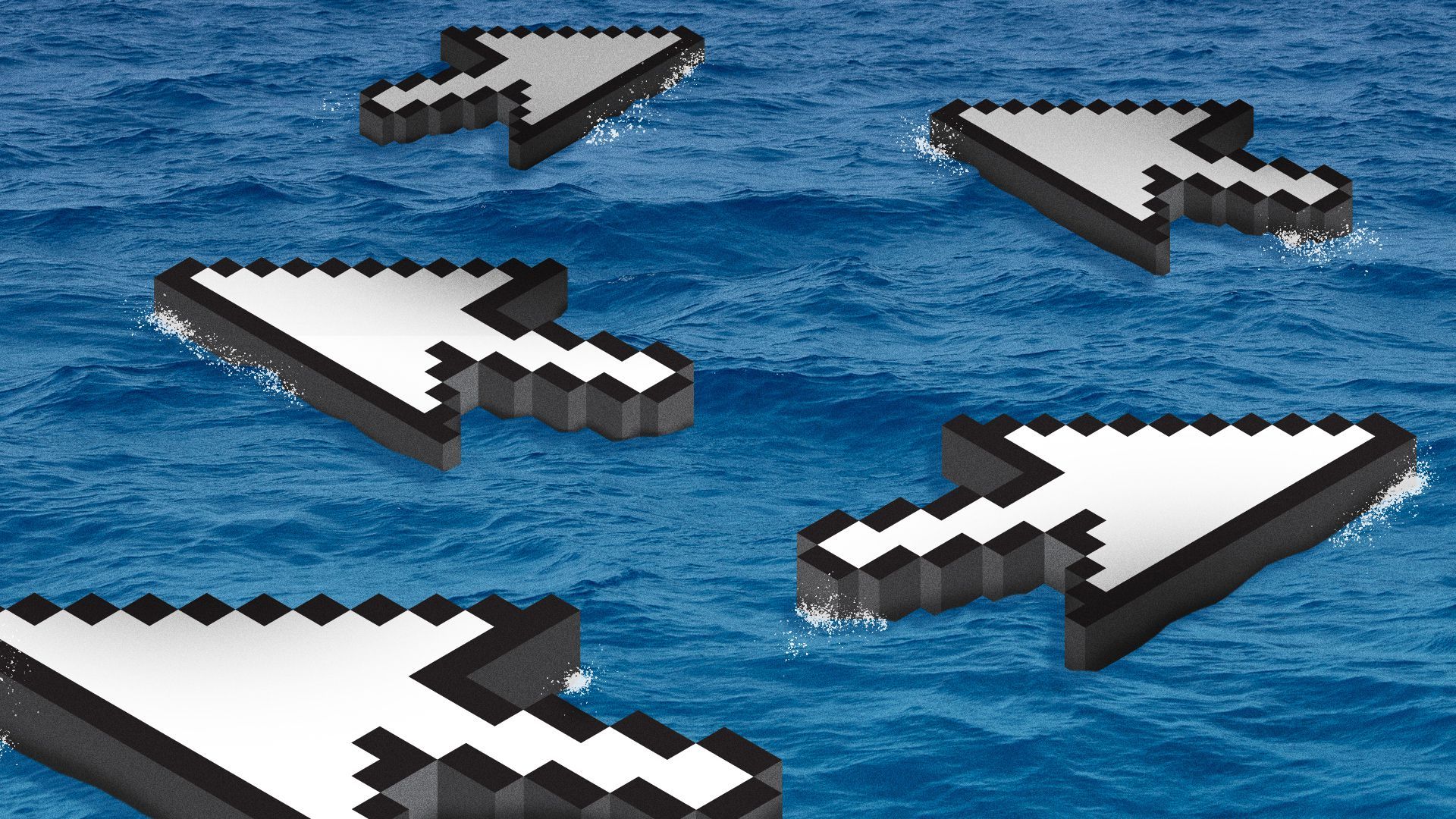 Tech's downturn is shining a spotlight on the industry's vulnerability to fast-moving trends and conflicts beyond its own boundaries.
Why it matters: Silicon Valley leaders and thinkers paint their companies and products as magical innovations that emerge from the inner logic of tech's disruptive dynamics. But the industry's cycles are usually driven by external forces.
Driving the news: Microsoft is expected to announce a new round of layoffs as soon as Wednesday, with cuts affecting as much as 5% of its employees, or roughly 10,000 workers — significantly more than last year's cutbacks.
The big picture: Financial tides explain the beating tech is now taking — much more so than the product cycles and platform shifts that occupy so much of the industry's attention.
Rising interest rates represent the single biggest factor driving the current tech slowdown, many observers agree.
Tech companies and products didn't suddenly become less useful or valuable overnight.
But the relative return investors could get by putting money into far less risky alternatives to tech stocks skyrocketed in a matter of months — from zero to as high as 4%.
Stocks plummeted, and inflated tech stocks took the steepest drop, with domino-effect impacts: layoffs, a startup-funding drought, a crypto crash, and more.
Other national and global trends are also casting shadows over tech's immediate future.
1. The "great decoupling": The slow but steady disentanglement of the American and Chinese economies is threatening all hardware makers — most prominently Apple, but really anyone who makes physical goods.
The biggest global tech manufacturers put most of their eggs in China's basket over the past two decades.
Now that security fears, political rhetoric and ethical concerns are driving a wedge between the U.S. and China, these companies face a potentially costly and disruptive shift in where they make their stuff.
2. Debt-ceiling brinksmanship: Hopeful signs that inflation's retreat might bring lower interest rates again are being overshadowed by the eruption of a new debt limit fight in Congress.
House Republicans' determination to use the debt-ceiling weapon to force Social Security or healthcare cuts looks like it will run smack into a Democratic Senate and president's determination to protect those programs and preserve the nation's credit rating.
Even the hint of a default on U.S. debt obligations could sow financial turmoil and raise the cost of borrowing all around — throwing a giant wrench in tech's, and everyone else's, recovery dreams.
3. Red and blue stalemate: Political polarization means Washington's deadlock will continue.
Big companies often feel good about divided government, thinking that paralysis in D.C. limits government meddling.
But tech also depends on lawmakers to modernize regulations and to kickstart broad national efforts — like last year's semiconductor funding measure.
Any problem that comes up that demands help from Washington to solve is probably not going to be solved.
Yes, but: Whatever role external forces have played in driving this downturn, the industry's penchant for hype is its own responsibility.
Tech's giants have a long history of overpromising when markets are soaring. That only ends up deepening the severity of their crashes.
It doesn't help that so many firms expanded and hired too fast during the pandemic.
What's next: Tech's biggest firms begin reporting earnings next week, providing more of a sense of how long, and how bad, this down cycle will be.
Go deeper