Major Israeli Supreme Court ruling rocks Netanyahu's coalition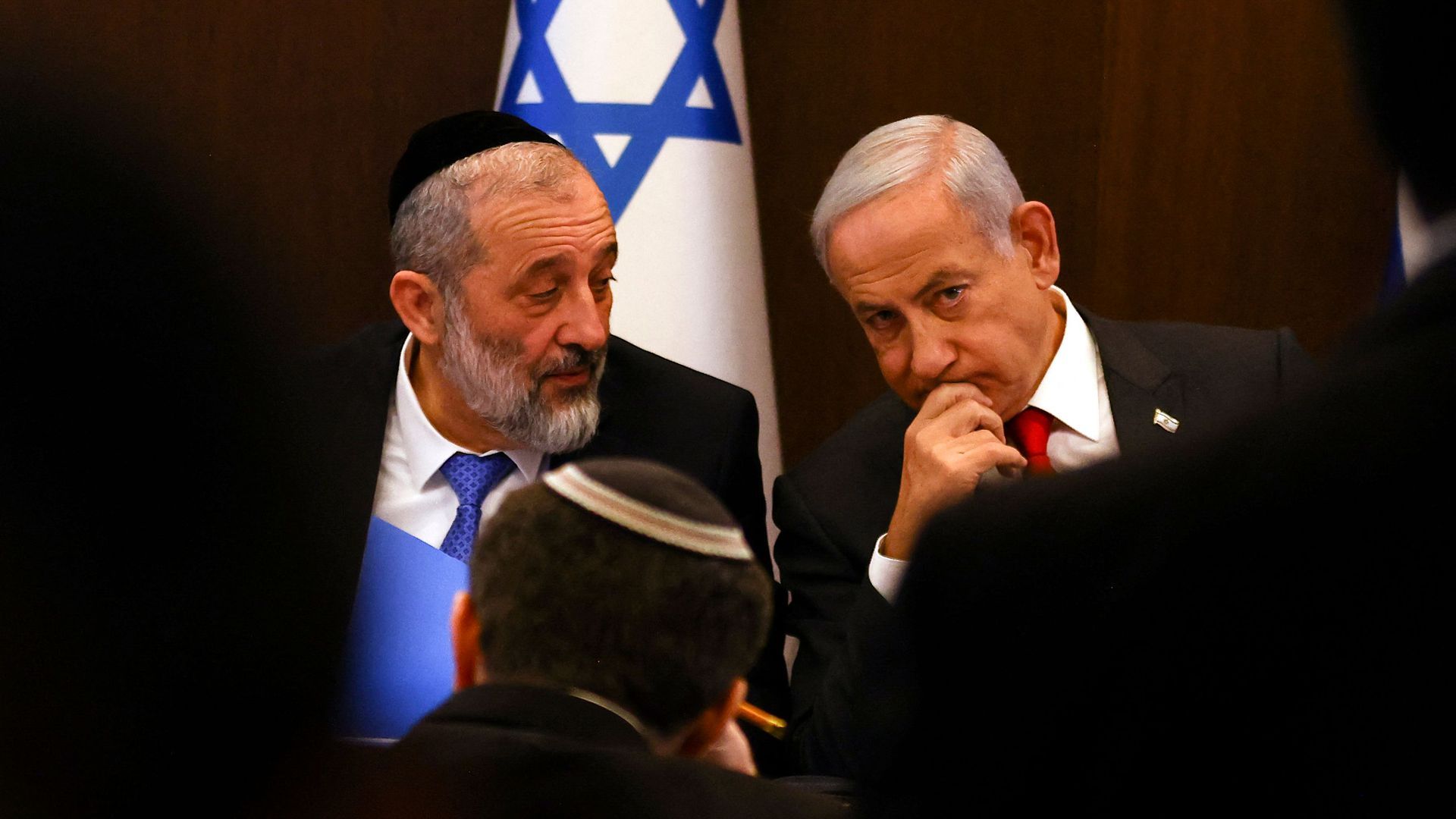 The Israeli Supreme Court in a 10-1 ruling revoked the appointment of Aryeh Deri, leader of the ultra-Orthodox Shas party and a key ally of Israeli Prime Minister Benjamin Netanyahu, as a senior minister in the government.
Why it matters: The decision could dramatically escalate the constitutional crisis in Israel and accelerate the government's effort to push forward its plan for weakening Israel's judicial system.
It could also create a political crisis that would likely destabilize the coalition.
Catch up quick: Deri, one of Israel's most powerful politicians, has been convicted of criminal offenses twice, including last year, when he agreed to a plea bargain in which he admitted to tax offenses.
When Deri signed his plea deal, the prosecution and the judge made it clear that they understood he was leaving political life. But less than a year later, he ran for office again, claiming he never said his departure from public life would be forever.
To allow Deri to be sworn in, the Knesset had to change a law that said a person who was sentenced to prison time or probation in the last seven years couldn't serve as a minister.
Driving the news: The Supreme Court revoked Deri's appointment on the grounds that it was "extremely unreasonable."
Supreme Court President Esther Hayut wrote in the decision that Deri made clear in his own statements that he would no longer deal with public money.
"Under these circumstances, his appointment was stained by a flaw of extreme unreasonability and it is in serious contradiction to the basic principles that should guide the prime minister when he appoints ministers," Hayut wrote.
What they're saying: The Shas party called the ruling "extremely unreasonable."
"This ruling harms all of Shas voters. … It is a significant violation of the right to elect and to be elected — which is a basic principle of democracy," the party said in a statement.
The statement added that the party would study the ruling and its high rabbinical council would determine its next steps.
Deri had made it clear in recent days that he would not resign and that Netanyahu would have to fire him.
A minister from his party said on Wednesday, "If Deri will not be in the government, there will be no government."
Recent public opinion polls showed a majority of Israelis — including a majority among Netanyahu's voters — think Deri is unfit to be a minister.
Opposition leader Yair Lapid called on Netanyahu to fire Deri immediately.
"If he is not fired, the government will violate the law and will become an illegal government. If Deri isn't fired, Israel won't be a state with rule of law and won't be a democracy," Lapid said
What to watch: Netanyahu's coalition is expected to now dramatically accelerate its judicial overhaul plan.
The plan includes passing a law that would allow the governing coalition to override Supreme Court rulings by a simple majority of 61 votes in the 120-member Knesset.
It also includes a measure that would end the Supreme Court's ability to revoke administrative decisions by the government on the grounds of "reasonability," significantly decreasing judicial oversight.
Between the lines: In a move that would be unprecedented, Netanyahu also could defy the Supreme Court ruling and refuse to fire Deri.
State of play: President Isaac Herzog has been trying to facilitate a dialogue between the government and the opposition in order to negotiate a judicial reform plan all sides can agree on.
Herzog recently met with Netanyahu, Hayut, Lapid, and Justice Minister Yariv Levin.
Levin and Hayut met on Tuesday for the first time since he presented the government's plan and she strongly criticized it.
Meanwhile, Netanyahu on Monday pushed back on the criticism of the government's plan and claimed without evidence that public protests against it were funded by foreign money.
Another demonstration against the plan is scheduled for Saturday, and organizers hope it will draw more than the 80,000 protesters who participated in last week's rally.
This is a developing news story. Please check back for updates.
Go deeper