Trump: "We'll handle that" if DeSantis challenges him for 2024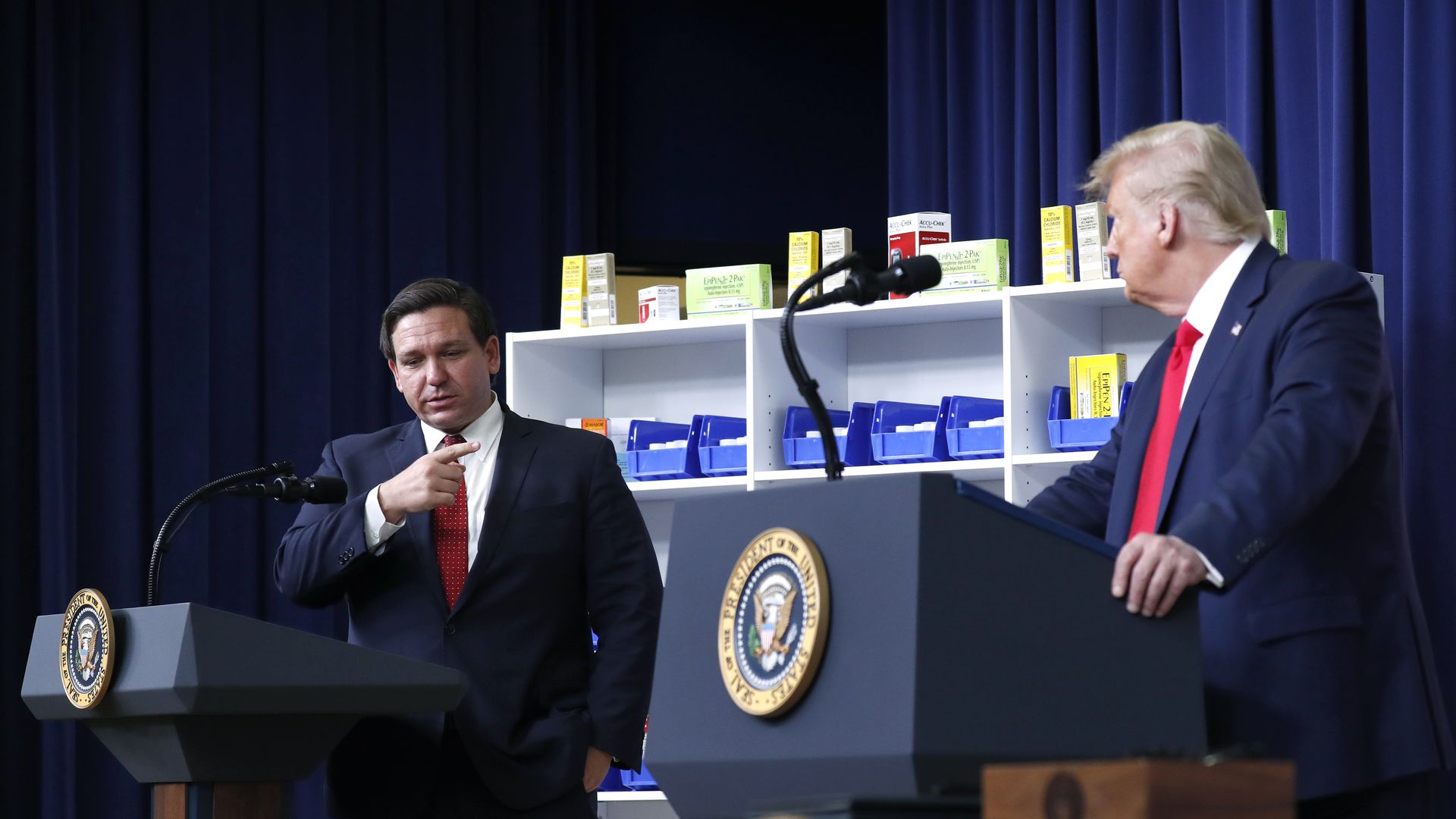 Former President Trump said during an interview this week that "we'll handle that" if Florida Gov. Ron DeSantis (R) challenges him for the 2024 GOP presidential nomination.
Why it matters: Recent polling has showed that Trump, the only Republican to have announced a 2024 presidential bid so far, has faced a drop in base support. Meanwhile voters have said they'd favor DeSantis, who has not publicly announced his intentions for the 2024 election.
Trump made the remarks Monday on "The Water Pooler" podcast hosted by David Brody of the Christian Broadcasting Network.
Still, DeSantis has previously refused to answer whether he will run.
Major Republican political donors, such as Ken Griffin, the founder and CEO of hedge fund Citadel, have also already thrown their support behind DeSantis if he decides to run. Griffin has said the GOP is ready to "move on" from Trump.
What they're saying: "So, now I hear he might want to run against me. So, we'll handle that the way I handle things," Trump said Monday on the podcast.
Trump also derided evangelical leaders, a crucial voting bloc in his 2016 and 2020 presidential bids, who did not endorse him after he announced his 2024 campaign, calling it "a sign of disloyalty."
"There's great disloyalty is the world of politics, and that's a sign of disloyalty. Because nobody — as you know better than anybody because you do such a great job — nobody has ever done more for right-to-life than Donald Trump."
Trump took credit for credit for the Supreme Court's decision to overturn landmark abortion ruling Roe v. Wade in June, saying it and other rulings were a result of his nominating three conservative justices to the high court.
The big picture: Following the underperformance of Trump-backed candidates and DeSantis' overwhelming performance in the midterms, Trump unloaded on the Florida governor, calling him an "average" Republican who owed his political success to Trump's endorsement in the 2018 governor's race.
Go deeper:
Go deeper