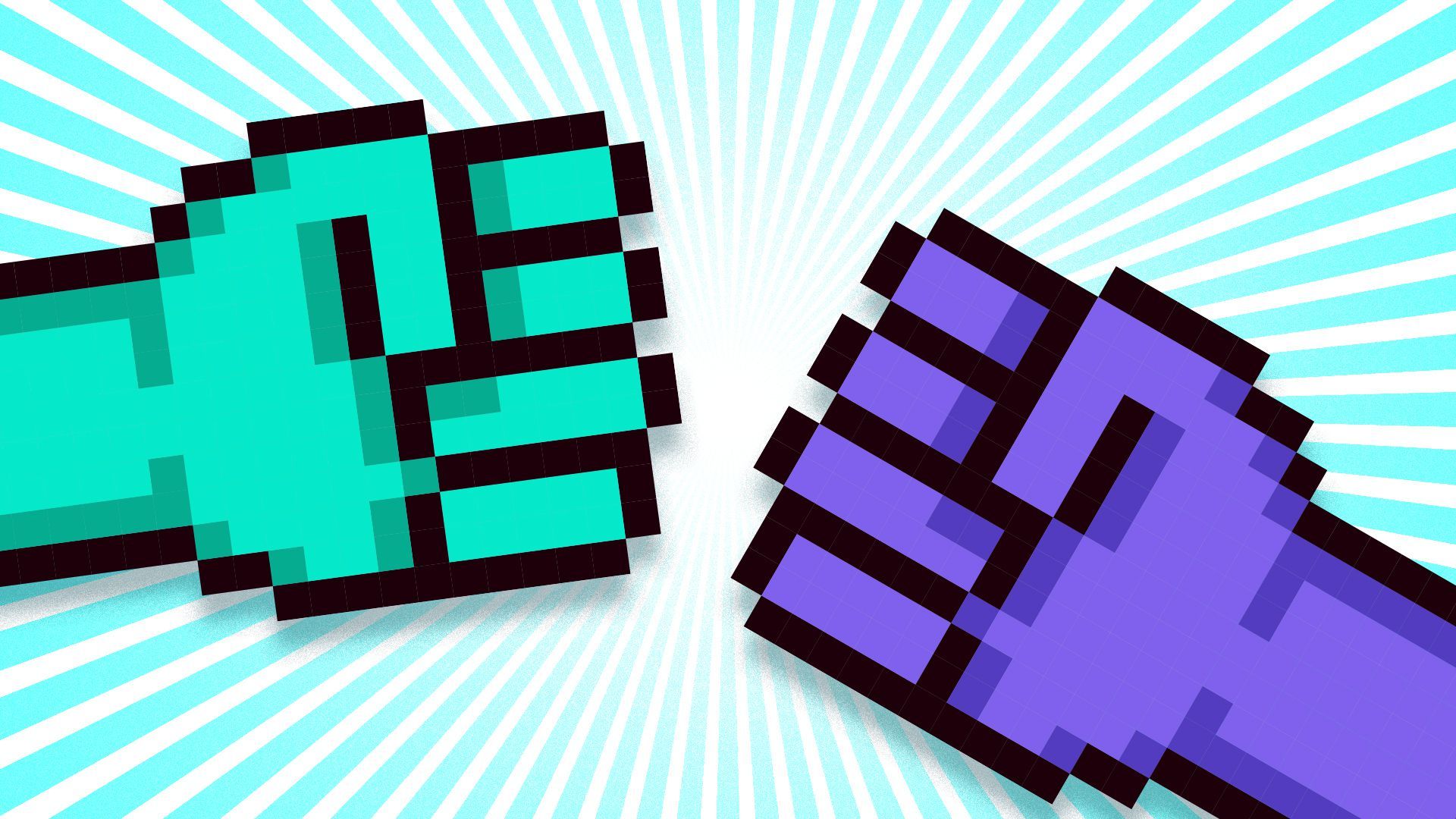 Old orders are fading while new ones fight to come into focus as the tech world enters a year of deep flux.
In every corner of the industry, incumbent powers are faltering, and major new technologies and players have arrived but not yet cemented their sway.
Social media: TikTok vs. Washington
TikTok has reshaped the flow of online culture, making its short-video format and global "discovery" algorithm into dominant channels for sharing ideas and trends.
In the field: Facebook, Instagram, Snapchat and other competitors have tried to copy TikTok but still seen it steal their business.
Yes, but: TikTok's Chinese ownership has made it a target for hostile regulators and legislators in Washington, and despite its popularity, the platform's future in the U.S. remains very much up in the air.
The big question: U.S. authorities will either demand stringent conditions for TikTok to continue to operate in its current structure or force the company to sell to an American owner.
Metaverse: Apple vs. Meta
Apple is said to be ready to roll out its long-awaited augmented-reality goggles this spring, making what could be its biggest new-product splash since the iPhone's unveiling 15 years ago.
In the field: Apple's Reality Pro headset (as it's rumored to be named) will challenge Meta's position as metaverse market leader.
Yes, but: Apple's many delays for launching the new product suggest it has already faced many roadblocks, and a likely high price point and technical hurdles could make its debut rocky.
The big question: Despite the ferment and excitement around headsets, no one has yet proved they have real-world applications beyond gaming. Apple's goggles might still be too early for the mass market: instead of being the next iPhone, they could be the next Newton.
AI: Microsoft vs. Google
Generative AI tools like ChatGPT threaten to replace the 20-year reign of Google's web search with a chattier Q&A interface.
In the field: Microsoft's backing of and close ties to ChatGPT creator OpenAI could finally give it an edge in its long-stymied effort to compete with Google Search.
Yes, but: Generative AI still can't cite sources or distinguish between fact and fiction, and scrupulous users may prefer to stick with traditional search. Meanwhile, Google has some potent generative AI tech of its own, but has been more cautious about deploying it.
The big question: Generative AI programs have proven they're capable of mimicking human creativity, and we know they're capable of disrupting any business that involves words and pictures. But nobody has yet shown how they will either make money or win people's hearts and minds.
Other looming fights
Assertive antitrust action by the FTC and the Justice Department will make it harder for tech giants to purchase smaller rivals, opening space for newcomers to grow.
Crypto and web3 believers will try to restore trust in their projects after the dramatic collapse of FTX while financial regulators keep turning the screws.
Zoom out: A potential recession, higher interest rates and sagging stock prices have checked the tech industry's confidence. But no one knows whether this year will bring renewed exuberance or a deeper economic swoon.
The bottom line: Tech's eras have always been reset during times of retrenchment.
Think of the early '90s, when the internet took off; the millennium's dotcom bust, which spawned Google; and the Great Recession of 2008-9, which ushered in the smartphone.
In 2023 the industry is primed and ready for a similar transition.
Go deeper