What we know about the former GOP candidate arrested for shootings at N.M. Democrats' homes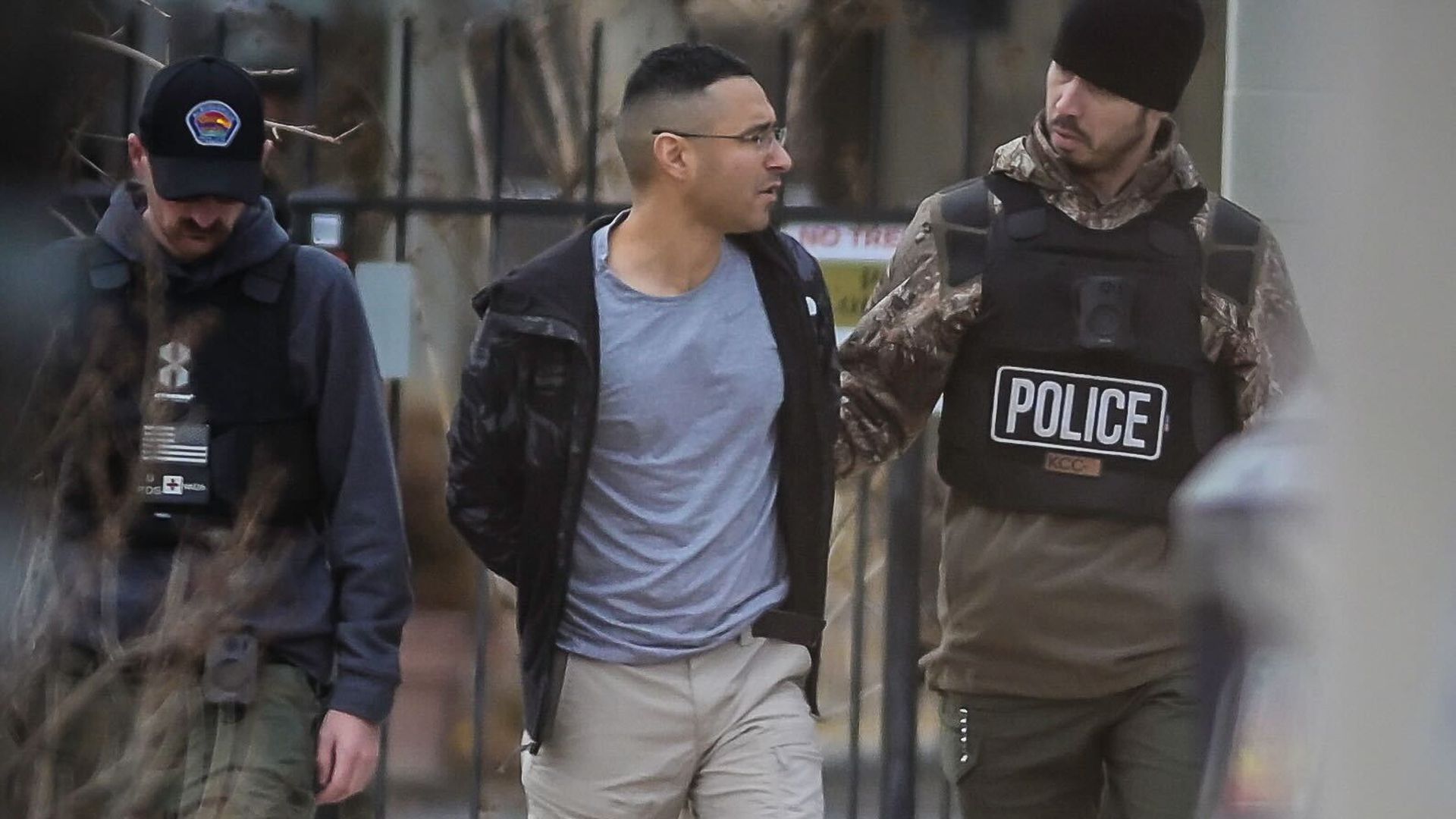 Police say they have arrested the suspected "mastermind" behind some of the recent shootings at the homes and offices of elected Democratic officials in New Mexico.
The big picture: The attacks come amid a growing number of threats and attacks targeting political figures and elected officials.
Local and federal authorities in New Mexico have been investigating since last month multiple separate shootings targeting Democratic officials' homes and offices. No one was injured in the attacks, but three homes were damaged.
Solomon Peña arrest: What to know
Driving the news: Albuquerque police said Monday they arrested Solomon Peña, a Republican candidate who lost two previous state House elections, in connection with some of the shootings.
"It is believed that [Peña] is the mastermind behind this," Medina said at a news conference Monday.
Peña's arrest comes after another suspect was arrested in connection with the six shootings.
Police said Peña was not involved or connected with at least two of the reported shootings, per the New York Times.
Peña appeared in court via video Wednesday, where a judge sided with prosecutors' motion to keep him in custody until a detention hearing next month, AP reports.
He is being held on preliminary charges of felon in possession of a firearm, shooting at an occupied home, aggravated battery with a deadly weapon and conspiracy, among other charges, per the arrest warrant.
Details: Peña has been accused of conspiring with and paying for four other men to shoot at the homes of two county commissioners and two state legislators, Albuquerque Police Department chief Harold Medina said in a tweet.
Peña allegedly paid cash to four men to conduct at least two drive-by shootings, deputy police commander Kyle Hartsock said, according to AP.
Police accused Peña of joining the men during an attack at New Mexico state Sen. Linda Lopez's home and said he allegedly "attempted to shoot" with a weapon that malfunctioned, per the Times.
Peña's arrest warrant alleges that he "provided firearms and cash payments and personally participated in at least one shooting." It accuses him of intending "serious injury or cause death to occupants inside their homes."
Of note: Medina told the Washington Post that Peña was motivated by former President Donald Trump's false claims of fraud surrounding the 2020 election.
Medina added that Peña often expressed extreme views on social media, including saying that he had attended the "Stop the Steal" rally that preceded the Jan. 6 Capitol riot.
Federal law enforcement is investigating whether Peña participated in the Jan. 6 insurrection and possible federal firearms violations, Medina told the Post.
Axios reached out to the Albuquerque Police Department to confirm details about Peña's motivations and federal law enforcement's investigation, but had not heard back at the time of publication.
What they're saying: "This type of radicalism is a threat to our nation and has made its way to our doorstep right here in Albuquerque, New Mexico," Albuquerque Mayor Tim Keller said, per AP. "But I know we are going to push back, and we will not allow this to cross the threshold."
The Republican Party of New Mexico said in a statement that Peña faces serious allegations "and he should be held accountable if the charges are validated in court."
"The individual that we're charging believed in that conspiracy," Medina told the Post. "He did believe that his election was unfair and he did escalate and resort to violence as a means to find justice."
"This is yet another example of a convicted felon unlawfully gaining access to firearms, which they are barred from owning or possessing, and using the weapon in a manner that causes public harm," New Mexico Republican House Leader Ryan Lane said Wednesday, per NBC.
Context: Peña unsuccessfully ran as a candidate for the House District 14 seat in the South Valley against incumbent state Rep. Miguel Garcia in November, losing by about 3,600 votes, AP reports.
After the election, Peña allegedly showed up to the homes of elected officials with documents that, he claimed, showed he had won the race, police said, per AP.
"Peña came to my house right after the (November) election," ​​Bernalillo County Commissioner Adriann Barboa told NBC News. "He was sort of erratic in the points he was trying to make about the election, and about how many doors he knocked on and how the number of votes didn't match."
"He was at my door and he was aggressive. He was an election denier," she said.
Former County Commissioner Debbie O'Malley recounted a similar experience to NBC News, describing Peña as "angry about losing the election."
These conversations happened shortly before the shootings took place, according to AP.
New Mexico shooting timeline
The timeline: Police originally said there were four shootings before announcing in January that a fifth attack happened at the former campaign office of the newly-elected New Mexico Attorney General Raúl Torrez.
In early December, Speaker of the New Mexico House Javier Martinez reported gunshots at his house, too, Reuters reports.
Albuquerque police said in early January that shootings began when Barboa's home was targeted on Dec. 4.
Seven days later, there were more than a dozen shots fired at O'Malley's home, police said.
On Jan. 3, at least eight shots were fired at state Sen. Linda Lopez's home.
Two days later, on Jan. 5, three shots were fired at state Sen. Moe Maestas' office, ABQ police said.
Read: The arrest warrant for Solomon Peña, obtained by CNN, via DocumentCloud:
More from Axios:
First-of-its-kind database tracks threats against public officials
Ex-New Mexico state GOP candidate arrested in shootings at Democrats' homes
First-of-its-kind database tracks threats against public officials
Editor's note: This article has been updated with details from Solomon Peña's arrest warrant, including a full copy of the document.
Go deeper