After zero-COVID ends, Chinese activists abroad dig in for long haul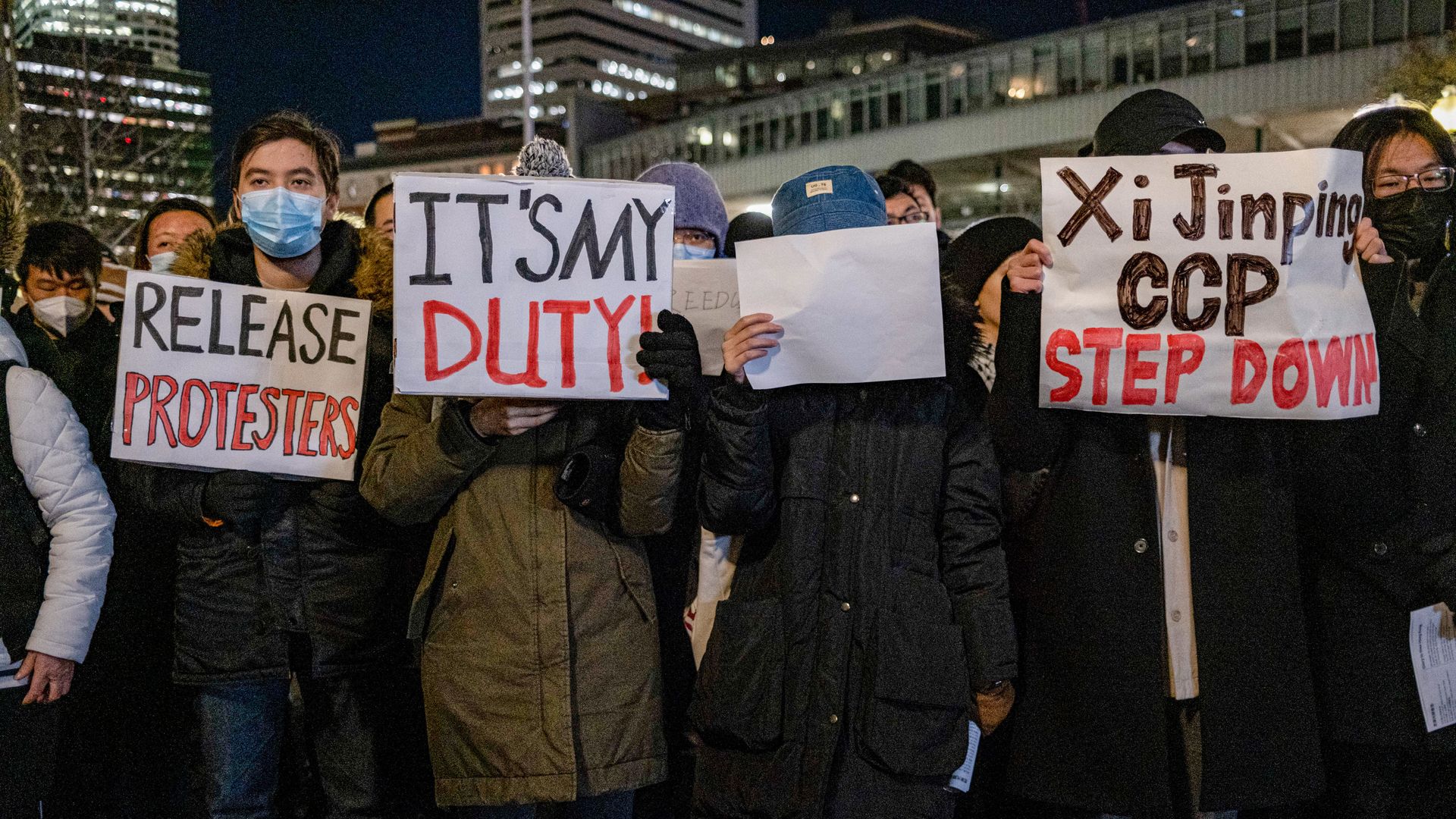 The newfound political fervor that sent protesters to the streets in China over Beijing's zero-COVID policy is helping Chinese activists worldwide grow their bases and forge stronger ties with other pro-democracy protesters, organizers based abroad told Axios.
The big picture: The COVID protests in China last November achieved their primary goal — the end of mass lockdowns, quarantines, and daily testing — even though police quashed the demonstrations within days.
While the end of zero-COVID slowed momentum for Chinese protesters abroad who are calling for democracy in China and the resignation of President Xi Jinping, it also proved protests can influence policy decisions in Beijing.
"Chinese people have definitely become more politically minded over the last few years, and the COVID-19 pandemic hastened that process," said Miho, 19, a student at the University of California, Irvine.
Background: Late last year, dozens of Chinese cities saw the country's largest political demonstrations in decades, as protesters demanded an end to zero-COVID policies.
Organizers abroad soon followed suit, with some solidarity rallies openly calling for Xi to step down. One of the largest rallies was held near the Chinese Consulate in New York City, where about 1,000 people gathered on Nov. 29. Many held blank sheets of paper, just like protesters in China.
Axios spoke with eight overseas organizers across the U.S. and in Canada, including one who coordinated the New York rally. Most of them asked that only their English names be used, fearing retaliation from the Chinese government against them and their families.
What they're saying: "I think it's a short-term victory for the Chinese people, but it's not enough," said Wang Han, a 25-year-old student at the University of Southern California who went on a hunger strike outside of Apple's headquarters last month to protest the company's human rights records in China.
"If you don't have the right to choose your own destiny, if you do not have the freedom to express disagreement with your government, then another tragedy will happen in the future," he added.
Yes, but: "[F]or a lot of people, their basic interest has been fulfilled by the relieving of the zero-COVID policy," a Chinese activist based in California told Axios, noting this has decreased the momentum among Chinese people abroad who were most incensed by the travel barriers, quarantines and economic damage caused by zero-COVID policies.
And not everyone wants "democratization," said Jules, a 23-year-old student organizer from northern China who coordinated several solidarity rallies in Chicago late last year.
How it works: Young Chinese organizers overseas have sought support from other vulnerable groups targeted by the Chinese Communist Party, such as Uyghurs, Tibetans and Hong Kongers. They've also contacted longtime dissidents to learn hard lessons about confronting an authoritarian regime.
Miho, who uses they/them pronouns, said they formed a small group tentatively called "Freedom Solidarity" at UCI last October. They forged an informal alliance with Iranian students critical of their own government's repressive policies and started co-hosting events.
"Our goal is to fight against ethnic oppression everywhere, but China is a key area of focus," Miho said.
Jason, 29, a recent graduate who organized the NYC rally, said he's also seeking a global coalition by contacting similar groups in Canada and Europe. On the most recent Human Rights Day, they coordinated many local rallies together, he said.
The intrigue: Organizers who spoke with Axios stressed the importance of keeping some degree of anonymity in public to reduce the risk of being identified and threatened by Chinese government minders abroad.
"Protecting members' identity is our top priority. We know that some people might be recruited to spy on us, other people might be coerced because their parents were in jeopardy," said Yang Ruohui, president of the Assembly of Citizens, a grassroots organization of Chinese youth in Canada.
"We limit information collection to a certain extent. We also have specific rules and procedures to shield our identity, such as compartmentalizing and clarifying our organizational structure," Yang explained.
Still, no amount of precaution feels sufficient, said Shawn, a student at Columbia University, who co-founded the White Paper Society last month.
"When you decide to come forward, you already tacitly acknowledged the risks associated with it, and organizers obviously take more risks than participants."
"It takes enormous courage for young people to protest against the CCP on the streets, and it's a really tough decision," said Zang Xihong, 60, a Toronto-based writer and dissident better known by her pen name Sheng Xue, who fled China after Tiananmen Square crackdown in 1989.
What to watch: "The White Paper Movement is a leg of China's journey to freedom and democracy," Zang told Axios.
"Although it looks fairly quiet now, every eruption adds to its momentum."
Go deeper