Polarization eats the developed world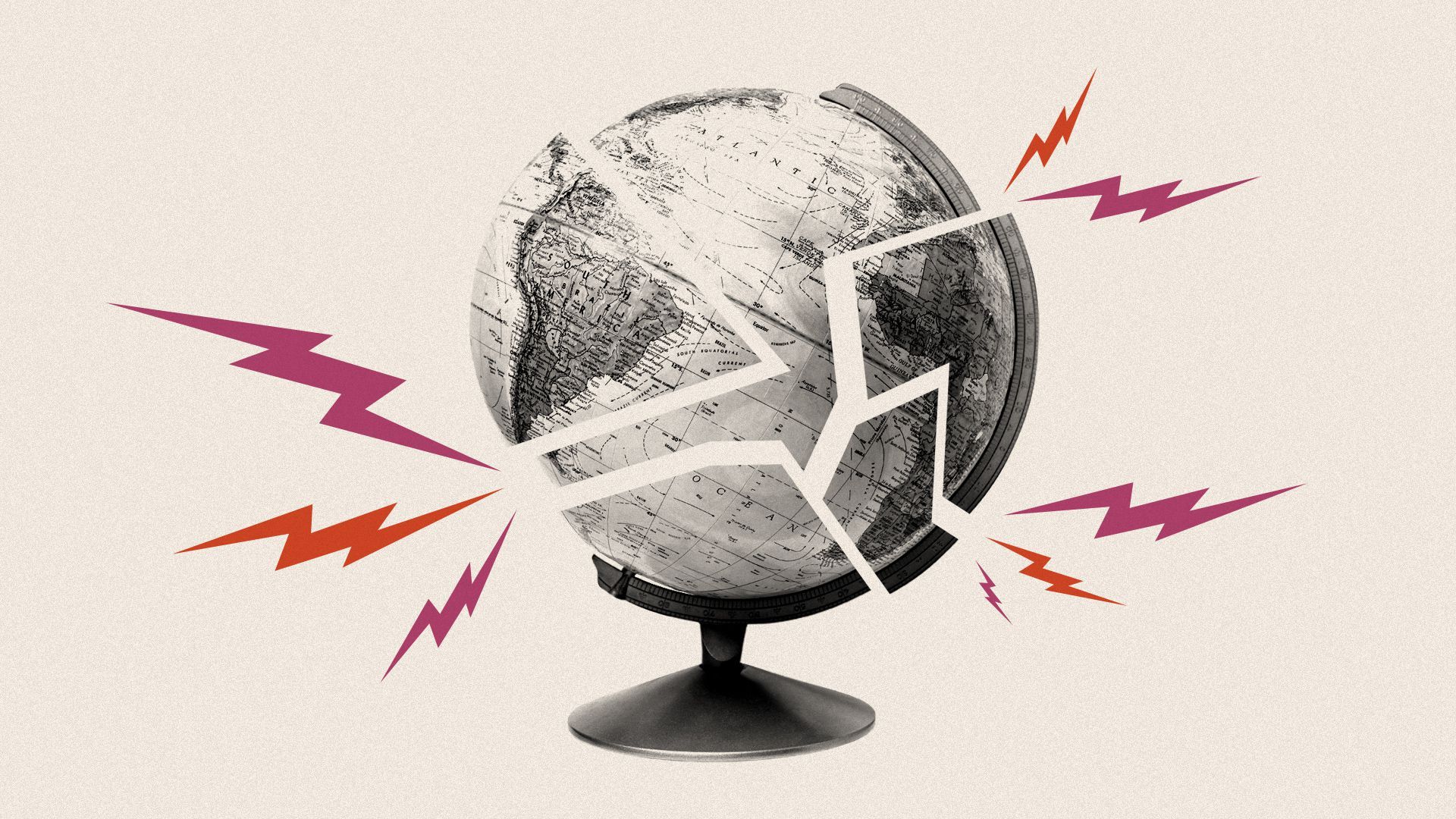 Economic fear is creating record levels of polarization around the globe, particularly in developed nations with slow-growth economies, like Spain and Japan, according to Edelman's latest annual Trust Barometer survey.
Why it matters: Polarization leads to instability, creating uncertainty for business. That puts more pressure on companies and corporate leaders to establish the trust among consumers that governments have failed to win.
The big picture: For the third year in a row, business is the only institution globally that is seen as both ethical and competent. Media and government are seen as particularly unethical and incompetent in addressing societal problems, while NGOs are perceived as ethical, but less competent.
Details: Around the world, economic optimism has cratered thanks to rising inflation in the wake of the pandemic.
In 24 of the 28 countries surveyed, confidence in the economy has plummeted to all-time lows, per the study. Only respondents in China believe that they and their families will be better off in five years.
None of the 14 developed nations surveyed had more than 35% of its respondents saying they were confident that their family will be better off in five years.
Be smart: Developing nations with slow-growth economies, such as Argentina, South Africa, Brazil and Mexico, are experiencing some of the largest trust gaps between business and government, while fast-expanding economies such as Indonesia, Saudi Arabia, and Singapore are experiencing the smallest.
Between the lines: In places that have long been considered stable democracies, like the U.S. and Argentina, economic and political distrust is driving more polarization.
Six countries globally — U.S., Colombia, South Africa, Argentina, Spain and Sweden — are considered severely polarized, according to the data.
Brazil, Mexico, France, the U.K., Japan, Italy, Germany and the Netherlands are in danger of severe polarization.
Levels of polarization and economic distrust are lower in authoritarian regimes like UAE and Saudi Arabia, in part due to more economic optimism in those countries.
Be smart: Polarization, by Edelman's definition, occurs as a result of several factors, including economic pessimism, distrust in media and government, systemic inequality and a lack of shared identity.
Across nearly every country surveyed, trust in business is stronger than trust in government. And in democracies, trust in government is particularly low.
In authoritarian regimes like UAE, Saudi Arabia and China, the trust gap between business and government is relatively small.
The intrigue: Across countries with high GDPs, like the U.S., China, India, France, and the U.K., trust in foreign businesses is declining.
What to watch: In polarized nations, businesses face more risk for speaking out on societal issues, according to the data.
Businesses can protect themselves from becoming mired in politics by issuing trustworthy information that is backed by data or science and by taking stands that consistently align with corporate values.
Yes, but: Stakeholders still expect CEOs to take a stand on issues like employee inequity, climate change and discrimination.
Go deeper