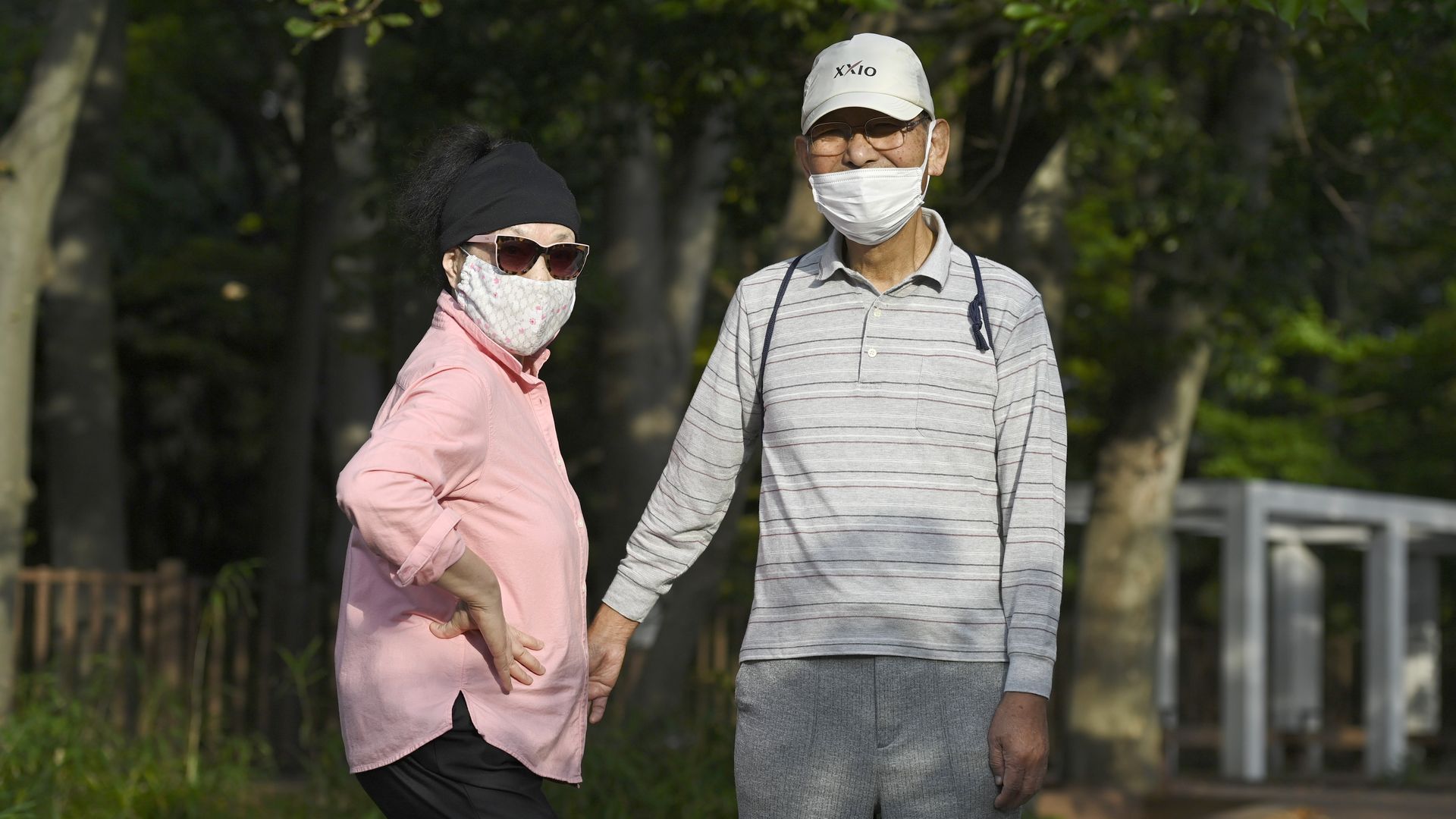 All countries need new social and economic policies to prepare for the reality of an aging world now, the United Nations said in a new report on Thursday.
Why it matters: The world's population is aging but the effects haven't been felt equally — for example, some older people experience financial security while others live in poverty. To reduce the gaping disparities, countries need to invest in people throughout their life, the report said.
It doesn't mean countries with relatively young populations should delay the tasks of preparing for aging societies, because they will face the same reality in time, the report said.
The big picture: Better health care, greater access to education and family planning, as well as progress toward gender equality, have all contributed to much lower fertility rates over the last few decades.
"What's the alternative to population aging? It's early death. Population aging...really reflects the enormous success of human beings to have extended the lifespan to such a degree that we now have these much older populations," John Wilmoth, director of the Population Division of UN Department of Economic and Social Affairs, said in a press briefing on Thursday.
However, an aging world also brings a set of unprecedented challenges, including more pressure on pension and health care systems, shrinking labor forces, and greater gender inequalities.
Where it stands: The median age in Europe and Northern America was 40 years old in 2021 and is projected to climb to 46 years by 2050, per the report.
Countries in Latin America and the Caribbean are expected to experience a rapid rise in the median age from 30 years to 40 years during the same time period.
"Populations in sub-Saharan Africa, Oceania (excluding Australia and New Zealand), and Northern Africa and Western Asia will continue to have dominant shares of young dependents through the end of this century," the report said.
By the numbers: The number of people aged 65 or older worldwide is projected to double over the next three decades, reaching 1.6 billion in 2050, or more than 16% of the global population by then, according to the report.
What's next: UN urged all countries to adopt various policy measures to reduce the negative impacts of population aging, including:
Reforming pension systems, including raising the retirement age and expanding pension coverage to all older people.
Eliminating barriers for older people to participate in the labor force and supporting their learning and skills development throughout their life.
Creating formal employment opportunities for women and other groups traditionally excluded from the formal labor market, such as people living with disabilities.
Developing integrated long-term care strategies based on proper regulation, training and support for caregivers, as well as mechanisms such as accreditation and monitoring to ensure quality.
Go deeper