India to become most populous nation — bringing opportunities and challenges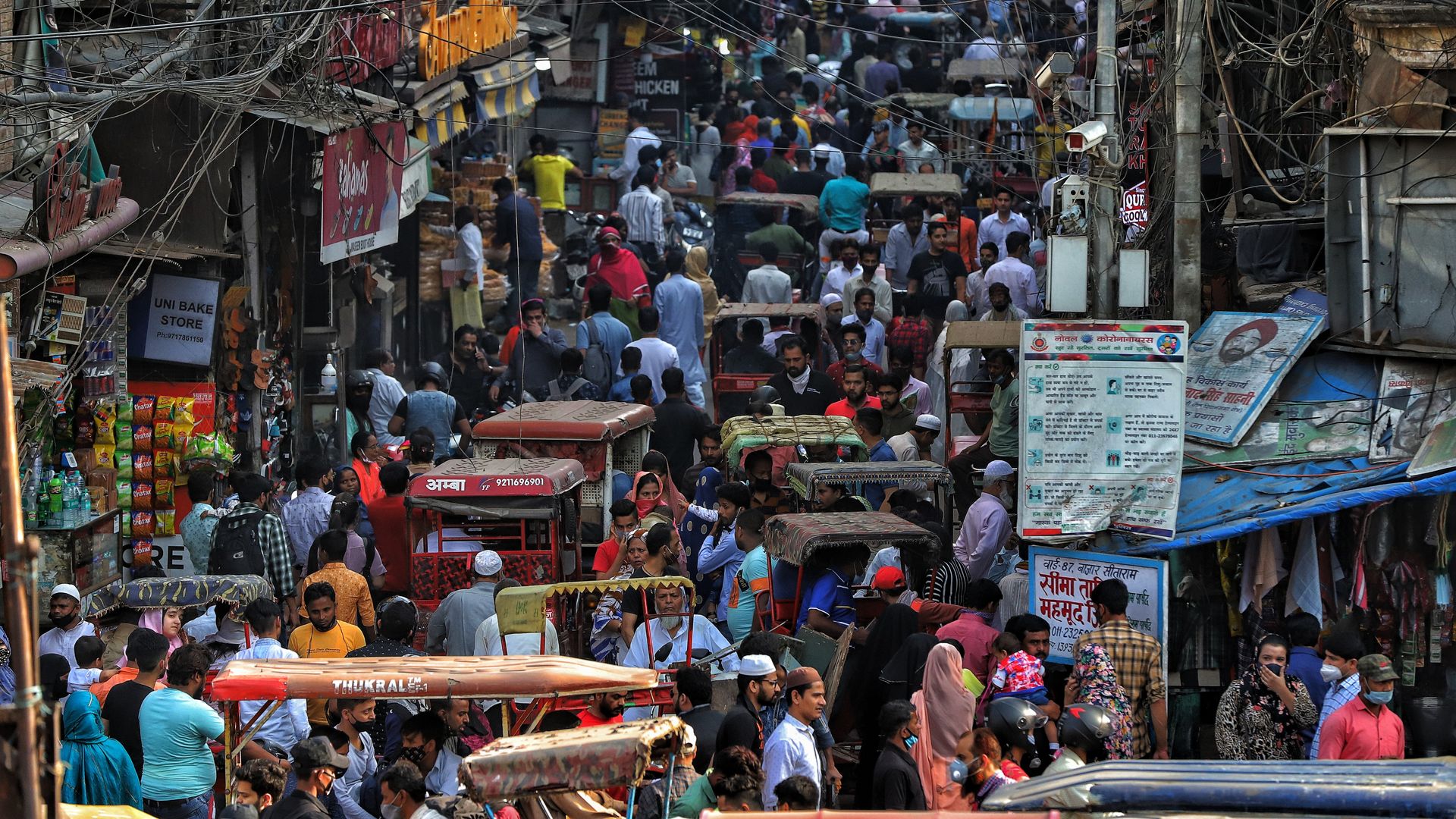 India is set to surpass China as the world's most populous country sometime this year, the UN projects.
Why it matters: The milestone could have major economic and societal implications for both countries — and may eventually influence trade flows and upend the global balance of power.
By the numbers: India was home to 1.417 billion people as of last year, compared to China's 1.426 billion, per UN figures.
The big picture: Population is a key driver of economic productivity and growth.
For years, India has been one of the fastest-growing economies in the world, averaging 5.5% growth over the past decade, per Morgan Stanley.
But China, where population growth has slowed considerably in recent years, faces a grim economic outlook, as it emerges from three years of zero-COVID policies that dampened market activities and consumer confidence.
A declining and aging population will lead to further economic stagnation, some economists say. "China's demographic decline is the single biggest factor driving down China's economic growth," said Robert Blohm, a Toronto-based economist and managing director of the investment firm Keen Resources Asia.
That, combined with India's growing population and a shift away from China due to geopolitical reasons, may help the South Asian country chip away at China's dominance as the world's factory. "A lot of production capacity will be moved to India," Yi Fuxian, a scientist in obstetrics and gynecology at the University of Wisconsin-Madison, told Axios.
"There will be more and more made-in-India goods on the U.S. market," Yi said.
Apple is already moving some production capacity from China to India amid geopolitical tensions between Washington and Beijing, as well as recent supply chain disruptions in China, the New York Times reported in September.
Yes, but: Some experts have cautioned that it will take decades for India to compete with China's manufacturing power, citing bureaucracy, protectionism and a weak value chain.
"India certainly has advantages in terms of demographics, in terms of geography, in terms of the infrastructure that exists, much of which has been built in the last few years," Ashutosh Sharma, a research director at advisory firm Forrester, told Insider.
"It can obviously increase the scale, but what it does not have is all the pieces of the puzzle," Sharma said.
This includes infrastructure like adequate ports that would allow the country to be better integrated into the global supply chain. Bloomberg noted this week that the world's biggest container ship, Ever Alot, has so far skipped docking in India, highlighting the country's inadequate port infrastructure.
Between the lines: There are also concerns that India's growing population will bring on new challenges or exacerbate existing ones.
While India has slashed its poverty rate over the years, its wealth gap has widened significantly over the last three decades, according to Oxfam.
Indian Prime Minister Narendra Modi has described the country's population growth as an "explosion" that "will cause many problems for our future generations." In an Independence Day Speech in 2019, Modi linked smaller families to patriotism.
Experts, however, point to UN figures showing that India's population growth appears to be stabilizing. More than 30 states and territories, where nearly 70% of Indians live, have already achieved fertility rates below the replacement level of 2.1, the UN Population Fund said last year.
What to watch: "With India surpassing China in population, its economy would not only surpass China's but could even surpass that of the U.S. by the second half of the century and come on top in a new world order," Yi said.
Other experts offer a more nuanced view. "Whether India 's economy ever exceeds the U.S.'s, it's too soon to tell because a lot of institutional reform is still required in India, and the U.S. economy depends also on what happens in the rest of the world," Blohm said.
Go deeper