China is looking less desirable to investors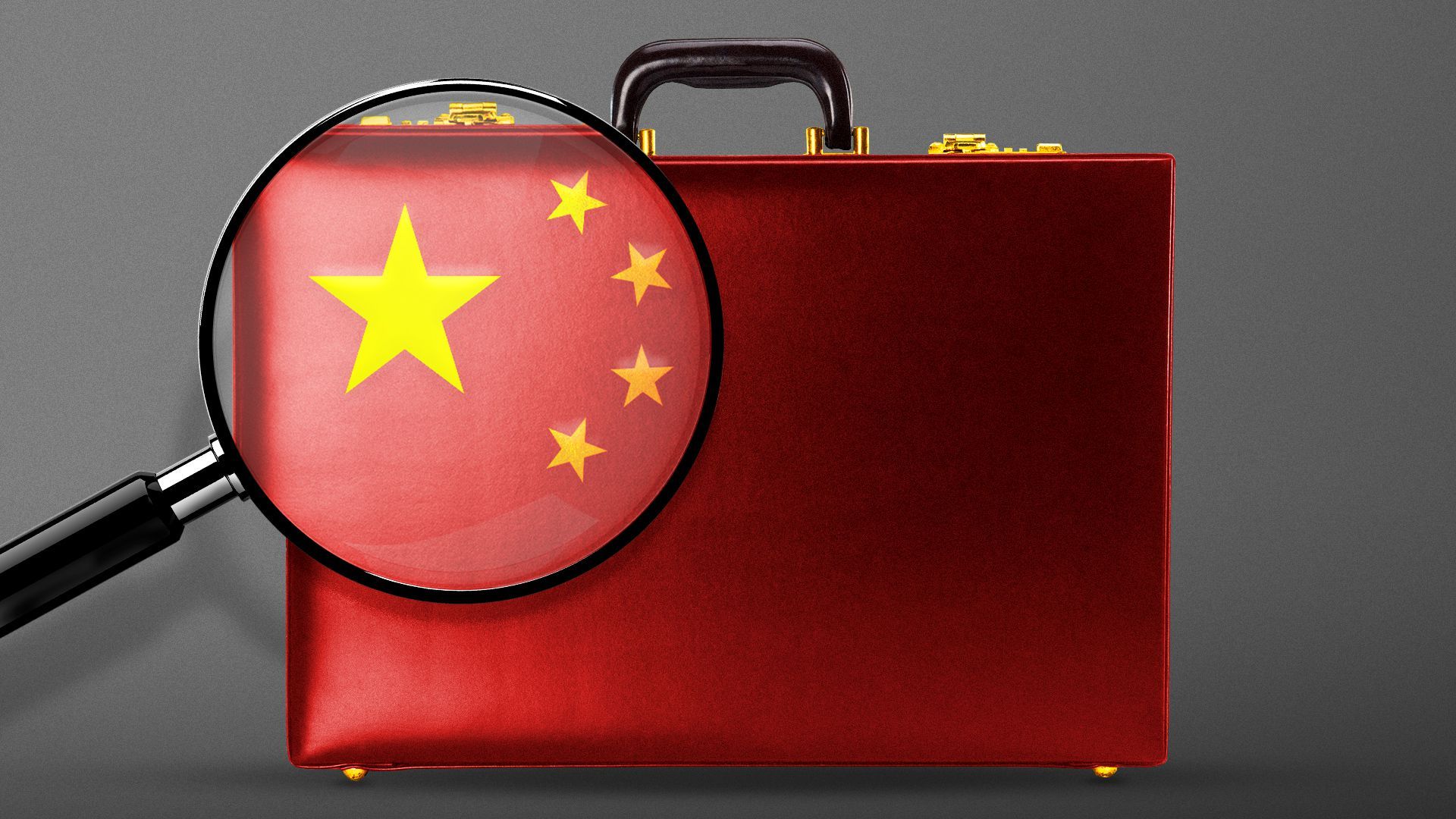 The increasing number of challenges to China's economic growth is scaring off Wall Street.
Why it matters: Investors are facing a new economic and investing environment this year and determining their revised positions.
Goldman Sachs' Investment Strategy Group advised consumer and wealth management clients last month to "carefully reassess their strategic allocation to Chinese assets" as well as "exposure to countries and companies with significant exports to China."
JPMorgan's Asia Pacific Economic Research team yesterday posed 10 broad questions about China in 2023, ranging from the path of reopening to whether policymakers will succeed in their ambition to grow productivity.
Driving the sentiment: "Demographics have deteriorated faster than expected," while "re-shoring and near-shoring" of manufacturing away from China is picking up momentum, Goldman's report notes.
The country's competitiveness in tech is also expected to be curbed by the U.S.' export controls on semiconductors, it says.
And while the country's reopening has been faster- and earlier-than-expected, the path for recovery in consumer spending is uncertain — "it could be gradual and incomplete," JPMorgan analysts write.
State of play: Investors have already shed their exposure to China.
In 2022, foreign investors became net sellers of Chinese fixed income and equities for the first time in 10 years, Goldman found.
In the first nine months of last year, investors outside of China pulled out 27% of the stock of fixed income and 35% of the stock of equities that had been invested over the prior nine years, according to Goldman.
What they're saying: "One of our institutional brokers [today] made a comment that they're not seeing a lot of these long-only managers coming back into these names — that there's a lot of this skepticism due to a rough 2021 and 2022," KraneShares CIO Brendan Ahern said during an investor call this morning.
Simultaneously, Ahern sees this as an opportunity because "this underweight represents cash on the sidelines" that could provide a boost when moved back into the market.
What to watch: Ahern and his team still see opportunities in Chinese internet companies, including mobile giant Tencent as well as Alibaba — two of his China Internet ETF's top holdings.
"As students of the Chinese markets, we have noticed the tone of policies toward internet companies changing over the last six months," Ahern told Axios separately after the call.
"The change in policy is driven by the necessity of raising domestic consumption," he added.
Go deeper
Chinese economy faces COVID conundrum
Go deeper