The heart of the Gemini and DCG/Genesis dispute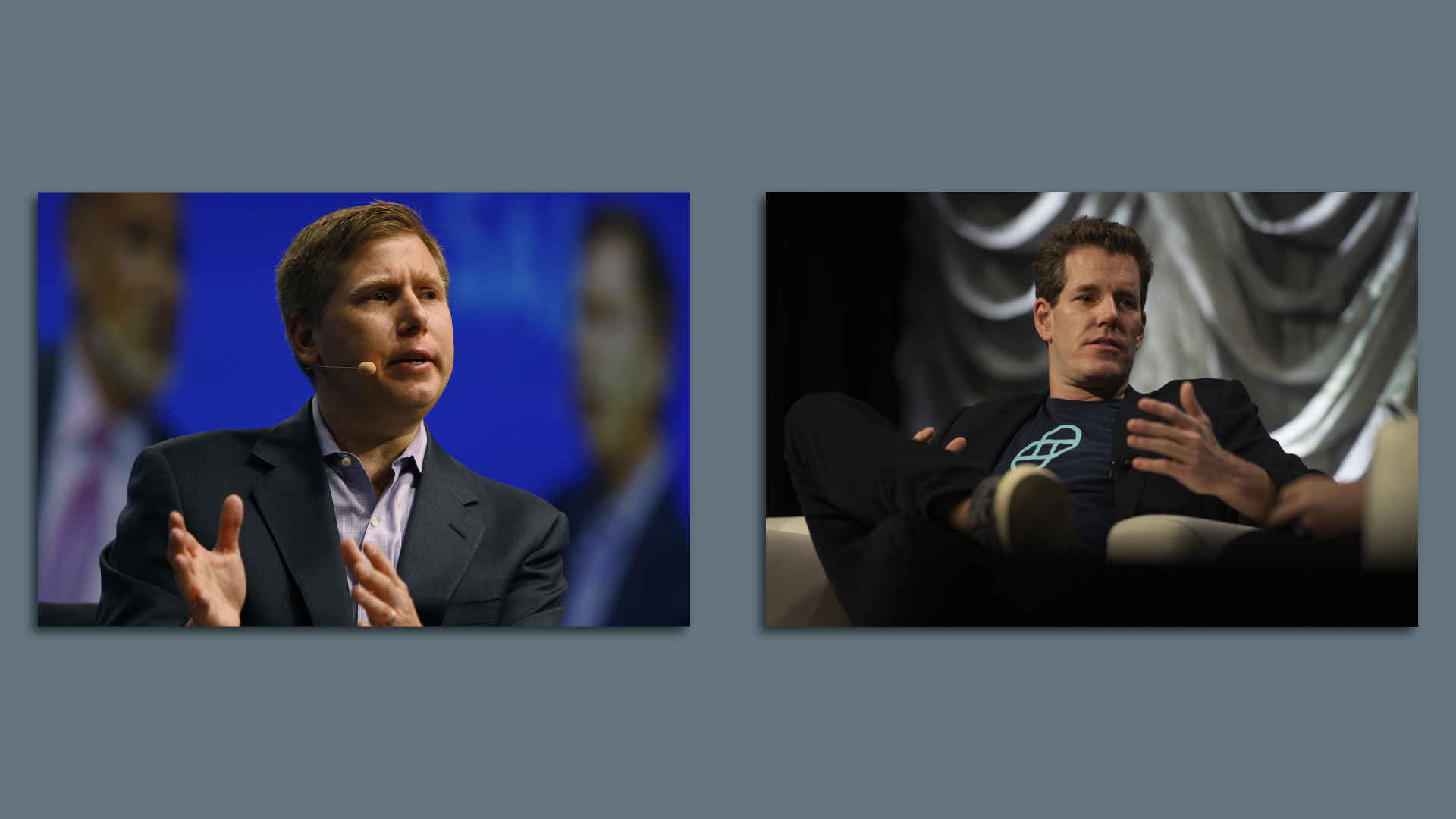 Barry Silbert's Digital Currency Group and Tyler and Cameron Winklevoss' Gemini crypto exchange are waging war in an escalation of old debts come due.
Driving the news: Cameron Winklevoss says Silbert, chief of Digital Currency Group (DCG), should be removed from his seat at the head of the table, per his second open letter published on Twitter Tuesday.
Meanwhile, Silbert, in his own open letter published shortly after, asserted some separateness between DCG and its own crypto lending unit, Genesis, the latter of which is the source of Winklevoss' ire. He also did not address Gemini directly.
The key issue: Did Genesis fairly state its balance sheet to Gemini in mid-2022 conversations?
Catch up fast: What they're beefing over is some $900 million in assets deposited by customers of Gemini's yield-generating Earn accounts, who by the way, are suing the Winklevoss twins in a class-action suit.
Customer funds in the Gemini Earn program were technically loaned to Genesis, which in turn made loans to institutional investors to create the yield.
When Genesis stopped its lending services in mid-November due to fallout from the FTX collapse, Gemini was forced to halt its Earn program, making the funds inaccessible to account holders.
The big picture: Tuesday's real escalation wasn't in the barbed words, but in the dissolution of a previous agreement: Gemini ended the master loan agreement between its Earn customers and DCG's Genesis, a court filing shows.
That action should force Genesis to return outstanding assets, according to Gemini.
Which brings up Genesis' balance sheet.
Zoom in: DCG issued a $1.1 billion promissory note — an IOU — to Genesis following the collapse of hedge fund Three Arrows Capital.
Gemini now disagrees with DCG over what the latter owes to Genesis, and when.
Gemini is claiming that the IOU was booked on Genesis' balance sheet at "face value," and was categorized as a "current asset" — cash that could be collected in the near-term.
Per Silbert: "The $1.1 billion promissory note is not callable [by Genesis] and does not contain any other similar features of a callable bond."
The note, which Silbert says was an assumption of Genesis' liabilities from Three Arrows, matures in 2032.
Yes, but: If the debt isn't callable, the question becomes: How will Genesis pay back Gemini? Thus, the Winklevoss fury.
Of note: Genesis did not answer Axios' queries about the debt in question, whether it is callable, whether Genesis is nearing a solution for Gemini customers, or imminently filing for Chapter 11.
A third-party public relations firm responded to those queries by referring Axios to a Jan. 4 update written by Genesis' interim chief Derar Islim.
They also said DCG/Barry questions should be directed to DCG.
Quick take: Everything looks like securities fraud post-FTX collapse. That's confirmation bias at work. But if the Winklevoss accusations prove true, the contagion effects of a felled DCG will be meaningful.
Go deeper