NFL culture shift on full display after Hamlin collapse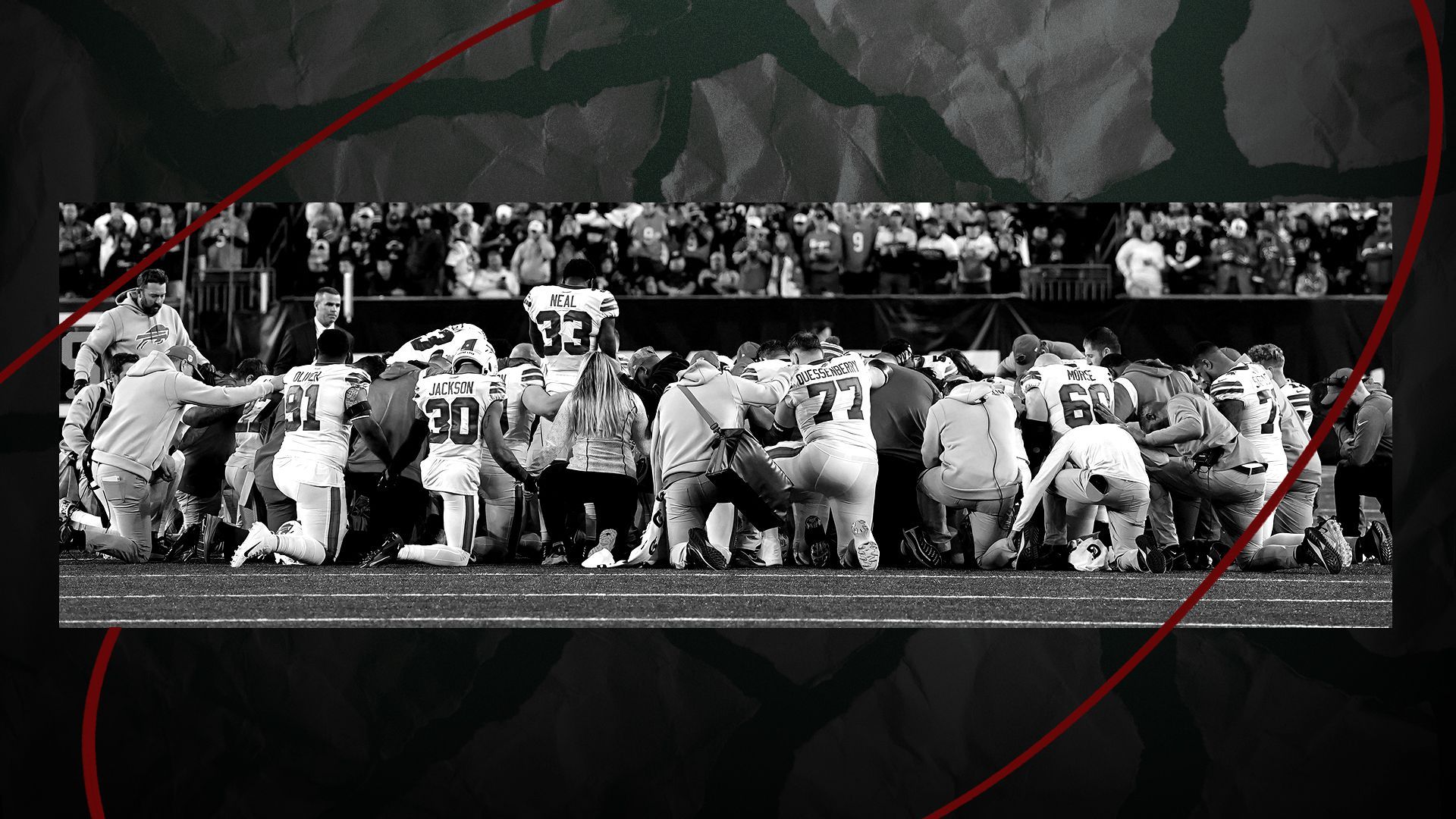 Americans saw pro football players weep openly on the field and during news conferences last week — a window into a deep culture shift by one of the nation's most macho and barbaric sports.
Why it matters: The reaction of NFL players and coaches to Damar Hamlin's collapse shows athletes' reluctance to grapple with mental health has subsided in recent years.
Catch up quick: The league publicly offered mental health support to players in the hours after Hamlin suffered cardiac arrest and was resuscitated on the field during last week's "Monday Night Football" game.
Those resources, which the NFL says are always available, include behavioral health clinicians retained by every team and access to professional counselors via a 24/7 hotline.
The big picture: The response by the league, players and coaches didn't happen in a vacuum, Dallas Cowboys sports psychologist Yolanda Bruce Brooks tells Axios.
Bringing mental health resources to organizations across the NFL was the result of years of work and collective bargaining.
That sea change, as Brooks calls it, was also helped by athletes like Michael Phelps and Kevin Love, who've made it their mission to squash the stigma associated with mental health.
Be smart: The NFL hasn't completely left behind its traditional machismo.
There are still plenty of examples of stoicism and toughness on the fields and locker rooms, Brooks says.
Yes, but: It makes sense that those in the stadium that night felt traumatized by what they saw, said Comilla Sasson, a practicing emergency room physician in Denver.
"Even for me, a cardiac arrest event can be jarring," said Sasson, who estimates she's seen hundreds over 20-plus years.
"It's a sobering realization for people this isn't like the movies ... There is someone who is dead and we're trying to get their heart started again," added Sasson, who is also vice president for health sciences for the American Heart Association.
Between the lines: CPR can be difficult for both bystanders and those administering the help, given the act involves chest compressions that must be hard enough to get oxygen to the brain, which sometimes yields broken ribs.
The incident likely impacted even those who weren't on the field that day. "When somebody collapses suddenly and unexpectedly, that's part of the shock," Sasson said. "If this could happen to him, it could happen to me or happen to my mom ... and your mind runs through these scenarios."
Sasson added that it can help people process what they saw by understanding what medical personnel did to save Hamlin's life — and suggested they may even want to consider using the incident as inspiration to get training themselves.
The bottom line: "What was different to me was how the Bills and their staff handled it," Brooks said.
"You weren't seeing ... entities doing their jobs. You were seeing someone responding to the players as a person. That's a different mindset. It's OK to cry. It's OK to have emotions. It's OK to be human."
Go deeper