Immigrants take back American flag in new film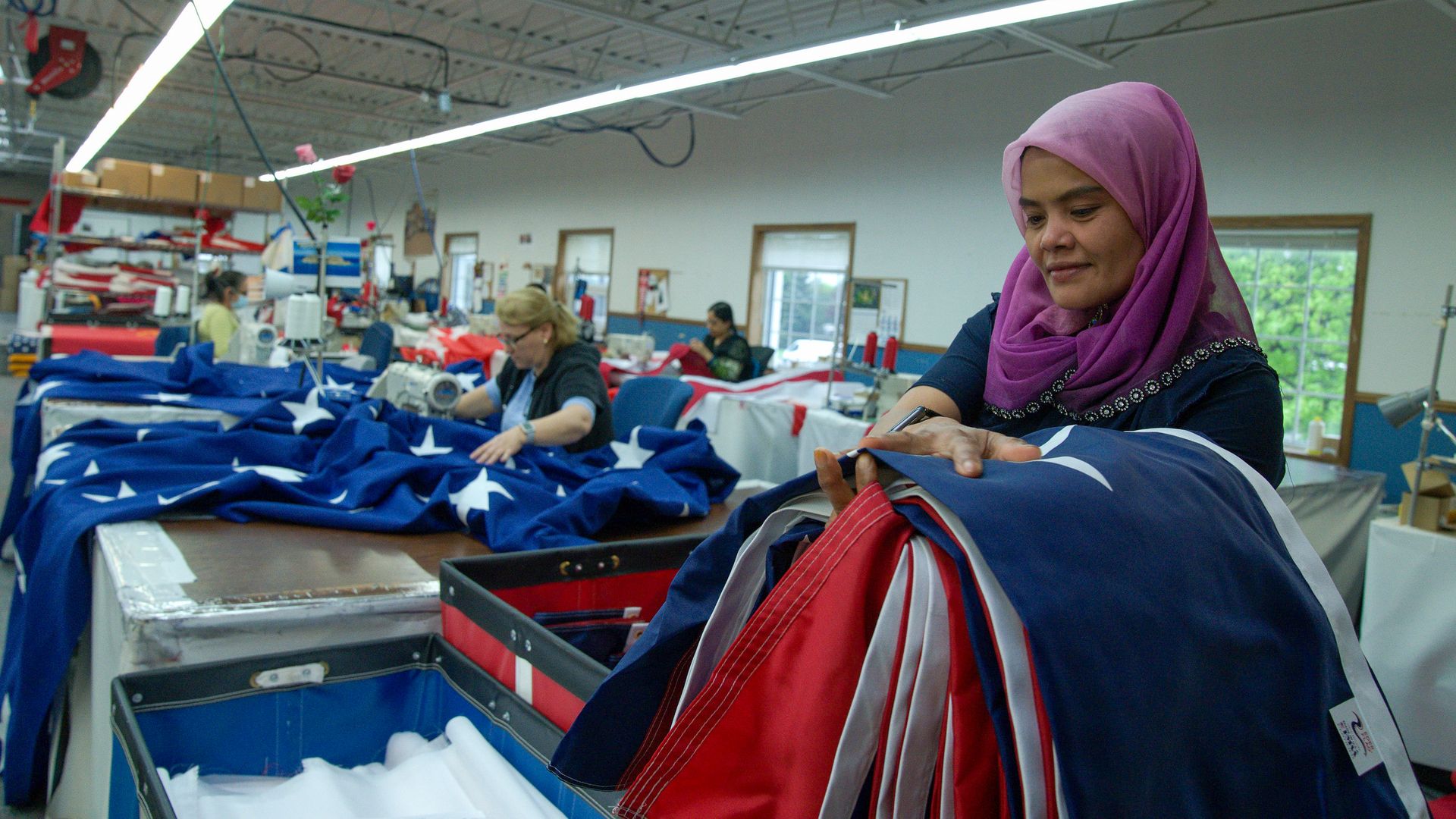 A new National Geographic documentary is examining life inside a factory that makes American flags and whose employees are primarily refugees and immigrants.
Why it matters: The American far right has adopted the U.S. flag as one of its main symbols and waved it during the Jan. 6 insurrection. Others say the American flag has been co-opted and holds more uniting values, especially for immigrants.
Details: "The Flagmakers," currently airing on Disney Plus, will debut Friday on Hulu on the second anniversary of the Jan. 6, 2021, U.S. Capitol riot.
The film follows refugees and migrants from Latin America, the Middle East, Africa, Eastern Europe, and Asia who work at the Eder Flag factory in Oak Creek, Wisconsin.
They speak of what the American flag means to them and how it gave them hope as they fled violence, poverty, and uncertainty in their former countries.
The film tracks the workers amid the pandemic, racial justice protests, and the racial violence and discrimination they face. Yet they still go on making flags.
What they're saying: "The people that literally sew the stars and stripes of our nation are very much representational of our nation," filmmaker Cynthia Wade told Axios.
Wade said Eder Flag is among the largest flag factories in the country and has more than 200 employees, most of who are immigrants and refugees.
Wade said the film crew spent weeks at the factory where they talked to employees and noticed the different languages spoken and the different music coming from radios.
"We just thought this would be a really wonderful entry point to create a film that is really a meditation on the American dream."
Between the lines: Wade said she and co-director Sharon Liese had become uncomfortable with how the American extreme right used the American flag.
The American flag, along with the Confederate flag and other flags linked to white supremacy, was used to damage the Capitol Building on Jan. 6 and has been seen at other far-right rallies in recent years.
Yes, but: The American flag was used by Civil Rights marchers from Selma to Montgomery, Alabama, in 1964 to press segregationists to honor the nation's promise of equality.
War World II veteran Dr. Hector P. Garcia urged fellow Mexican American veterans to use the U.S. flag in marches and rallies to fight discrimination.
Native Americans also wave the American flag at powwows while honoring Indigenous veterans.
The intrigue: Eder Flag provided the flags for Vice President Kamala Harris and President Biden during the Democratic National Convention.
What's next: Eder Flag has been busy with orders since the film debuted, Wade told Axios.
Go deeper