Volodymyr Zelensky named Time's 2022 Person of the Year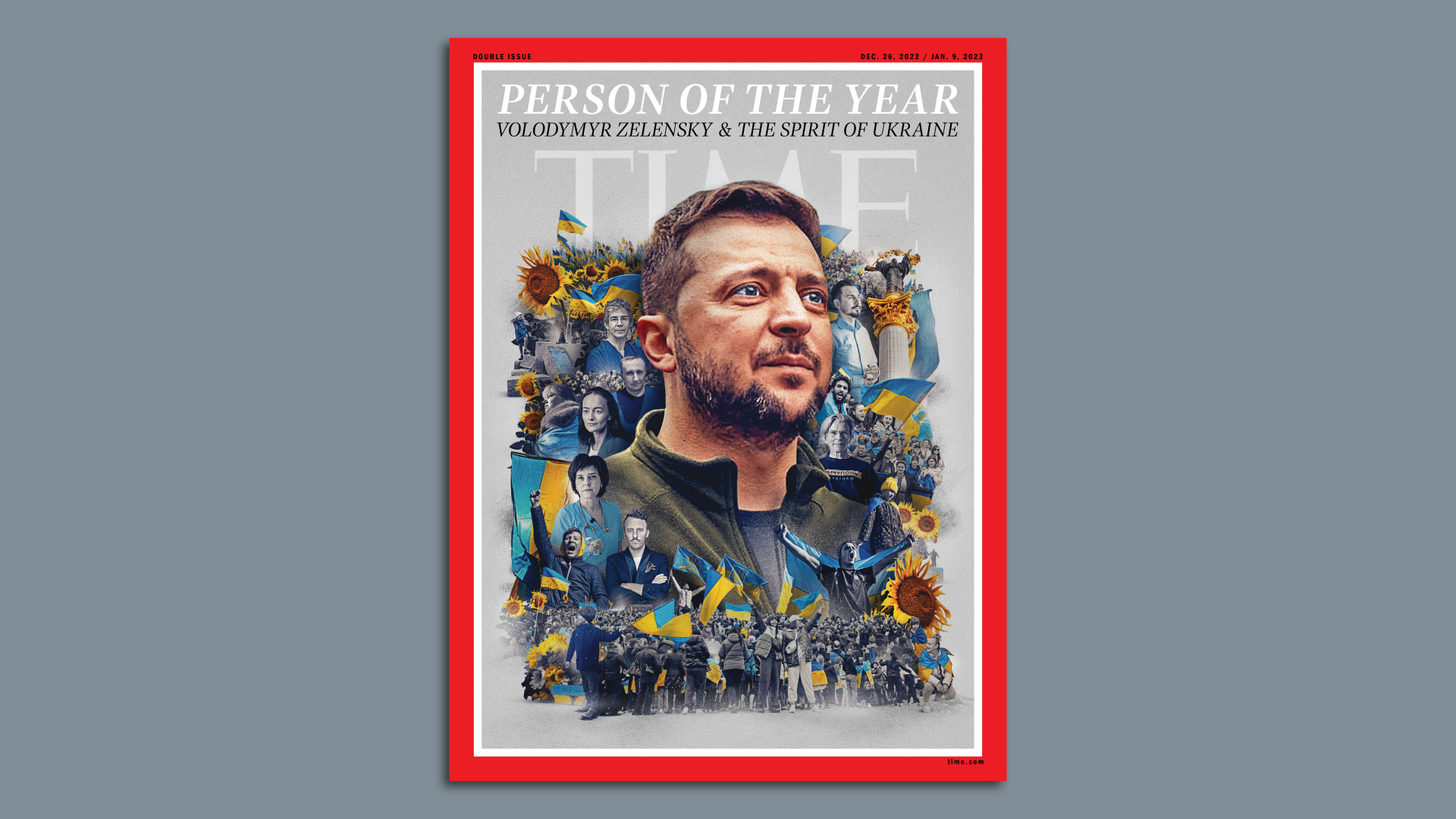 Ukrainian President Volodymyr Zelensky has been named Time's 2022 Person of the Year.
Driving the news: "This year's choice was the most clear-cut in memory," Time CEO and editor-in-chief Edward Felsenthal wrote in a letter to readers.
"Whether the battle for Ukraine fills one with hope or with fear, Volodymyr Zelensky galvanized the world in a way we haven't seen in decades," Felsenthal added.
The big picture: Time has chosen a Person of the Year every year since 1927. Individuals or multiple people can earn the award for having a major impact on their country and the world throughout the calendar year.
Flashback: Time's Person of the Year picks include Elon Musk (2021), President Biden and Vice President Harris (2020), Greta Thunberg (2019), the Guardians (2018), the Silence Breakers (2017) and Donald Trump (2016).
Florida Gov. Ron DeSantis, China President Xi Jinping, the U.S. Supreme Court and Musk were all finalists for 2022, according to "Today."
Excerpts:
"Zelensky's success as a wartime leader has relied on the fact that courage is contagious. It spread through Ukraine's political leadership in the first days of the invasion, as everyone realized the President had stuck around. If that seems like a natural thing for a leader to do in a crisis, consider historical precedent," Time's Simon Shuster writes in a profile.
"When it comes to battlefield decisions, Zelensky usually focuses on human lives — how many would be lost if we take this path?"
"For most of this year, Zelensky lived apart from his wife and their two children. The main reason is security; his presence would put them at greater risk. But he also feels it would be wrong to resume their domestic habits while so many Ukrainian families remain separated by the war."
Go deeper