Updated Nov 23, 2022 -

World
Explosions in Jerusalem kill 1 and injure at least 15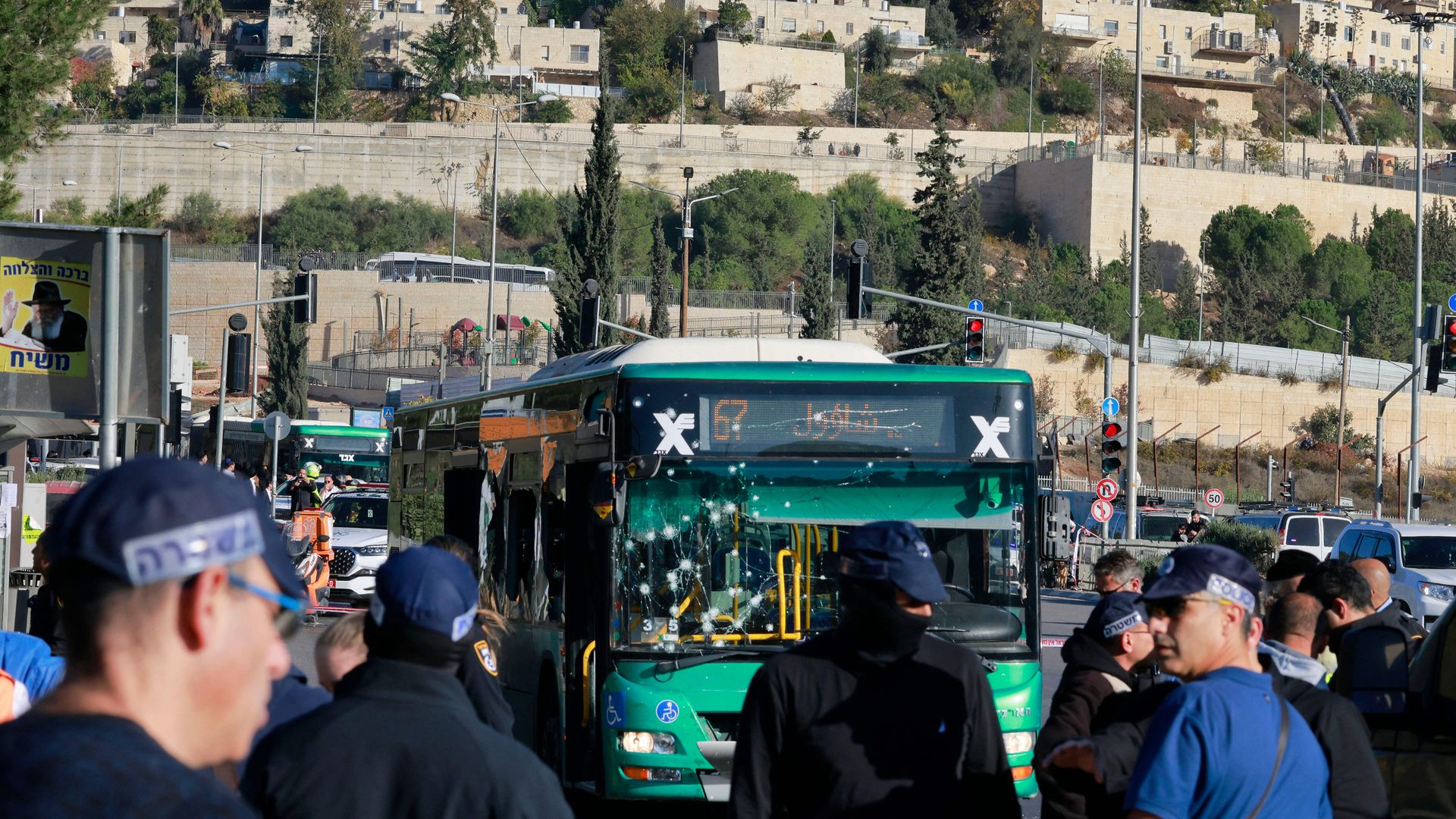 An Israeli teen was killed and at least 15 others, including two U.S. citizens, were wounded in two explosions in Jerusalem on Wednesday in what Israeli officials are calling a terrorist attack.
The big picture: These are the first bomb attacks against Israeli citizens in years.
The explosions in Jerusalem come as the security situation in the occupied West Bank continues to deteriorate.
The escalation in violence has also taken place against the backdrop of the political crisis in Israel, increased Israeli raids in the West Bank and the weakening of the Palestinian Authority.
A 16-year-old Palestinian was killed overnight in Nablus amid a firefight between Palestinian militants and Israeli soldiers who were escorting Orthodox Jewish worshippers to a shrine in the Palestinian city.
Driving the news: Israeli police officials said in a briefing with reporters that the two explosive devices were similar. Both were built in a professional way and were detonated remotely using a mobile phone, the officials added.
Israeli police and the Shin Bet intelligence agencies believe the two explosions were part of the same terror plot and were orchestrated by an organized group that prepared for a long time, Israeli officials said. No organization has claimed responsibility for the attack.
The Israeli police had information about threats of bombing attacks in Jerusalem in recent weeks but the threats weren't specific, the officials said.
State of play: There has been a significant increase in the number of Palestinians killed in Israeli military raids into West Bank cities and a growing number of stabbing and shooting attacks by Palestinians against Israeli soldiers and civilians.
The Biden administration has expressed concerns that the Palestinian Authority could collapse and that the situation in the West Bank could turn into a third intifada.
In the West Bank city of Jenin, the body of an Israeli Druze man was kidnapped from the hospital by a group of gunmen affiliated with the Islamic Jihad, Israeli officials say. A family member of an Israeli who was at the hospital when the kidnapping took place claimed the gunman took the body while the man was still connected to life support.
The Palestinian gunmen demanded that Israel return the bodies of Palestinians who were killed during attacks and those Israel is holding.
Overnight, the Palestinian Authority's security forces tried to retrieve the body from the gunmen but failed in doing so, Palestinian and Israeli sources say.
UN officials said they are still negotiating with the Palestinian Authority to retrieve the body.
Editor's note: This story has been updated with additional details throughout.
Go deeper