Kherson begins rebuilding after end of Russian occupation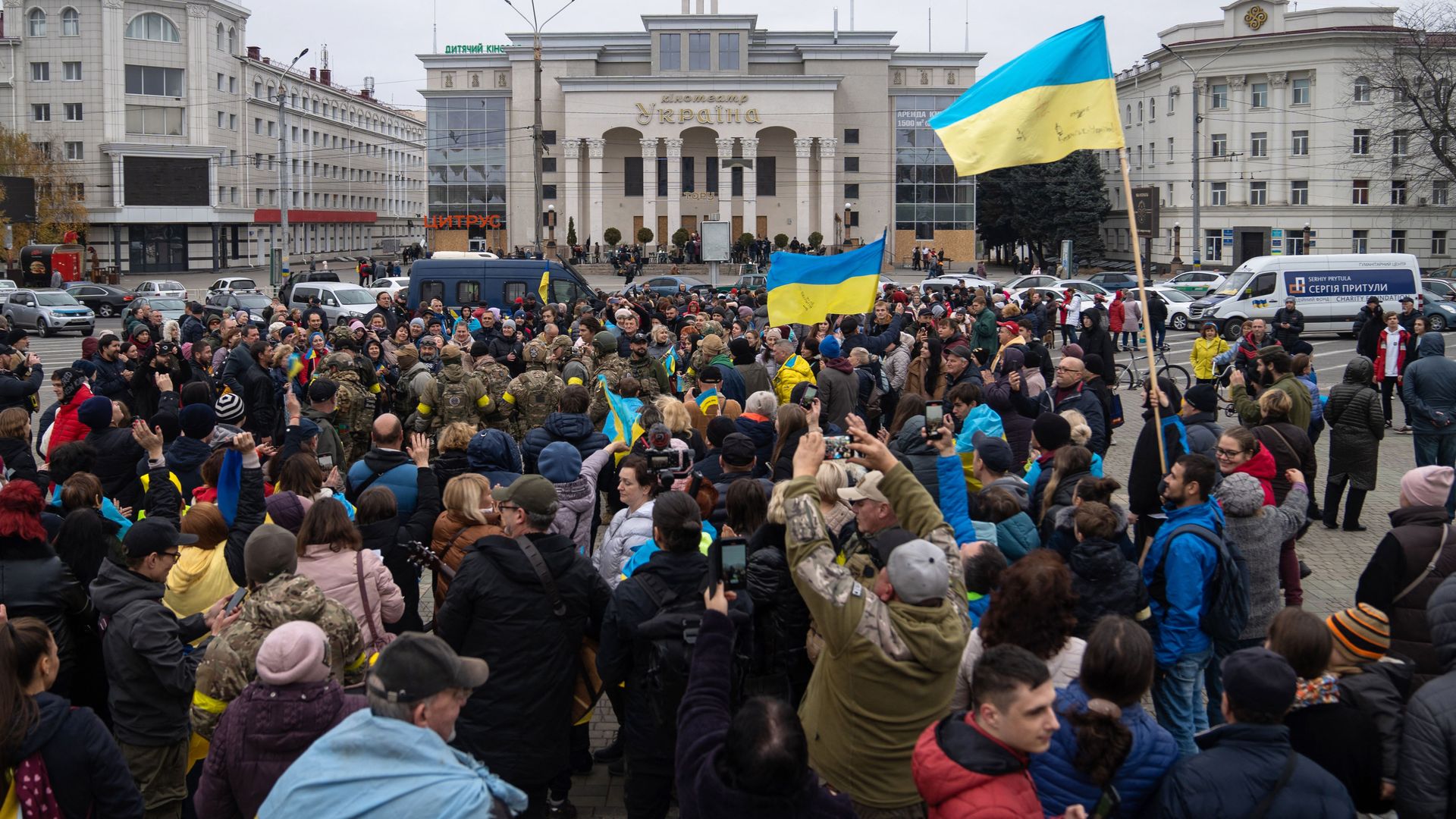 Residents of the city of Kherson celebrated the end of Russian occupation for the third straight day on Sunday even as most of the city was without electricity or running water, AP reports.
The latest: Ukrainian President Volodymyr Zelensky said in an address Sunday night that investigators have already documented more than 400 Russian war crimes across the liberated region.
"The bodies of both civilians and military personnel are being found," he said.
The big picture: Russia's withdrawal, which residents said included widespread plundering, has also left the city short on food and medical supplies.
Utility companies have been working to restore Ukraine's critical infrastructure damaged by Russia, while Ukrainian forces have started clearing out explosive devices that Russian forces left behind across the region, according to Reuters.
What they're saying: "Months of Russian occupation, months of the mockery of our people, months of stories that Russia is supposedly there forever. ... And still, there is a sea of Ukrainian flags on the streets," Zelensky said in an address Saturday night.
"Before fleeing from Kherson, the occupiers destroyed all critical infrastructure — communication, water supply, heat, electricity," he added. "But we will restore everything. Believe me."
Bomb-disposal experts have already removed almost 2,000 explosive items —like mines, trip wires and unexploded ammunition — from liberated parts of Kherson Oblast, Zelensky said.
Kherson was the only provincial capital captured by Russia since it invaded Ukraine in February.
Ukrainian forces entered the city's center Friday, and police officers and TV and radio broadcast services returned as well on Saturday.
Russia still occupies all of Kherson Oblast on the eastern bank of the Dnipro River, where it is reorganizing its defenses.
Go deeper:
Go deeper