Updated Nov 11, 2022 -

World
Ukraine celebrates as troops enter Kherson after Russian retreat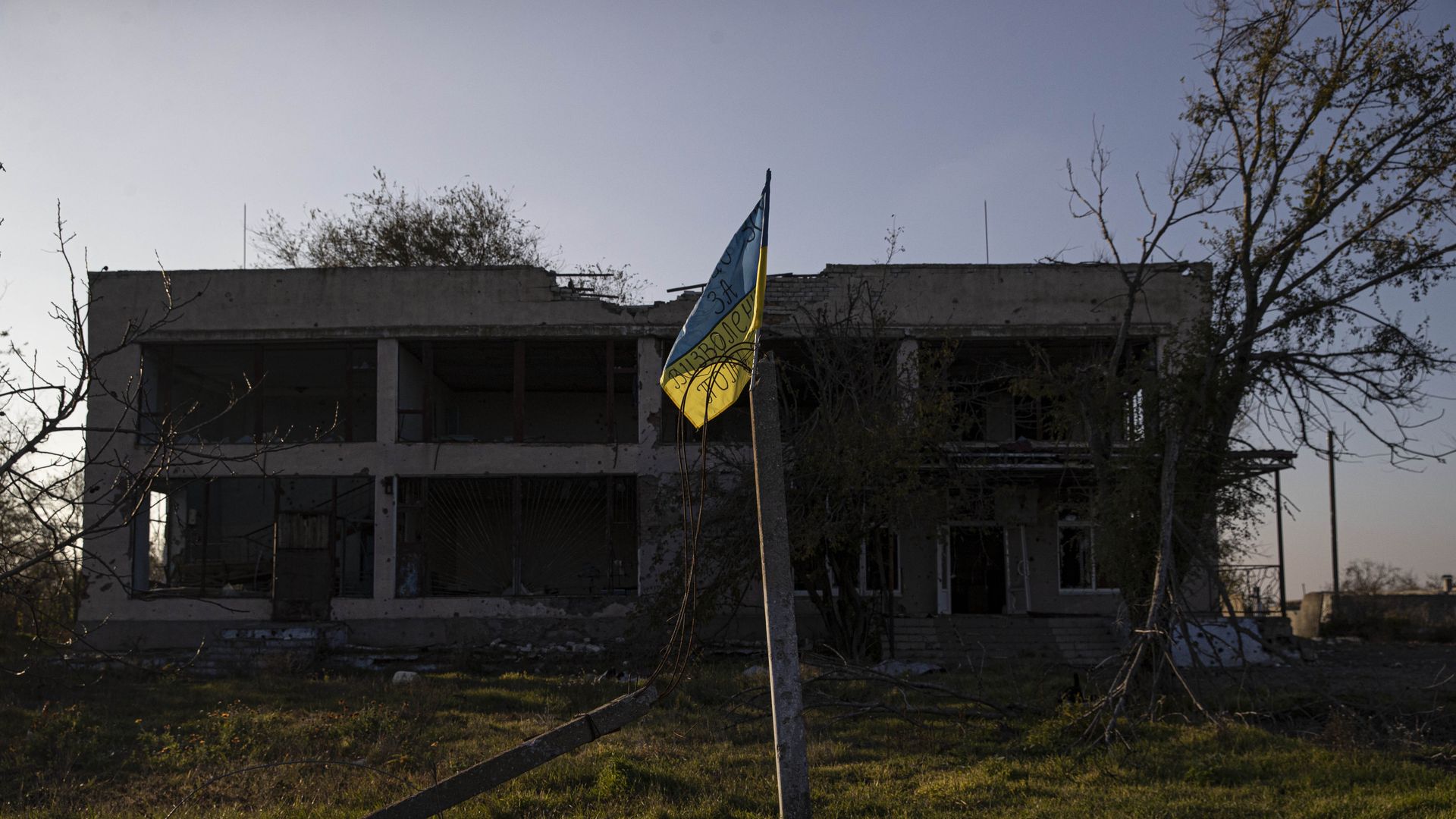 Ukrainian President Volodymyr Zelensky said Friday that the country's troops had entered the key southern city of Kherson, calling it a "historic day."
Why it matters: Russia's withdrawal from the only provincial capital its military captured since invading neighboring Ukraine eight months ago marks a major setback for Moscow and a remarkable victory for Ukrainian forces.
Driving the news: The Russian Defense Ministry said Friday it had finished withdrawing troops from the western bank of the Dnipro River, which divides the city.
"Today is a historic day," Zelensky said in a post on Telegram, according to the New York Times. "As of now, our defenders are on the approaches of the city. But special units are already in the city."
Other government officials shared videos showing people in Kherson celebrating the arrival of Ukrainian forces, per the NYT.
Meanwhile, the Kremlin insists Kherson is still a part of Russia.
"This is a subject of the Russian Federation. There are no changes in this and there cannot be changed," Kremlin spokesman Dmitry Peskov said.
Kherson Oblast is one of four Ukraine regions that Russia annexed in October in what Ukrainian President Volodymyr Zelensky called a "sham referendum." The regions combined make up about 15% of Ukraine.
The Kremlin said Friday that the pullback of troops does not represent an embarrassment for Russian President Vladimir Putin, per AP.
What they're saying: "Not a single piece of military equipment was left on the right bank. There were no losses in manpower or military equipment and material resources of the Russian group of forces," Kremlin Defense Ministry Spokesman Lieutenant General Igor Konashaekov said in a statement.
The other side: "Ukraine is gaining another important victory right now and proves that whatever Russia says or does, Ukraine will win," Ukraine's Foreign Minister Dmytro Kuleba said in a tweet.
Worth noting: Ukrainian officials remained cautious about the initial announcement of the retreat this week and feared their soldiers could be ambushed in Kherson.
The leaving Russian troops laid mines throughout the city, presidential adviser Mykhailo Podolyak said Thursday per AP, adding that he predicts their forces will shell Kherson once they relocate.
"The Russian army leaves the battlefields in a triathlon mode: steeplechase, broad jumping, swimming," senior presidential adviser Andriy Yermak tweeted Friday.
Editor's note: This story has been updated with comment from Ukrainian President Volodymyr Zelensky.
Go deeper