Midterms 2022: The unexpected challenges for Election Day voters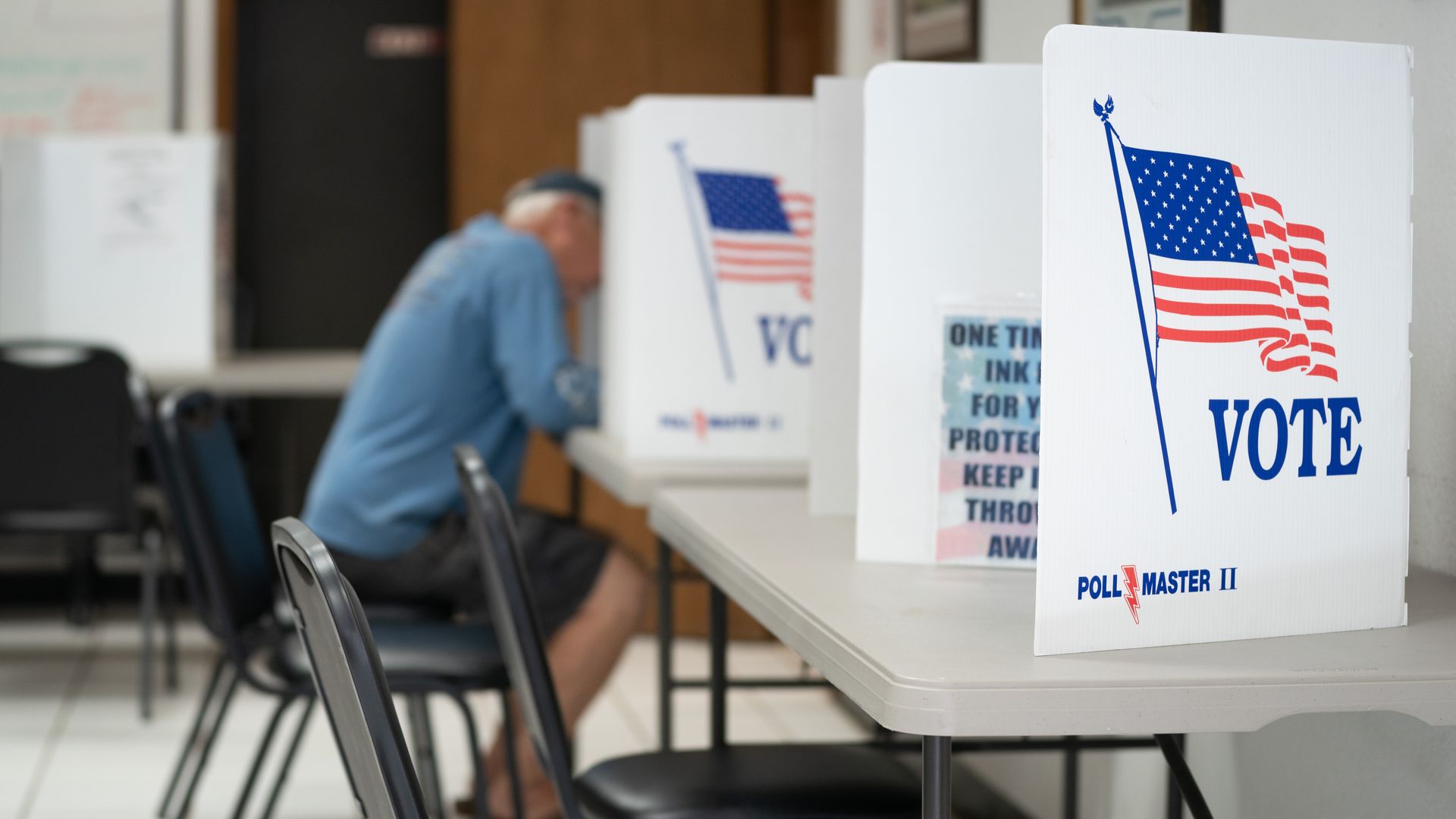 A judge in Maricopa County, Arizona rejected Republican efforts to extend poll hours in the county by three hours.
Why it matters: This is the latest in a series of election night decisions that could impact the final results, which may not be known for days.
It follows efforts by former President Trump to stoke baseless accusations of a "Voter Integrity Disaster" in Maricopa County, Arizona, and allege that appropriate guidance about patience in the Pennsylvania count was "outrageous."
The big picture: Several other isolated incidents were reported around the U.S. — including a suspect reportedly armed with a knife delaying voting in Wisconsin, a paper shortage in Pennsylvania and website outages in Mississippi.
What they're saying: "What we're seeing today is really what we see in every election, isolated incidents of some problems," Sylvia Albert, Common Cause's director of voting and elections, said on an afternoon press call.
"But what we have seen is these isolated incidents of problems — which again, election officials have dealt with in a timely manner — have been used to spread myths and disinformation about the election."
Election experts had cautioned that voting rule changes in battleground states, lingering distrust fueled by the "Big Lie," misinformation and an increasingly hostile political environment could pose problems.
Michigan Secretary of State Jocelyn Benson refuted Trump's unproven claims, asking him not to "foment or encourage political violence."
A senior Cybersecurity and Infrastructure Security Agency (CISA) official emphasized to reporters in a Tuesday evening call that they have seen "no activity that should cause anyone to question the security, the integrity or the resilience of the election."
By the numbers: The Justice Department was monitoring polls in 64 jurisdictions in 24 states to protect voters' rights.
There were at least 127 election and voting-related lawsuits filed this year — excluding redistricting-related suits, according to Democracy Docket, a left-leaning platform that has been tracking election litigation.
Turnout was expected to be high for a midterm election; 53% of the voting age population turned out in 2018 and 42% in 2014. More than 42 million people had submitted their votes early — a midterm early-voting record — per data from Democratic firm TargetSmart.
What we're watching: A CISA official told reporters they are aware of possible attacks affecting a number of websites for state election offices, campaigns and partisan organizations in a handful of states.
The Mississippi Secretary of State website and other websites in the state experienced outages on Tuesday, the press office confirmed to Axios.
CISA officials emphasized that those attacks, even if successful, do not affect people's ability to cast votes.
In Maricopa County, Arizona, about 20% of polling sites had reported issues with tabulators as of Tuesday morning. County officials later said they were working to resolve the issues.
"To be very clear, we have no indication of malfeasance or malicious activity," the CISA official said.
The RNC, Republican gubernatorial nominee Kari Lake and Republican Senate nominee Blake Masters sued to extend poll hours by three hours in Maricopa County.
In Luzerne County, Pennsylvania, a paper shortage at polling places led to a judge ordering the extension of voting by two hours there.
A federal judge on Monday issued an emergency order prohibiting election officials from intimidating Black voters in Beaumont, Texas, following a lawsuit by the NAACP. It alleged white poll workers aggressively asked Black voters to recite their addresses aloud and closely followed Black voters in polling place.
The Pennsylvania Supreme Court ruled that ballots mailed in undated or incorrectly dated envelopes must be set aside, which could result in 3,400 ballots being rejected, one election official told CNN.
In Cobb County, Georgia, 1,000 voters were reportedly not mailed an absentee ballot due to human error, which led a judge on Monday to extend the deadline for the receipt of absentee ballots to Nov. 14th.
There were 16 reports of voter intimidation or harassment of election workers in North Carolina, as ABC News reported.
Flashback: Following the 2020 election, several Republican-controlled states such as Texas and Georgia passed new voting rules that critics said would make it more difficult for some voters to cast their ballots.
Since the start of the year, five states passed five laws that could make it more difficult to vote in time for those changes to take place for the midterm elections, according to Brennan Center.
It's unclear how impactful these changes have been, experts say, as other factors have helped juice turn out and many voting rights groups have made concerted efforts to educate voters about the changes.
What's next: As polls close, local and state election offices will start to verify election results. Election lawyers are keeping an eye on potential recounts and hand counts in closely contested races.
The New York Times reported that a right-leaning group in Michigan planned to challenge any close, unwanted election results in the state.
Editor's note: This story will be updated throughout the day.
Go deeper