Updated Nov 3, 2022 -

World
Israel's Lapid congratulates Netanyahu on election win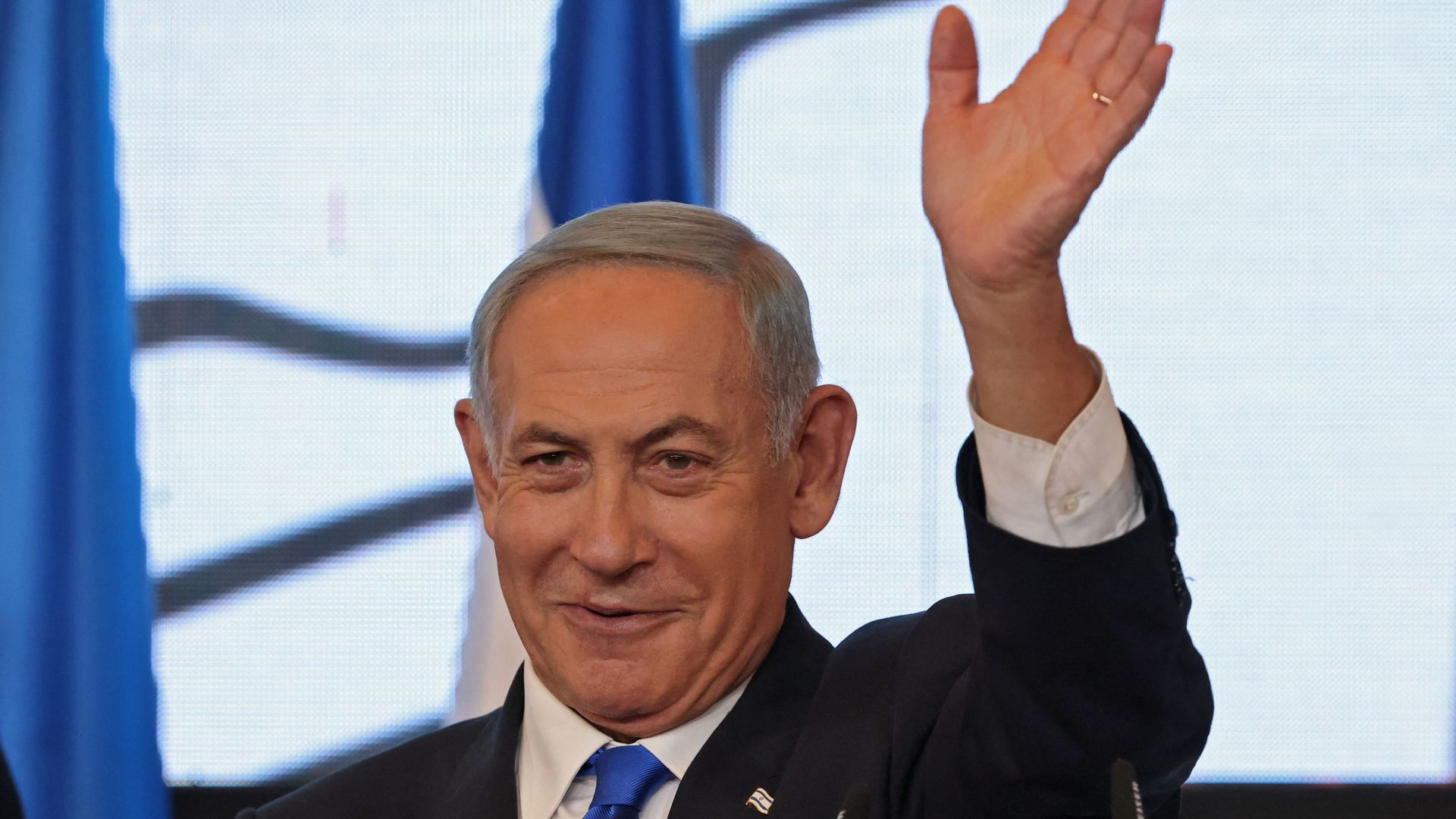 Israeli Prime Minister Yair Lapid called Benjamin Netanyahu on Thursday to congratulate him on his bloc's election win, paving the way for the opposition leader to return to the prime minister's office less than 18 months after being ousted.
Driving the news: Netanyahu's right-wing bloc won a 64-seat majority in Tuesday's elections, with 100% of the votes counted, according to the Israeli election committee.
The big picture: Voter turnout this year was 78.6% — the highest since 2015, according to the country's central elections committee.
State of play: Netanyahu's Likud party won 32 seats, while Lapid's party won 24 seats.
Winning 14 seats, the Jewish supremacist "Religious Zionism" list will be the third-largest list in the Knesset. It's the highest number of seats for the radical right in the history of Israel.
The liberal left Meretz party didn't pass the electoral threshold and will not be part of the next Knesset for the first time since it was founded 30 years ago.
What they're saying: On Thursday, Lapid called Netanyahu and said he had instructed his team to prepare for an orderly transition of power, the Prime Minister's Office said
U.S. Ambassador to Israel Tom Nides called Netanyahu and congratulated him on his victory. "I told him I look forward to working together to maintain the unbreakable bond," Nides tweeted.
President Biden is likely to call Netanyahu over the weekend or early next week to congratulate him, according to a source briefed on the issue.
Between the lines: The final results showed that even though Netanyahu's right-wing bloc won more seats in the Knesset, the total number of votes counted showed the elections were relatively close.
The right-wing bloc won about 30,000 more votes than the center-left bloc but the gap in the number of Knesset seats was bigger because two parties from the center-left bloc didn't pass the electoral threshold.
What's next: The results of the elections will be presented to President Isaac Herzog next week.
He will then begin the process of consultation with the different parties and decide who to give the mandate for forming a government. The fact that Netanyahu has a clear majority will turn this process to a ceremonial and technical one.
It is expected that Netanyahu will manage to form a government very quickly.
Go deeper: What the Israeli election results could mean for Palestinians
Go deeper