Updated Nov 1, 2022 -

World
Netanyahu eyes comeback as Israelis head to the polls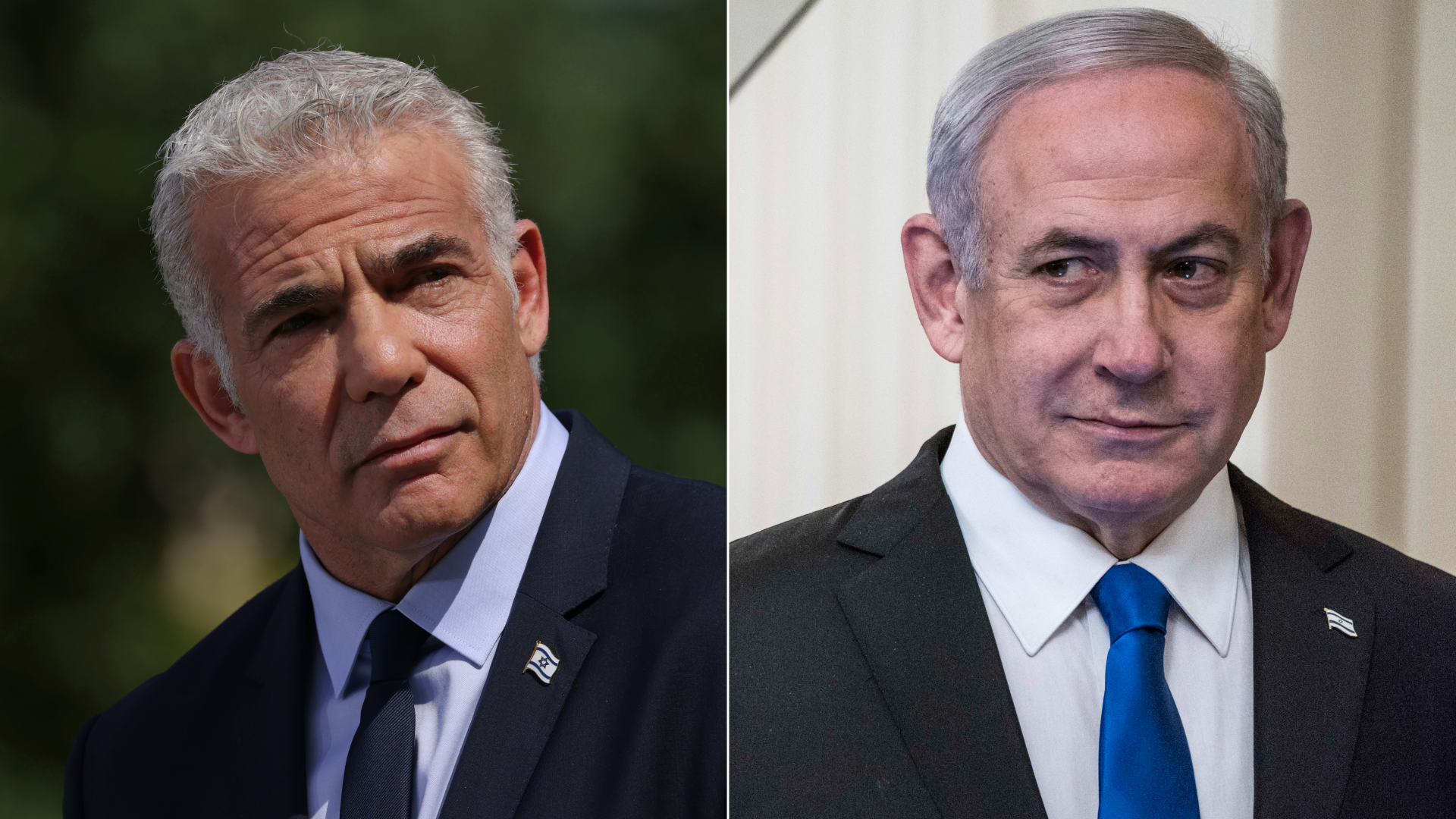 Israelis began voting on Tuesday in the country's election amid a tight race between Prime Minister Yair Lapid and opposition leader Benjamin Netanyahu.
Why it matters: It is Israel's fifth election in less than four years and another attempt to break the political deadlock and return political stability to the country.
It's also another opportunity for Netanyahu to try and win the 61-seat majority in the Knesset he needs to form a coalition that could pass laws and take steps to stop his corruption trial.
State of play: The last polls before the elections, published on Friday night, showed a 60-60 tie between Netanyahu's right-wing bloc and Lapid's center-left bloc.
The big picture: In such a close race, there are two things that matter — turnout and the 3.25% electoral threshold a party must meet to get seats in the Knesset.
Netanyahu has a much more consolidated right-wing bloc heading into the elections, while Lapid's center-left bloc remains fractured and divided.
At least four parties in Lapid's bloc are under threat of not passing the electoral threshold. If even one of these parties doesn't pass, Netanyahu will likely win a 61-seat majority.
Turnout will be key, especially as many Israelis show voter fatigue and express disenchantment with politics more generally. Both Netanyahu and Lapid have focused their attention on urging their bases to get out and vote, rather than trying to convince voters to switch sides.
The turnout among the Arab minority has turned out to be the most important factor in the elections because of the fact that three separate Arab parties will run against each other.
While turnout among Arab citizens of Israel was initially expected to be at its lowest level in decades, it's now projected to be around 50%, according to analysts. That's in part due to the rise of Jewish supremacist politicians.
The extreme right is expected to dramatically increase its political power to unprecedented levels which could give it significant influence on government policy if Netanyahu wins.
What they're saying: As polls opened, Netanyahu tweeted: "Go out and vote!"
Lapid tweeted a solemn photo of himself standing by a grave with the caption: "My father told me all his life 'Remember that the greatest miracle that happened to us is that the Jews have their own country.' I promised him this morning that we will continue to work hard to ensure the future of this miracle."
He later tweeted a photo of himself casting his ballot, saying: "Go vote, these are crucial choices for the future of our children."
What to watch: Initial exit polls are expected around 4pm ET, with updated results expected several hours later.
But if the elections are as close as the polls were, the results may not become clear until Thursday.
Editor's note: This article and its headline have been updated to reflect that polls have opened and comment from Prime Minister Yair Lapid and opposition leader Benjamin Netanyahu has been added.
Go deeper