Israeli President Herzog meets Biden at the White House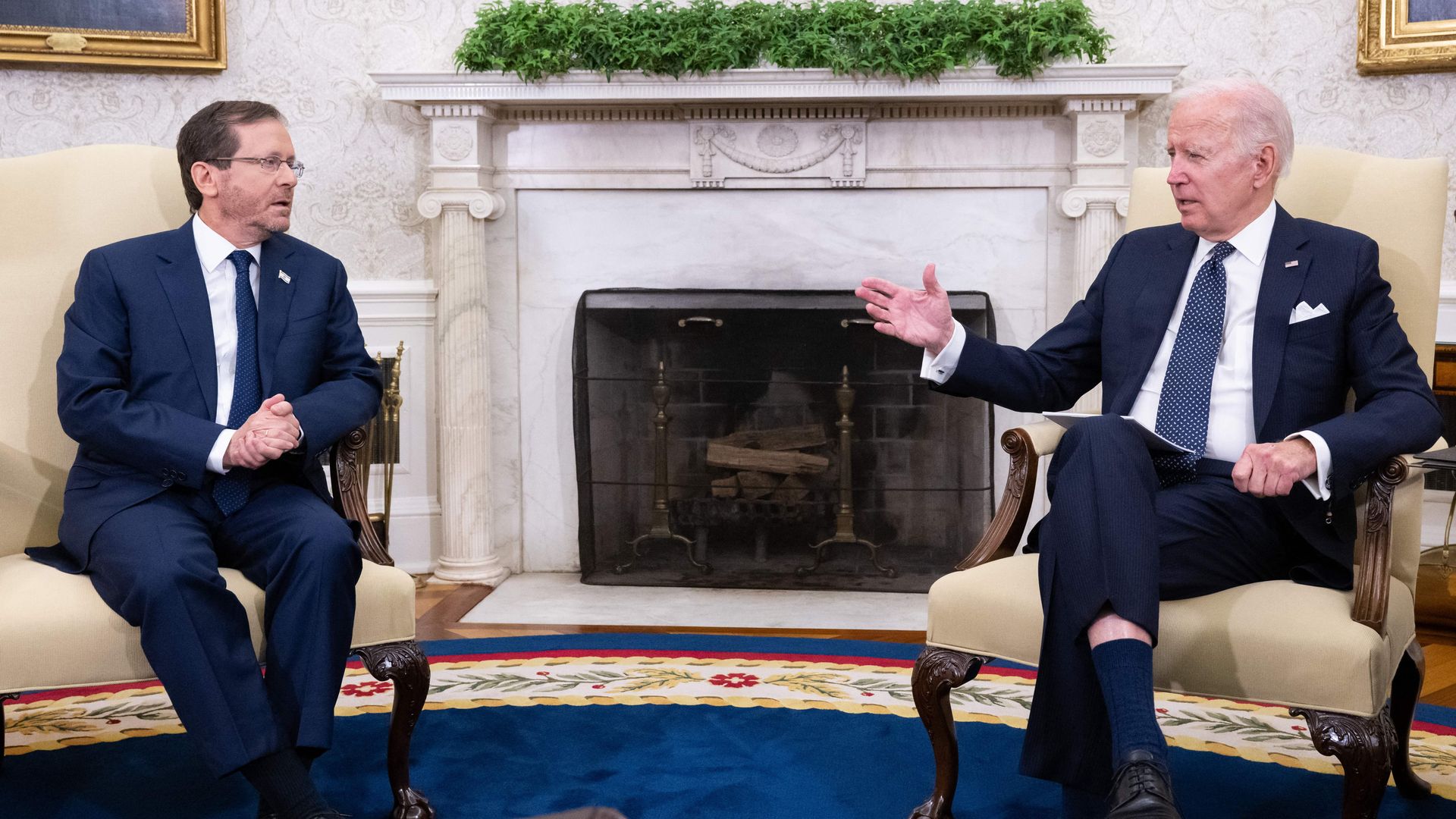 Israeli President Isaac Herzog met President Biden at the White House on Wednesday.
Why it matters: The meeting comes less than a week before the Israeli elections.
The Biden administration has expressed concerns that if opposition leader Benjamin Netanyahu wins the elections and forms a right-wing government, it will include Jewish supremacist politicians.
In such a situation, Herzog will become an even more critical player in the U.S.-Israel relationship.
Herzog's visit to Washington this week was his first since assuming office.
What they're saying: The White House said Biden during the meeting emphasized that his administration will ensure that Iran never acquires a nuclear weapon.
Biden also condemned "the persistent scourge of anti-Semitism, including anti-Israel bias," the White House said.
Biden told Herzog the U.S. strongly opposes "the open-ended and biased nature of the UN Commission of Inquiry established in May 2021, which is unfairly singling out Israel," according to the White House.
The U.S. president emphasized to Herzog that steps must be taken to de-escalate the security situation in the occupied West Bank, improve the lives of Palestinians and weaken extremists who promote hatred and violence, the White House said.
State of play: Herzog met on Tuesday with Secretary of State Tony Blinken and discussed Iran's involvement in the war in Ukraine, the maritime border agreement between Israel and Lebanon, and the escalating tensions in the occupied West Bank, the State Department and Herzog's office said.
Blinken told Herzog he is concerned about the situation in the West Bank and emphasized the need for all parties to urgently de-escalate the situation, State Department spokesperson Ned Price said.
The big picture: Herzog's aides said he wanted to use the visit to send a message ahead of the elections in both the U.S. and Israel that the relationship between the countries should continue to be bipartisan.
"My visit here in a sensitive political period in both Israel and the U.S. is meant to stress that our friendship will continue regardless of the results of the elections in Israel and in the U.S.," Herzog told House Speaker Nancy Pelosi (D-Calif.) on Tuesday.
Editor's note: This story has been updated with additional details throughout.
Go deeper