Updated Oct 18, 2022 -

World
Beijing speeding up plans to seize Taiwan, Blinken says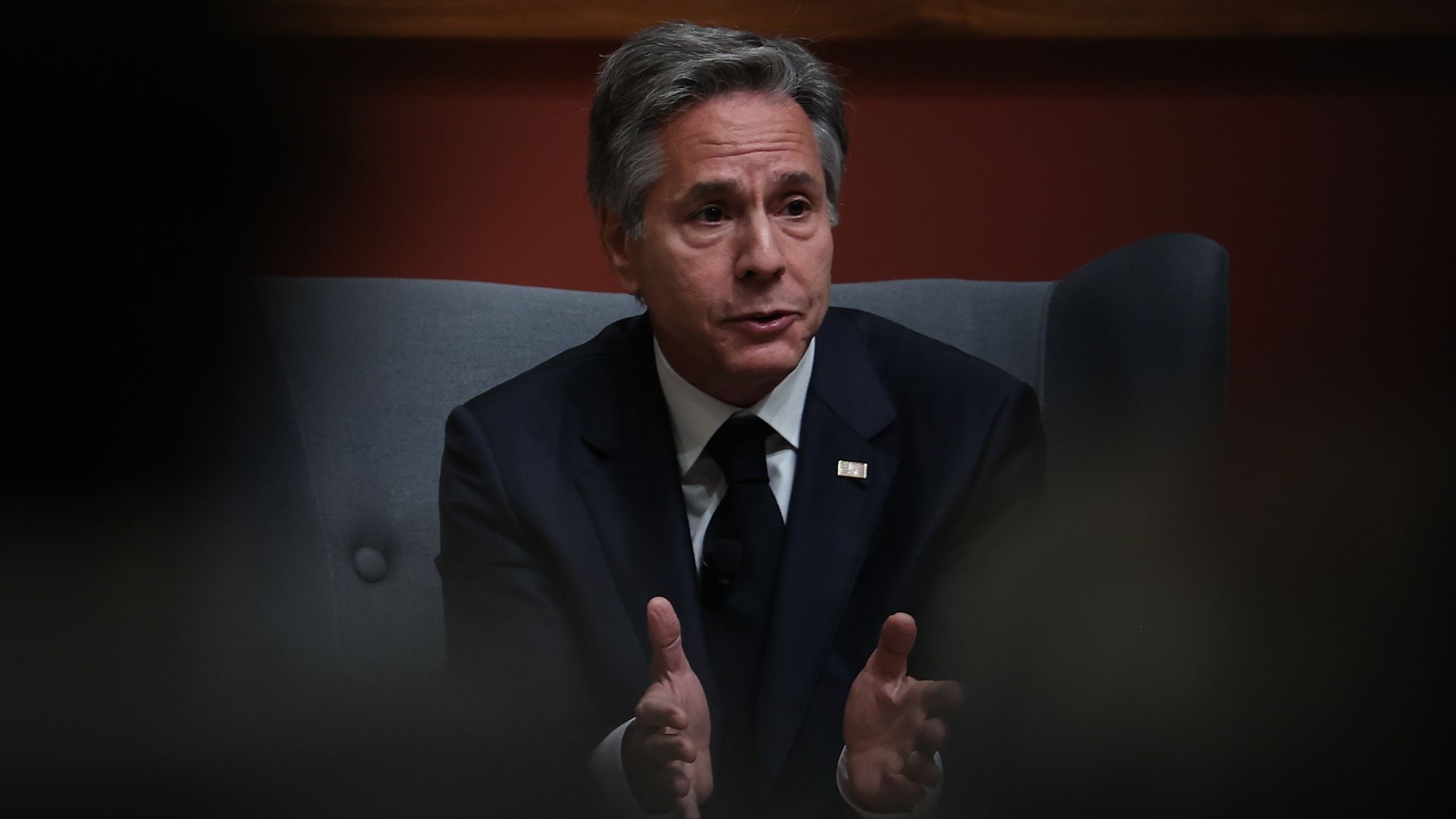 China's ruling party plans to annex Taiwan on a "much faster timeline" under Chinese President Xi Jinping than previously thought, Secretary of State Antony Blinken said Monday.
Of note: Blinken's comments at an event at Stanford University in California come days after Xi said during a Chinese Communist Party congress speech that the "wheels of history are rolling on toward China's reunification" with Taiwan and "we reserve the option of taking all measures necessary."
What he's saying: "There has been a change in the approach from Beijing toward Taiwan in recent years," Blinken said at the Stanford forum with former Secretary of State Condoleezza Rice.
"Instead of sticking with the status quo that was established in a positive way, a fundamental decision that the status quo was no longer acceptable and that Beijing was determined to pursue reunification on a much faster timeline," he continued.
"And if peaceful means didn't work, then it would employ coercive means and possibly, if coercive means don't work, maybe forceful means — to achieve its objectives. And that is what is profoundly disrupting the status quo and creating tremendous tensions."
The big picture: Tensions between Beijing and Washington over Taiwan have been heightened since Speaker Nancy Pelosi visited the self-governing island in August, prompting Chinese forces to launch live-fire drills in protest.
President Biden said last month and on several occasions previously that U.S. forces would defend Taiwan if China's military invaded the island, despite the U.S. government having a long-running policy of "strategic ambiguity" on the matter.
Worth noting: Blinken said the U.S. remained "fundamentally committed" to the "one China policy" in which the acknowledges that Beijing considers Taipei part of China but opposes any attempts to change the island's self-governing, democratic status by force.
"That hasn't changed. That won't change," Blinken said. "But at the heart of that was a commitment to resolve these differences peacefully, and if that's changing, then that does offer, unfortunately, prospects for very challenging situations going forward."
Go deeper: What China looks like after a decade of Xi Jinping's rule
Editor's note: This article has been updated with new details throughout.
Go deeper