Biden: Putin could escalate "prospect of Armageddon" with nuclear weapons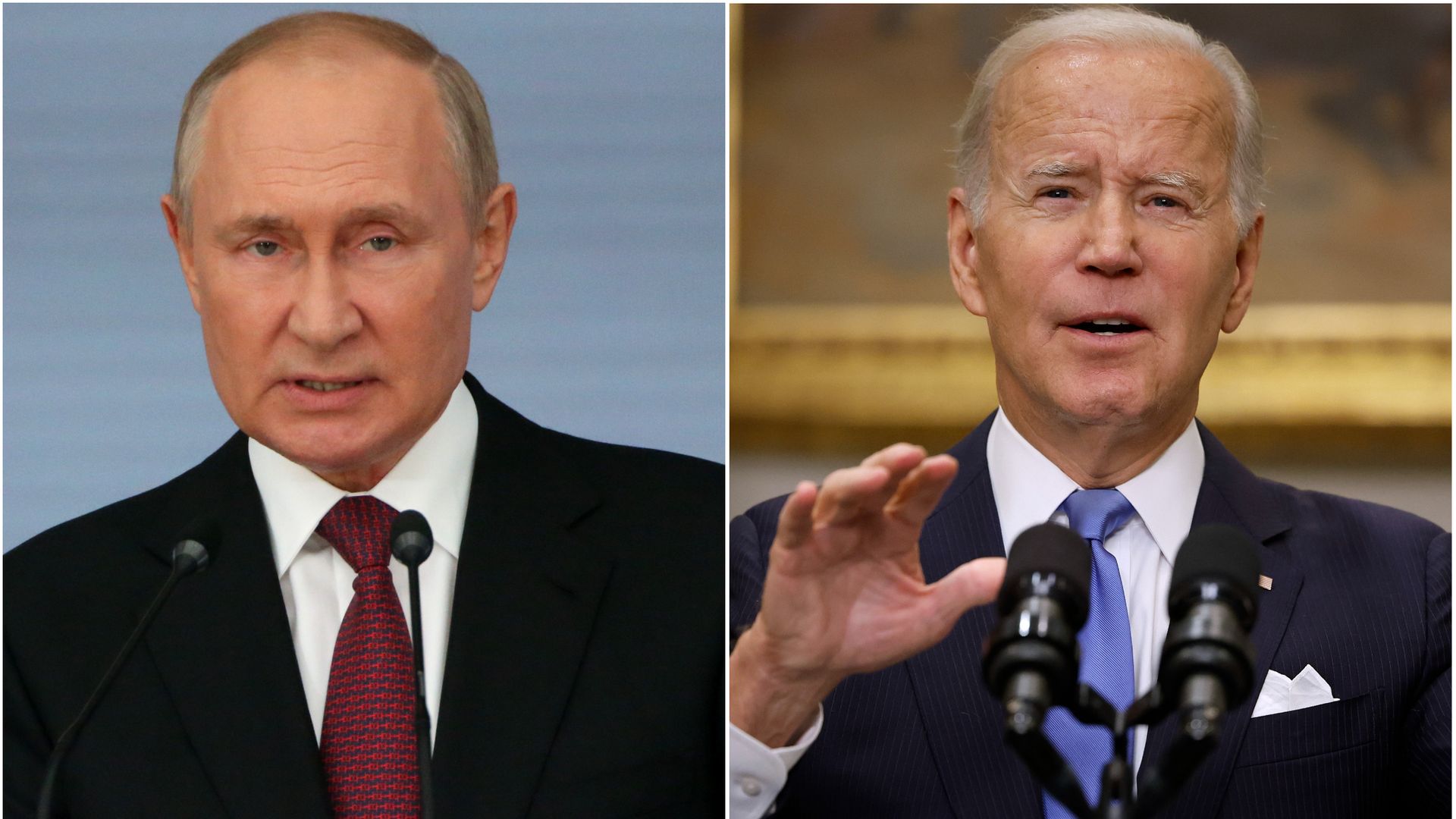 President Biden warned Thursday that the Russian invasion of Ukraine invites the highest nuclear "prospect of Armageddon since Kennedy and the Cuban missile crisis."
Why it matters: Kremlin officials hinted at using nuclear weapons ahead of Russian President Vladimir Putin signing laws Wednesday claiming the annexation of Kherson, Zaporizhzhia, Donetsk and Luhansk into Russia, vowing to defend the Ukrainian regions as Russian territory.
Details: "Putin is "not joking when he talks about potential use of tactical nuclear weapons or biological or chemical weapons because his military is, you might say, significantly underperforming," Biden said at a fundraiser Thursday.
"We have not faced the prospect of Armageddon since Kennedy and the Cuban missile crisis," he added.
"First time since the Cuban missile crisis, we have a direct threat of the use nuclear weapon if in fact things continue down the path they are going."
"I'm trying to figure out what is Putin's off ramp?" he said. "Where does he find a way out? Where does he find himself in a position that he does not not only lose face but lose significant power within Russia?"
"I don't think there's any such thing as the ability to easily [use] a tactical nuclear weapon and not end up with Armageddon."
What they're saying: Kremlin spokesperson Dmitry Peskov said Biden's comments were "an appeal to start yet another world war with unpredictable, monstrous consequences," according to the Russian state-owned RIA news agency.
Worth noting: White House press secretary Karine Jean-Pierre said on Tuesday the U.S. had "not seen any reason to adjust our own strategic nuclear posture, nor do we have indication that Russia is preparing to imminently use nuclear weapons."
Ukrainian President Volodymyr Zelensky said earlier Thursday Putin "understands that after the use of nuclear weapons he would be unable any more to preserve, so to speak, his life, and I'm confident of that."
The big picture: As Zelensky spoke of Ukrainian forces recapturing dozens of settlements and roughly 195 square miles in the southern Kherson region and "successes in the eastern direction" since the start of October, a key Russian-installed leader in Ukraine publicly criticized "generals and ministers" in Moscow Thursday.
Kirill Stremousov, deputy head of the Russian-controlled areas of the Kherson region, suggested in a video address that Putin's defense minister "should consider killing himself" due to military failures in Ukraine, Reuters notes.
Meanwhile, hundreds of thousands of Russians have fled to neighboring countries since Putin issued a mobilization order and Alaskan officials said Thursday two had requested asylum in the U.S. after arriving in the state by boat.
What we're watching: The Biden administration announced this week a new $625 million security assistance package for Ukraine, which last week announced it was accelerating its bid to join NATO.
Go deeper: U.S. officials warn the Kremlin over nuclear weapons talk
Editor's note: This article has been updated with new details throughout.
Go deeper