Musk offers to proceed with Twitter deal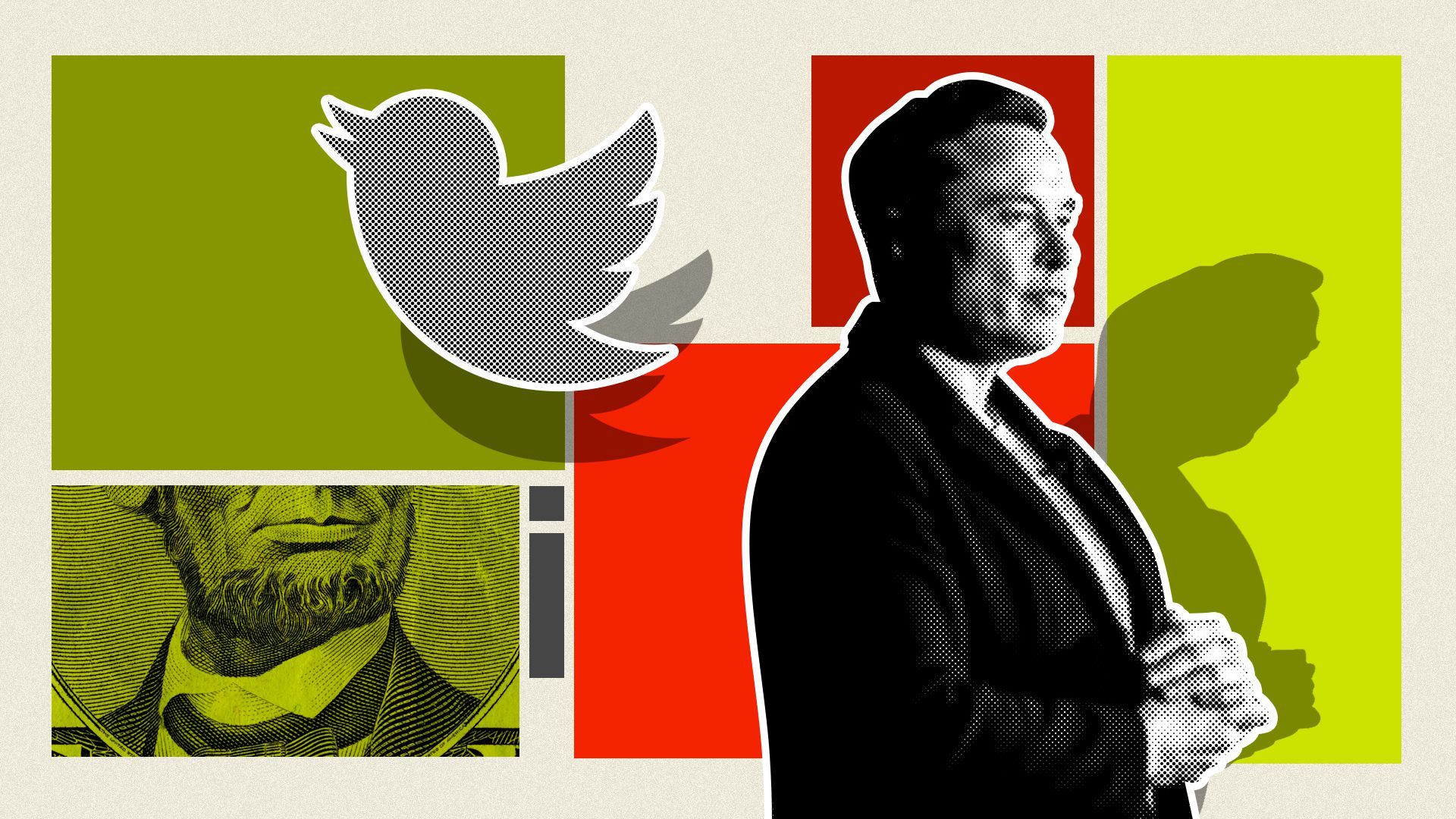 Elon Musk has offered to proceed with a $44 billion buyout of Twitter, according to a letter his lawyer sent to Twitter's legal team that was submitted to regulators Tuesday.
Driving the news: According to the letter, Musk has agreed to proceed in closing the transaction in accordance with the April 25 merger agreement he originally signed, in which he agreed to pay $54.20 per share.
Why it matters: The agreement would preempt a trial that had been scheduled for October, tied to Musk's efforts to walk away from his original acquisition agreement.
The letter stipulates, however, that the deal hinges on the receipt of debt financing, as well as the Delaware Chancery Court entering an immediate stay of the action, adjourning the pending trial and all other legal proceedings related to closing the deal.
In response, Twitter said Tuesday, "We received the letter from the Musk parties which they have filed with the SEC. The intention of the Company is to close the transaction at $54.20 per share."
Twitter has not said whether it agrees on any next steps. Its lawsuit against Musk for backing out of the deal is still active.
The Washington Post reports that Twitter's board is considering Musk's offer, which arrived overnight, but is taking its time to reply because of fears that it could be a legal ploy.
Twitter shares reopened after being halted for over three hours, and were trading at $51.51 on Tuesday afternoon. That is up 21% and closer to the deal's original price of $54.20 a share, according to the Wall Street Journal.
On the docket: Musk's original argument for terminating the merger was that Twitter allegedly had undercounted the number of bots, or fake accounts, on the platform. He later amended his complaint to include claims from a Twitter whistleblower that the company misled regulators about its efforts to reduce spam and protect Twitter from security threats.
One reading of Musk's about face is that he's lost confidence in his legal case, having already experienced a series of procedural losses in Delaware Chancery Court.
Sources close to Musk recently told Axios that he knew there was a good chance he'd lose at trial, and that at some point he'd pivot to trying to prove wrong those who believe he overpaid.
What he's saying: In his first tweet since news of the revived bid broke, Musk said, "Buying Twitter is an accelerant to creating X, the everything app."
"X Holdings" is also the holding company mentioned in Musk's lawyer's letter on the Twitter purchase.
Go deeper: A timeline of the Musk-Twitter deal so far
Editor's note: This story has been updated with additional details.
Go deeper