Nobel announcements 2022: Activists from Russia, Ukraine, Belarus win peace prize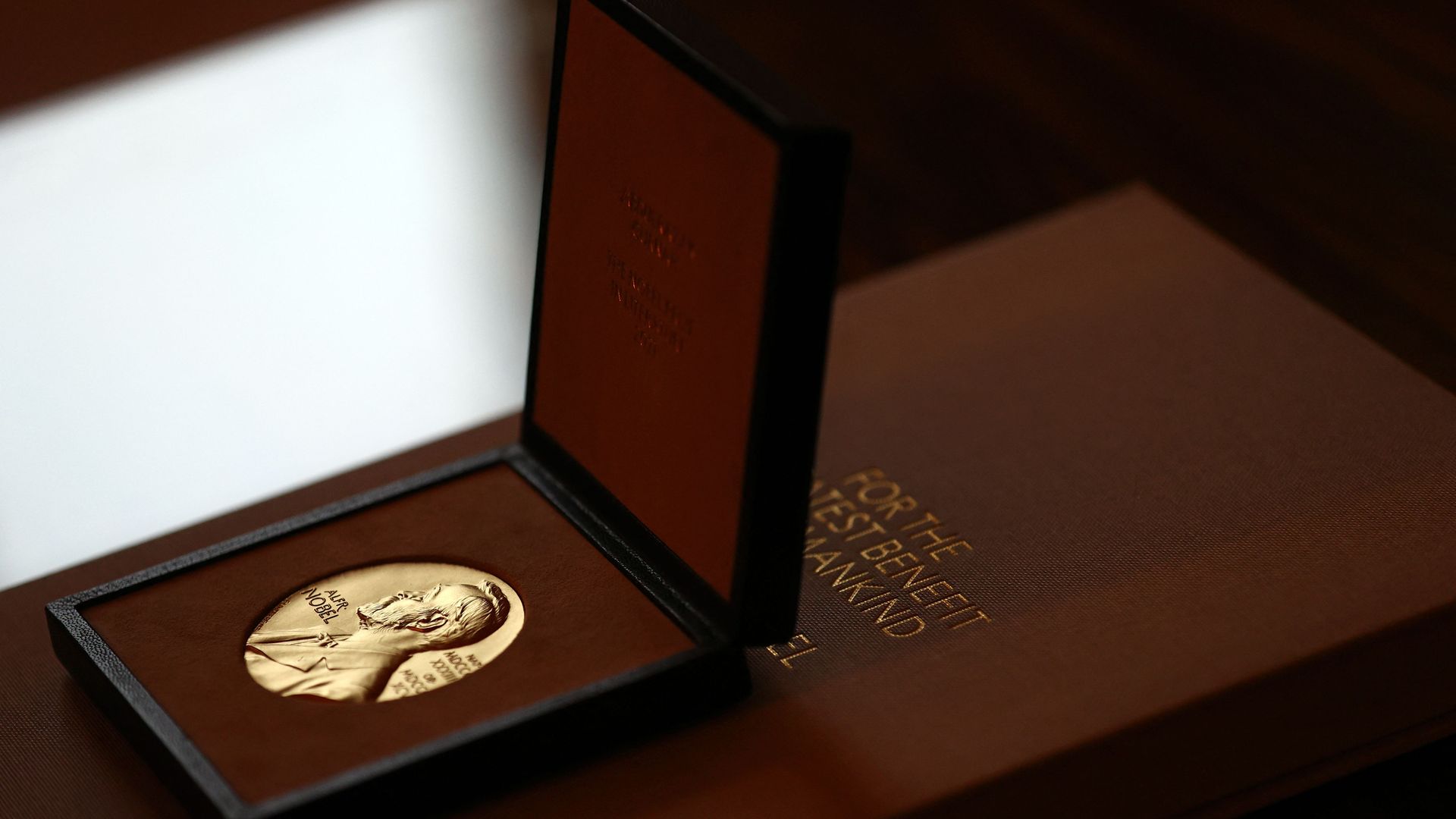 Six Nobel Prizes will be awarded by committees in Sweden and Norway over the next week for work in the sciences, literature, economics and peace.
The latest: The Nobel Peace Prize was jointly awarded on Friday to Ales Bialiatski, a detained activist in Belarus, Russian human rights organization Memorial and Ukrainian human rights organization Center for Civil Liberties.
Peace
The prize comes at a critical time in Russia's invasion. A Ukrainian counteroffensive has pushed back Russian forces in some areas annexed by the Kremlin, a move widely denounced by western countries as illegal.
The committee said it wanted to honor "three outstanding champions of human rights, democracy and peaceful co-existence" in the neighboring countries of Belarus, Russia and Ukraine. It was a strong rebuke of Russian President Vladimir Putin on his 70th birthday.
Literature
The Nobel Prize in Literature was awarded to French writer Annie Ernaux "for the courage and clinical acuity with which she uncovers the roots, estrangements and collective restraints of personal memory," the award's committee announced Thursday.
Ernaux, 82, has primarily focused on "uncompromising" autobiographical work "written in plain language scraped, clean," Nobel Committee for literature chairman Anders Olsson said.
She has written more than 20 books, but her most famous is "Les Années" from 2008, which was translated and published in English in 2017 as "The Years."
Chemistry
A trio of scientists — Carolyn R. Bertozzi, Morten Meldal and K. Barry Sharpless — were awarded the Nobel Prize in Chemistry for their work on click chemistry, the award's panel announced Wednesday.
Sharpless originally coined the term click chemistry in 2000 to describe a method for building molecules.
Through their work both Sharpless and Meldal laid the foundation for click chemistry, which has been utilized in the development of pharmaceuticals and for mapping DNA.
Bertozzi then "took click chemistry to a new level" by applying click reactions to living organisms without disturbing the normal chemistry of cells she was working with, in so-called bioorthogonal reactions.
"Click chemistry and bioorthogonal reactions have taken chemistry into the era of functionalism. This is bringing the greatest benefit to humankind," the committee said.
Bertozzi currently works at Stanford University, while Meldal is at the University of Copenhagen. Sharpless works at the Scripps Research Institute in California.
Physics
Aspect, Clauser and Zeilinger have conducted "groundbreaking experiments" on entangled quantum states, in which two particles behave as if they are one even if they aren't, the committee said.
"Their results have cleared the way for new technology based upon quantum information," the committee added.
"This prize is an encouragement to young people — the prize would not be possible without more than 100 young people who worked with me over the years," Zeilinger said during the press conference.
Aspect, who works at the University of Paris-Saclay and École Polytechnique in France, was honored alongside Zeilinger of the University of Vienna in Austria, and Clauser, who's based in Walnut Creek, California.
Physiology or Medicine
Swedish scientist Svante Paabo won the Nobel Prize in Physiology or Medicine for his research into human evolution, the award's panel announced Monday.
Paabo and his team's studies led to the sequencing of the Neanderthal genome in 2010 and the discovery of Denisova, a previously unknown species of ancient humans.
He established an entirely new scientific discipline, paleogenomics, which is based on extracting, reconstructing and analyzing genomic information in extinct species.
Paabo also founded the Max Planck Institute for Evolutionary Anthropology in Leipzig, Germany.
His sequencing of the Neanderthal DNA revealed new relationships between ancient humans, Anna Wedell, chair of the Nobel Committee, said.
What's next: The economics prize will be unveiled next week on Oct. 10.
Editor's note: This article will be updated with new prize announcements.
Go deeper