Judge temporarily blocks Indiana's near-total abortion ban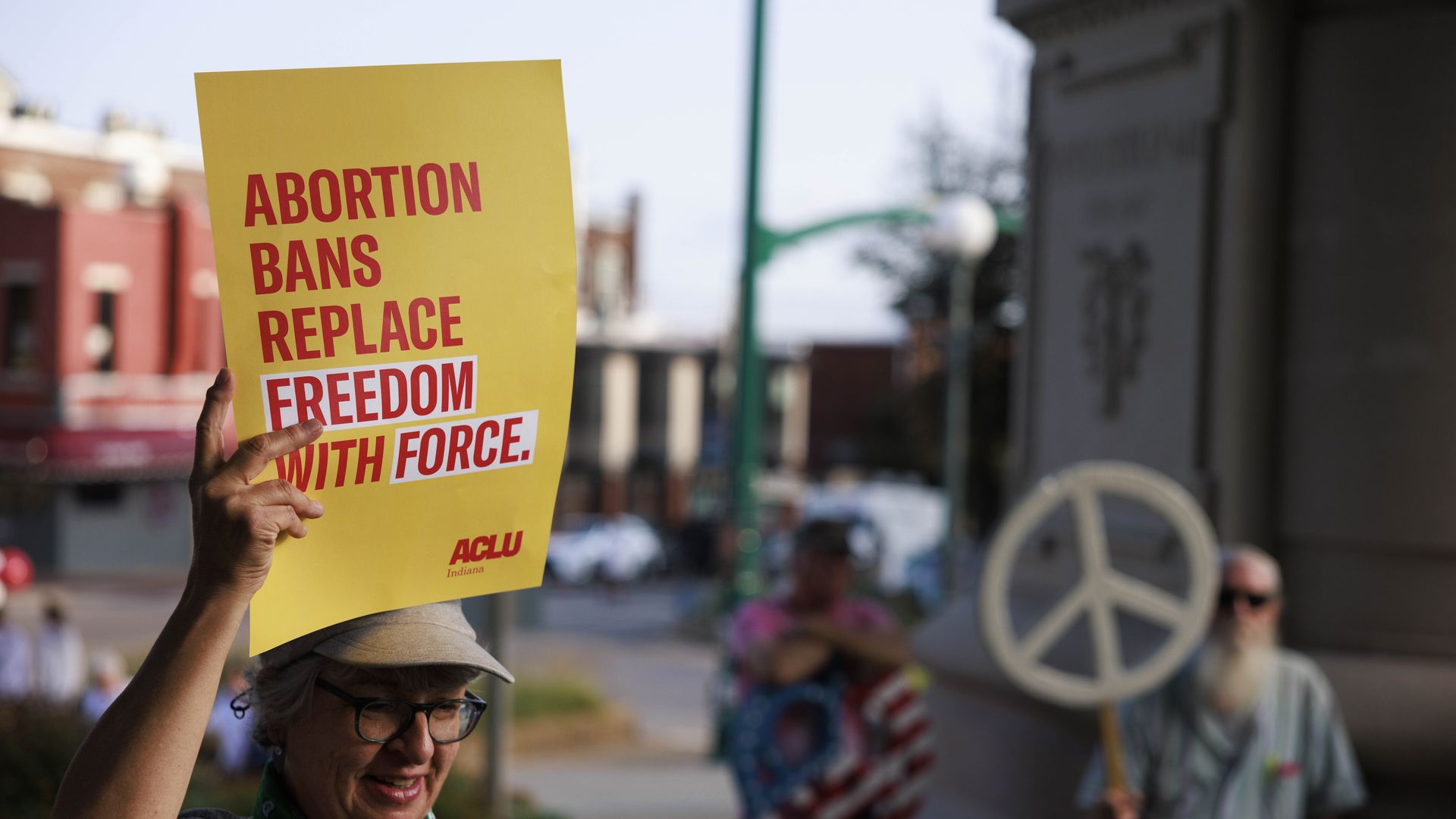 A judge in Indiana on Thursday temporarily blocked a near-total abortion ban in the state that had been in effect for a week.
Why it matters: As of Thursday, abortion in Indiana is legal up until the 22nd week of pregnancy.
State of play: Owen County Judge Kelsey Hanlon sided with the plaintiffs in the case, who argued that the ban violated both the Indiana Constitution's right to privacy and equal privileges protections.
Hanlon wrote in the court's opinion that "there is a reasonable likelihood that decisions about family planning, including decisions about whether to carry a pregnancy to term" are included in the state's constitution.
The ban "materially burdens Hoosier women and girls' right to bodily autonomy by making that autonomy largely contingent upon first experiencing extreme sexual violence or significant loss of physical health or death."
"[T]here is a reasonable likelihood that this significant restriction of personal autonomy offends the liberty guarantees of the Indiana Constitution," Hanlon wrote, adding that the plaintiffs — who are health providers — "will prevail" in the lawsuit.
Details: Indiana's S.B. 1 criminalizes abortion, unless when necessary to "prevent any serious health risk" of a pregnant person, to save their life, if there's a "lethal fetal anomaly," or if the pregnancy is a result of rape or incest.
It law "terminates the licensure of abortion clinics" so that abortions can only be performed in hospitals.
What they're saying: "We knew this ban would cause irreparable harm to Hoosiers, and in just a single week, it has done just that," the plaintiffs said in a statement.
"We are grateful that the court granted much needed relief for patients, clients, and providers but this fight is far from over. Indiana lawmakers have made it abundantly clear that this harm, this cruelty, is exactly the reality they had in mind when they passed S.B. 1."
What we're watching: Indiana state officials are likely to appeal the ruling, and they can request that the preliminary injunction on the law be stopped while the appeal plays out.
If that happens, it is possible that the law will become active again while the legal challenge continues.
Editor's note: This story has been updated with additional details.
Go deeper