Former DNC chair blasts Rashida Tlaib for Israel criticisms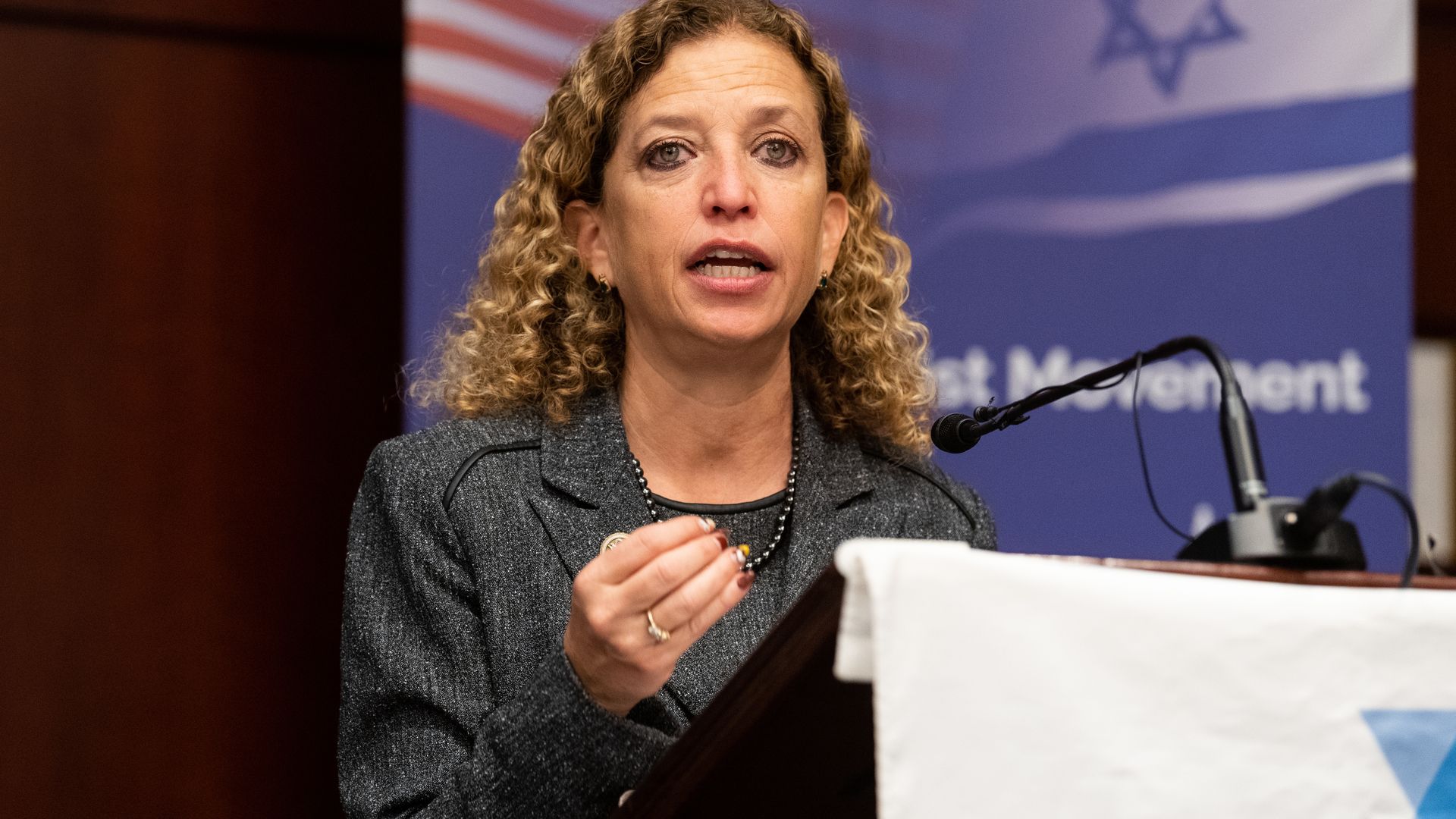 The former head of the Democratic National Committee harshly criticized a fellow Democratic congressperson on Wednesday, saying it was "shameful and dangerous" for Rep. Rashida Tlaib to say progressives shouldn't back the government of Israel.
Driving the news: "The outrageous progressive litmus test on Israel by [Tlaib] is nothing short of antisemitic," tweeted Rep. Debbie Wasserman Schultz.
A day earlier, Tlaib told an online conference that "[a]mong progressives, it has become clear that you cannot claim to hold progressive values, yet back Israel's apartheid government." The seminar was held by Americans for Justice in Palestine Action and co-sponsored by American Muslims for Palestine.
Wasserman Schultz added: "Proud progressives do support Israel's right to exist as a Jewish and democratic state. Suggesting otherwise is shameful and dangerous. Divisive rhetoric does not lead to peace."
Reps. Jerry Nadler (N.Y.) and Ritchie Torres (N.Y.) have since spoken out against Tlaib's criticism as well.
The big picture: Tlaib's comments were part of a wider discussion on the killing of Palestinian American journalist Shireen Abu Akleh, who was killed in May while covering an Israeli military raid in the occupied West Bank city of Jenin. She was wearing a bulletproof vest, marked "press."
Several investigations, including one conducted by Israel, concluded Abu Akleh was likely killed by an Israeli soldier. The Israeli military identified the soldier who "likely fired the shot," but said the killing wasn't deliberate.
Abu Akleh's family rejected the Israeli conclusions that it wasn't intentional, saying she was "murdered" and called on Israel to take responsibility.
Tlaib, who is also Palestinian American, has repeatedly called for accountability in the case and pressed for a U.S.-backed investigation.
Abu Akleh's killing "opened the eyes of many of my colleagues and countless decent people around the world to the brutal reality of living under apartheid Israel," Tlaib said in her Tuesday speech.
"It's nothing short of outrageous that our government continues to refuse to hold Israel accountable for these killings."
Worth noting: A March UN human rights report concluded that "the political system of entrenched rule in the occupied Palestinian territory ... satisfied the prevailing evidentiary standard for the existence of apartheid."
Israeli officials have said they will not cooperate with the UN commission investigating alleged human rights abuses in Gaza, the West Bank and Israel, claiming it is biased.
Go deeper: U.S. asked Israel to review IDF's "rules of engagement" in West Bank after Abu Akleh killing
Editor's note: This story has been updated with additional reporting.
Go deeper