Updated Sep 16, 2022 -

World
Zelensky: Another mass burial site found in Ukraine
Ukrainian authorities have found a mass burial site close to Izyum after advancing into the Kharkiv region, President Volodymyr Zelensky announced Thursday.
Driving the news: In the latest in a string of mass graves Ukrainian and international officials say Russian forces have left behind, Ukraine's Defense Ministry said a burial site containing 440 unmarked graves had been found in Izyum.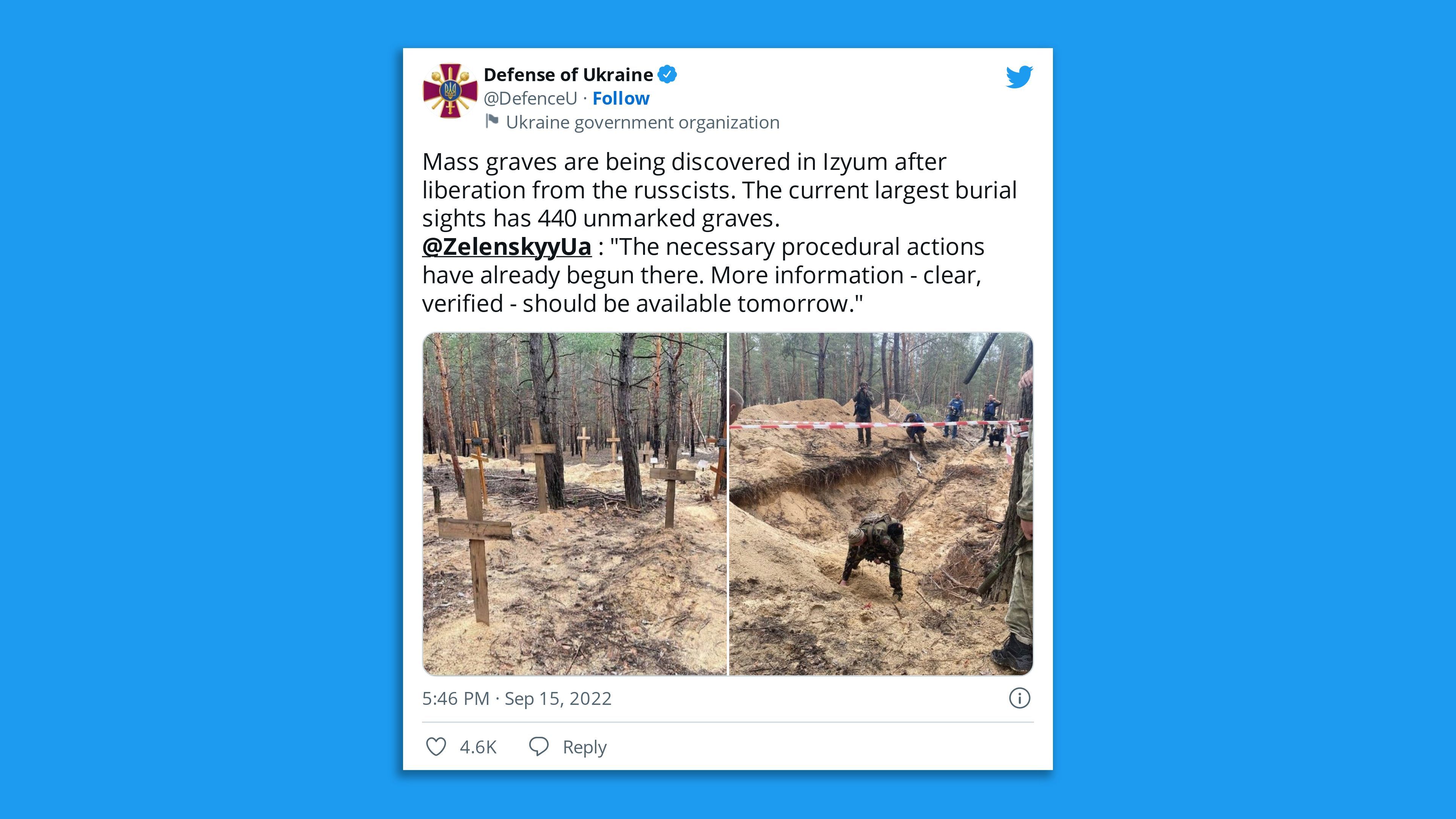 Details: Serhiy Bolvinov, the chief police investigator for Kharkiv region, told Sky News some of the 440 people who were killed "died because of artillery fire" and others "died because of airstrikes."
Ukraine's Deputy Interior Minister Yevhen Enin told the country's Radio NV late Thursday that officials had found evidence of "torture chambers" at detention facilities for Ukrainians and foreigners that were "in completely inhuman conditions," per an AP translation.
"We have already come across the exhumation of individual bodies, not only with traces of a violent death, but also of torture — cut off ears, etc," Enin added. "This is just the beginning."
What he's saying: "We want the world to know what is really happening and what the Russian occupation has led to," said Zelensky, who visited Izyum this week after Ukrainian forces drove Russia's military out of the Kharkiv region city in northeastern Ukraine.
"Bucha, Mariupol, now, unfortunately, Izyum... Russia leaves death everywhere. And it must be held accountable for that," he added in his Thursday address.
Zelensky said the "necessary procedural actions have already begun" in Izyum and he promised "clear, verified information" on Friday.
The big picture: Satellite imagery previously showed the construction of similar mass grave sites in Bucha, Mariupol and Manhush. Ukrainian prosecutors later filed criminal charges against Russian soldiers accused of war crimes in Bucha.
The Kremlin has repeatedly denied targeting civilians or committing other war crimes, but UN officials who've visited the country say there's a "horror story" of violations against civilians and growing evidence of war crimes in Ukraine.
The International Criminal Court and other prosecutorial agencies have opened probes into allegations of war crimes, crimes against humanity or genocide committed in Ukraine.
What to watch: Ukrainian forces' surprise offensive last week has reshaped the battlefield and forced Russian troops to retreat from most of the Kharkiv region.
Go deeper: What counts as a war crime and why they're so hard to prosecute.
Editor's note: This article has been updated with new details throughout.
Go deeper