Three Jan. 6 rioters, including Proud Boys Hawaii leader, plead guilty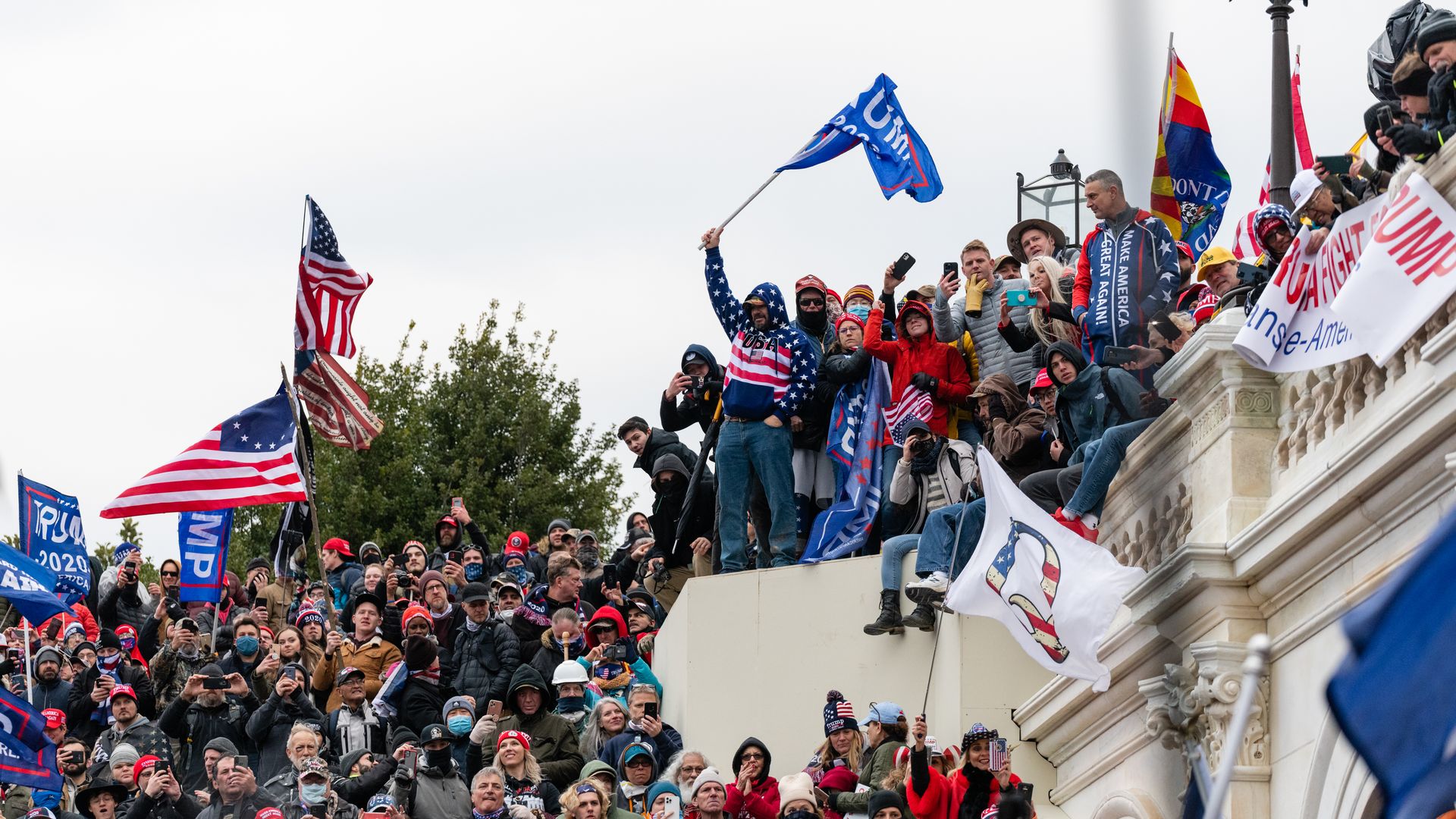 Three men, including the leader of the Hawaii chapter of the Proud Boys, pleaded guilty on Friday to a felony charge for their involvement in the Jan. 6 Capitol riot, according to the Department of Justice.
Driving the news: Nicholas Ochs, 36, who founded Hawaii's Proud Boys chapter, and Nicholas DeCarlo, 32, of Fort Worth, Texas, pleaded guilty to obstruction of an official proceeding. Shane Jason Woods, 44, of Auburn, Illinois, pleaded guilty to assaulting a law enforcement officer and a member of the media.
Details: All three men stormed the Capitol grounds on Jan. 6.
In a terrace area, Woods rammed into a police officer, knocked her off her feet and sent her crashing into a downed bicycle barricade, according to prosecutors.
After seeing a member of the news media attempting to protect himself, Woods "took a running start and hit the man with a blindside shoulder tackle, knocking him to the ground and causing him to drop the camera," the DOJ said.
Woods, who was arrested June 24, 2021, faces up to eight years in prison.
DeCarlo wrote "Murder the Media" on a door inside the Capitol building, while Ochs filmed him, per the DOJ. "Murder the Media" was also the name of the men's social media channel.
Ochs and DeCarlo also "rummaged through a U.S. Capitol Police duffel bag" and DeCarlo took a pair of plastic handcuffs, per the DOJ.
Federal guidelines for Ochs, who was arrested on Jan. 7, 2021, and DeCarlo, arrested on Jan. 26, 2021, call for sentences between about 3 1/2 years and four years in prison, AP reports.
The big picture: The DOJ has arrested more than 870 individuals in connection to the Jan. 6 Capitol riot, including more than 265 individuals who have been charged with assaulting or impeding law enforcement, per the DOJ.
What to watch: The sentencing for both men is expected in December, per AP.
Go deeper... New federal charges filed against Proud Boys linked to Capitol riots
Go deeper