Updated Aug 29, 2022 -

World
Ukraine launches counteroffensive to retake Russian-occupied Kherson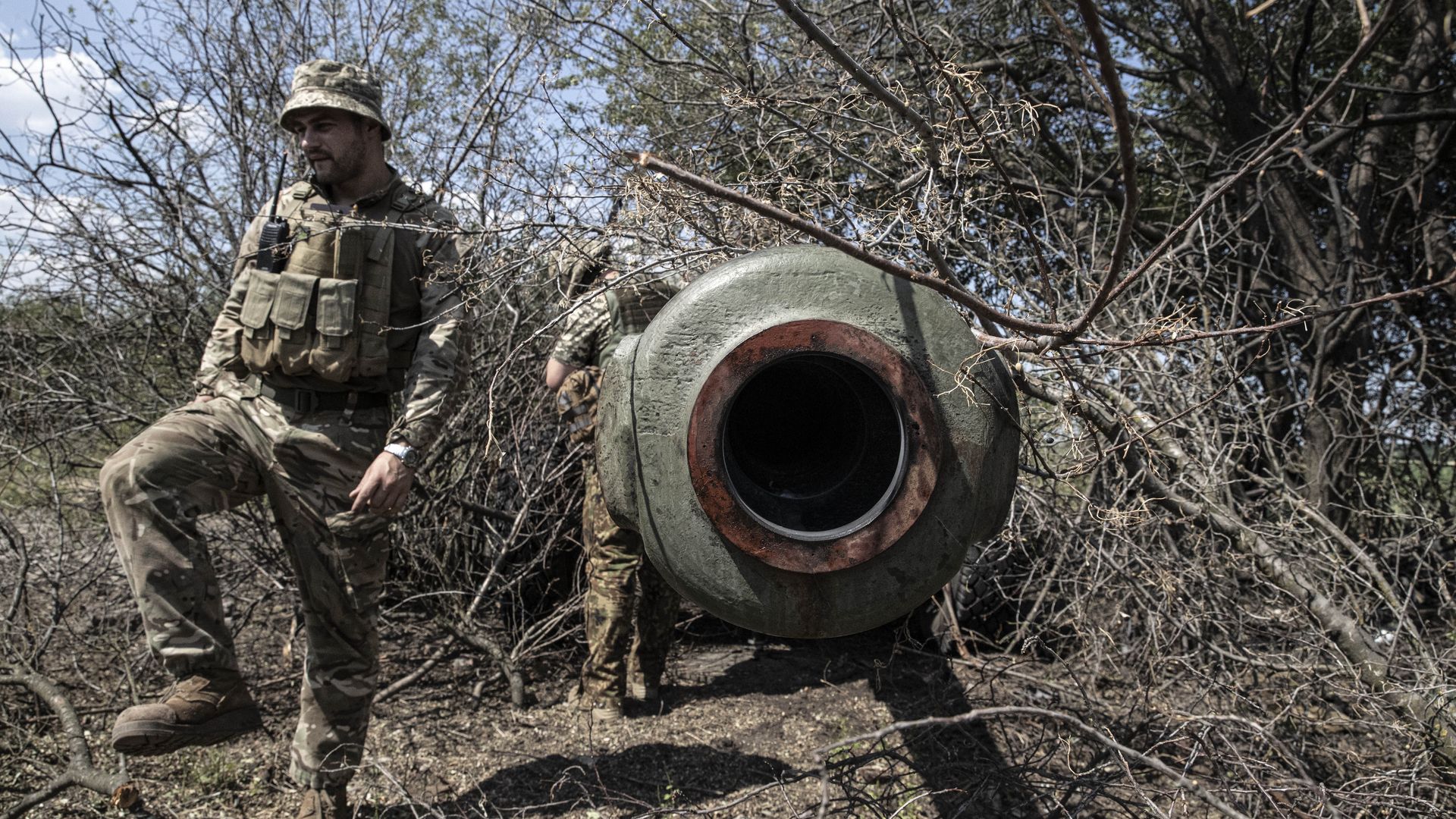 Ukrainian forces launched what appears to be their first major counter-offensive of the war on Monday, aiming to retake Kherson in the south of the country.
Why it matters: Ukrainian troops bombarded Russian ammunition depots, command-and-control centers, and river crossings. The scale of the operation is not yet clear, but Ukrainian officials claimed to have breached Russia's "first line of defense" outside of Kherson.
Kherson (pre-war pop. 300,000) was taken in the early days of the invasion by Russian forces advancing north from occupied Crimea. It remains the only provincial capital to fall in six months of fighting.
Ukrainian officials have been foreshadowing an offensive in Kherson for weeks, and Russia in preparation has roughly doubled its own force in the region, according to Poland-based firm Rochan Consulting.
National Security Council spokesperson John Kirby noted that in order to do so, Russia has been forced to "deplete certain units in the East" — where a major Russian offensive has largely stalled — and is facing "manpower challenges."
Between the lines: So is Ukraine. Both sides have suffered heavy losses in four months of grinding warfare in the eastern Donbas region and are scrambling to train (and in Russia's case, to enlist) reserve forces.
While Ukraine has been successfully deploying longer-range rocket systems provided by the U.S. to conduct strikes far behind the frontlines, some analysts doubt that Ukraine has assembled the requisite manpower or materiel to conduct a major offensive on a well-defended city.
Others have noted that Kyiv may have political incentives to move now, to lift morale, and reassure foreign backers by demonstrating momentum, even if the military outlook is dicey.
The big picture: Lacking the numerical advantages typically needed for a successful offensive, Ukraine may focus on cutting off Russia's forces in Kherson, rather than attempting to steamroll them.
Ukrainian President Volodymyr Zelensky offered no hints in an address on Monday evening, insisting that Russian forces would be expelled from Ukraine, but adding, "You won't hear specifics from any truly responsible person. Because this is war."
Even if Ukraine does proceed cautiously, the offensive likely marks the start of a third phase of the war, following Russia's initial three-pronged assault and the grinding battle in the Donbas.
What to watch: Another twist could come within days if Russia announces a sham referendum in Kherson as a pretext to annexing the territory into Russia, as Kirby has warned might happen.
Russia has already installed a puppet government, restricted the internet, mandated the use of the ruble, and started issuing Russian passports.
The latest: Russian investigators confirmed today that a former Ukrainian lawmaker who defected to join that puppet government had been murdered in his home.
Meanwhile… The launch of the offensive comes as inspectors from the International Atomic Energy Agency (IAEA) head to Zaporizhzhia in southern Ukraine for an urgent examination of Europe's largest nuclear power plant, which has been damaged by shelling.
Go deeper