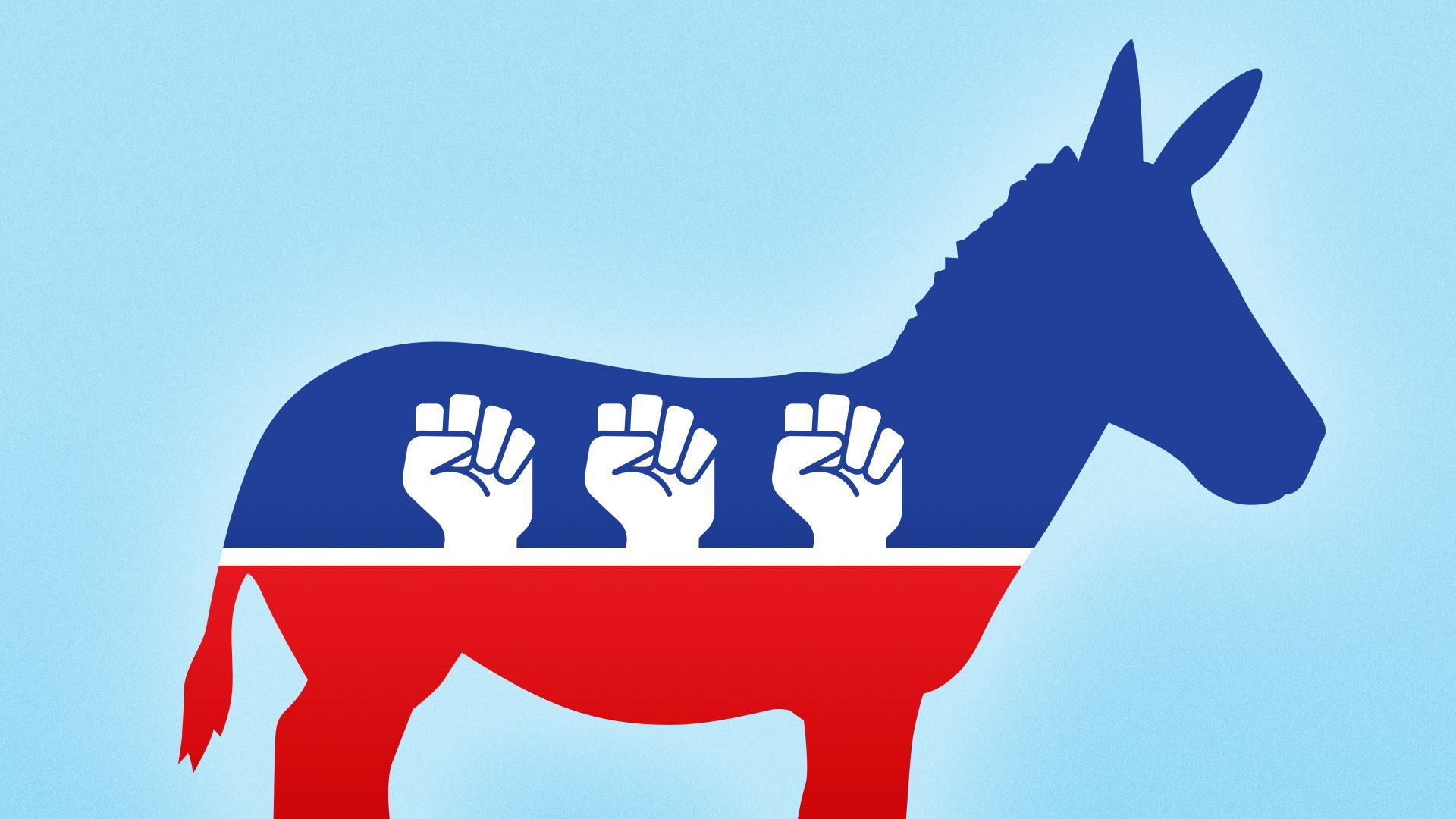 The Democratic Party is about to find out whether broadly unionizing campaign workers is a smart way to draw top talent, breed happy staffs and embody the party's ideals — or a distraction that will divert donor dollars and weaken candidates and their top strategists.
Driving the news: On Tuesday, months after voluntarily agreeing to recognize it, the Democratic Congressional Campaign Committee, the Democrats' House campaign arm, ratified the first collective bargaining agreement with its more than 250-member union.
Why it matters: The move will test the resulting morale and performance in the final weeks leading up to crucial midterm elections. It also could serve as a model and a pressure point for Democratic candidates running in 2024 to unionize.
DCCC Union spokesperson Reed Elman Wexham told Axios: "We hope this contract will serve as a model to the Democratic ecosystem for what is possible."
The DCCC Staff Union, part of Teamsters Local 238, is the largest collective bargaining unit in the Democratic Party.
The big picture: The unionization movement in Democratic politics goes beyond this one committee.
How it works: The contract includes employer-based health insurance, wage increases, rewarding employees who bring "valuable language expertise" and establishing "comprehensive grievance and arbitration provisions," per the DCCC.
What they're saying: DCCC leadership and union officials alike argued Tuesday that the union agreement would strengthen their organization.
Executive Director Tim Persico said in a statement: "DCCC's greatest asset is its people. With this agreement, we're making this committee an even better place to work, living our values, and ensuring that the DCCC will continue to attract and retain the extraordinary talents who protect our Democratic House Majority."
Wexham said the agreement "makes great strides towards … equipping us with the support we need to show up every day and defend the Democratic House Majority."
Yes, but: Some Democrats have concerns about unionizing campaigns, which are temporary by nature, explained Democratic strategist Chris Coffey: "It's a short stint. You are signing up for something greater than yourself[,] second to a cause. With an end date."
The other side: Republicans predict campaign unionizations will hurt Democrats by diverting resources, distracting their attention and creating frictions inside individual committees and campaigns.
Campaigns unionizing is "likely going to cause them to spend more on staffing and operational expenses, and [cause] internal delays due to negotiations," said veteran Republican strategist Brian O. Walsh.
Republican National Committee senior adviser Richard Walters celebrated the move, telling Axios: "We applaud the DCCC rendering themselves even more useless. Perhaps they'll offer tenure next."
Our thought bubble, per Axios' Josh Kraushaar: The shift to unionization is a huge departure from the culture of the campaign workplace and decades-old expectations around pay and hours.
Campaigns are all about working long hours for low pay. In a candid conversation, most Democratic operatives would tell you they're pro-union, but they'd question the efficacy of it for a campaign.
Don't forget: In 2019, Bernie Sanders' presidential campaign balked at unionized organizers' pay demands.
And progressive Dianne Morales' New York City mayoral campaign last year imploded amid staff allegations of "union busting," underscoring the external challenges unions can pose to even the most pro-labor politicians.
Go deeper