Biden administration moves to shield DACA from legal challenges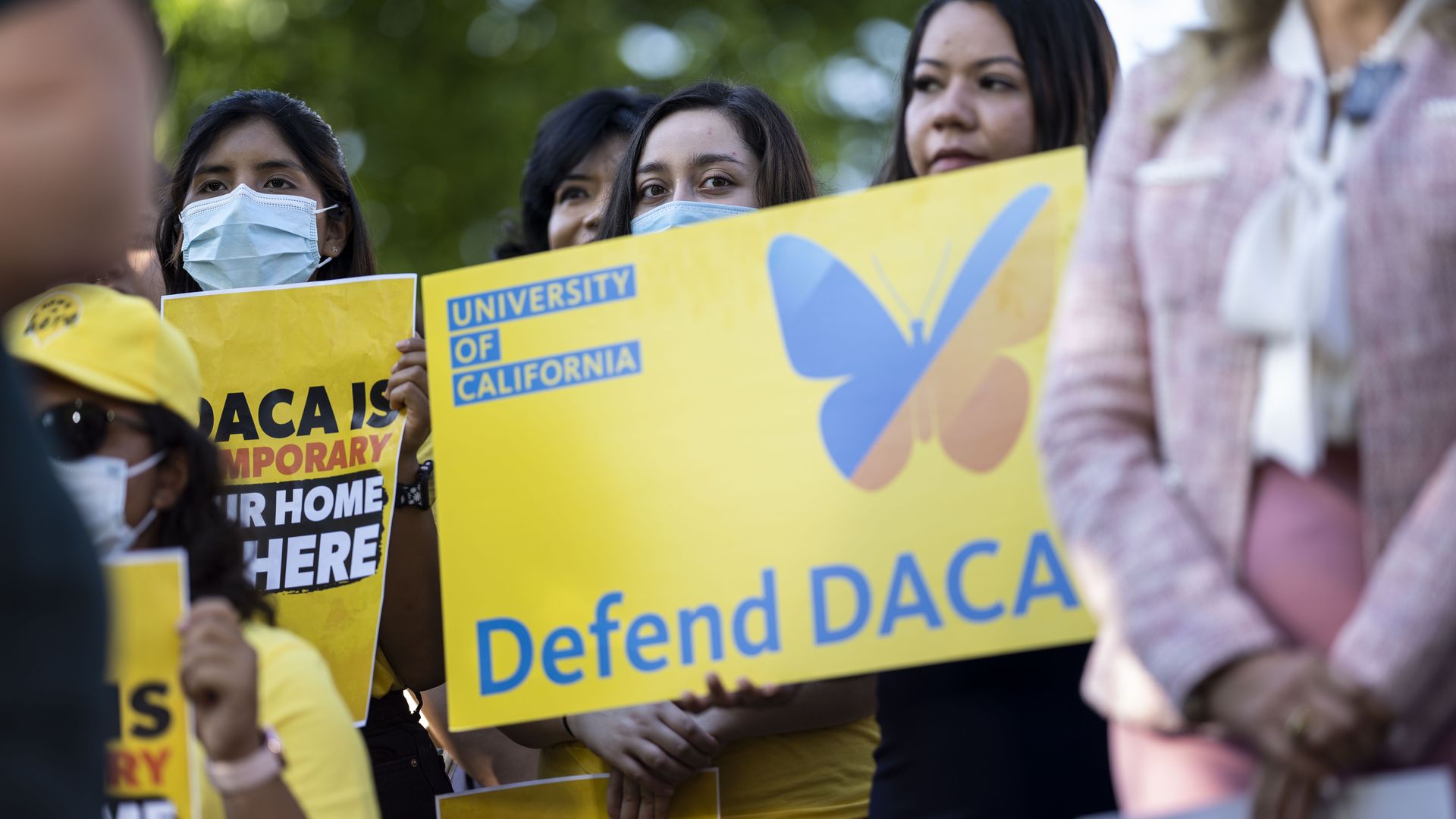 The Department of Homeland Security moved Wednesday to codify the Deferred Action for Childhood Arrivals immigration program into federal regulations in a bid to protect it from legal challenges.
Why it matters: Since its inception in 2012, DACA has shielded from deportation over 800,000 immigrants who were brought to the U.S. as children, according to the DHS. The program has been subject to several legal challenges since it was first implemented.
Details: DHS Secretary Alejandro Mayorkas announced Wednesday that the department has issued a final rule to preserve DACA for eligible noncitizens.
The final rule maintains existing criteria for DACA recipients — such as arriving in the U.S. by age 16 and before June 15, 2007 — and work permit authorizations. It also declares DACA recipients "lawfully present" in the U.S. for certain purposes, including benefits.
The final rule is effective Oct. 31 barring any litigation.
What they're saying: "Today, we are taking another step to do everything in our power to preserve and fortify DACA, an extraordinary program that has transformed the lives of so many Dreamers," Mayorkas said in a statement.
"Thanks to DACA, we have been enriched by young people who contribute so much to our communities and our country. Yet, we need Congress to pass legislation that provides an enduring solution for the young Dreamers who have known no country other than the United States as their own."
Yes, but: "This final DACA rule changes nothing for current DACA recipients, the roughly 80,000 young people who applied and had their applications frozen, and the hundreds of thousands of undocumented young people who were never able to apply for DACA in the first place," Juliana Macedo do Nascimento, deputy director of federal advocacy for the immigrant advocacy nonprofit United We Dream.
"President Biden campaigned on strengthening and fortifying DACA. This final DACA rule fails to strengthen the program by not expanding it to include the majority of undocumented immigrant youth who are graduating from high school this year and not eligible for the program because of arbitrary cut-off dates."
The big picture: Ten years after then-President Obama established the program, many DACA recipients — and their allies — are still pushing for immediate action on a pathway to citizenship.
What to watch: The conservative-leaning court is expected to hand down an opinion siding with the Republican-led states who brought the lawsuit, CBS News reports. It could cause the Biden administration to bring it before the Supreme Court.
Editor's note: This article was corrected by removing a phrase saying the recipient must have arrived between ages 16 and 17, and by adding that they must have resided in the U.S. since June 15, 2007.
Go deeper