"He didn't have to see this anniversary in detention": Austin Tice's mom ahead of 10-year mark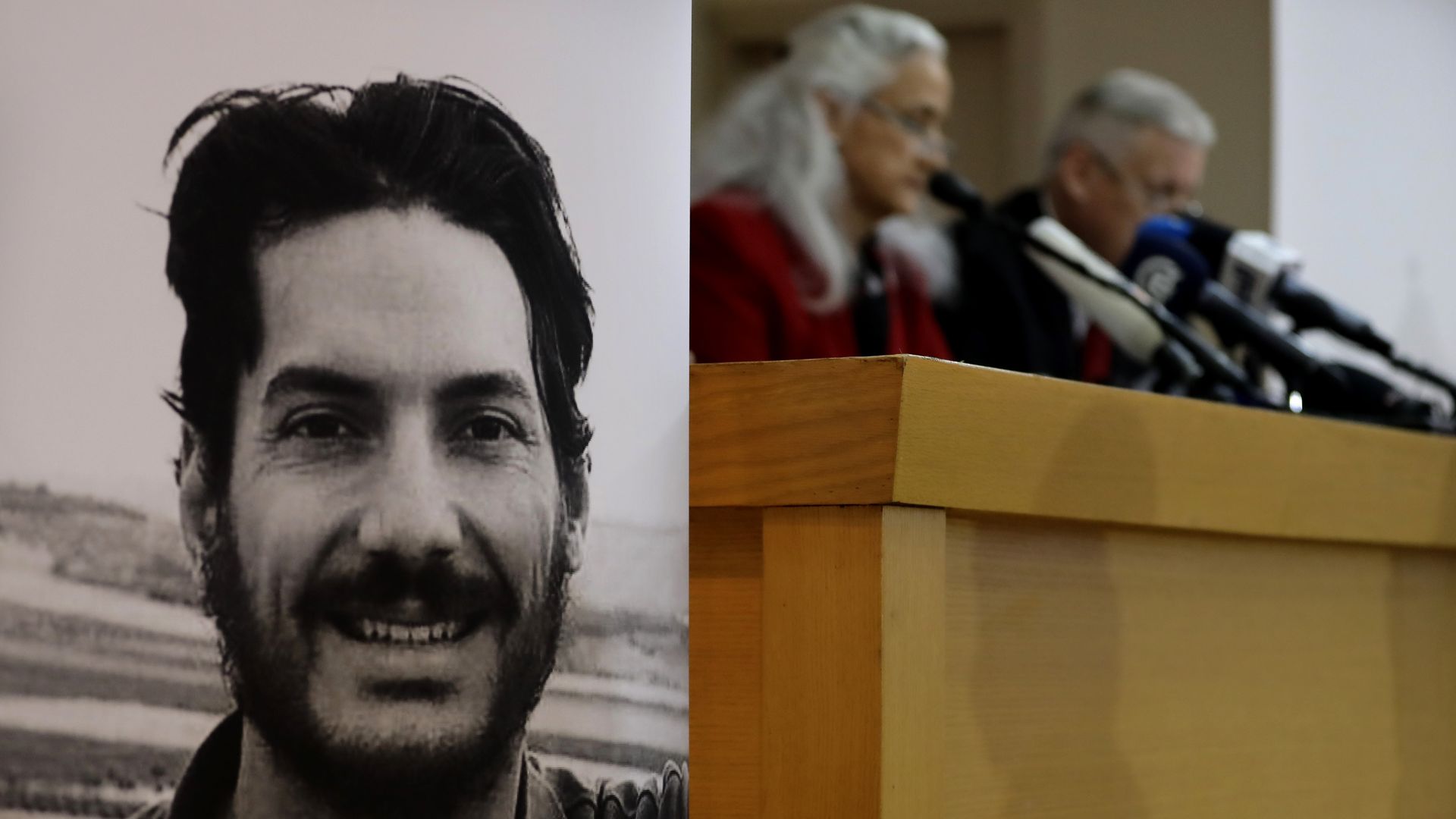 President Biden on Wednesday commemorated the 10-year anniversary of the abduction of American journalist and Marine Corps veteran Austin Tice, reiterating calls for the Syrian government to release him.
Why it matters: Tice, who was kidnapped in Syria in 2012, is one of the longest-held and most high-profile American hostages.
The big picture: While the U.S. has maintained that the Syrian government is responsible for Tice's fate, Bashar al-Assad's regime has never acknowledged holding him and efforts to free Tice over the past decade have yielded virtually no progress.
Tice's parents, Debra and Marc Tice, met with Biden at the White House in May and expressed hope that the administration's commitment to engage with the Syrians could be a turning point in the effort to bring their son home.
"We will continue to pursue all avenues, to include engaging anyone, including direct engagement, to secure the return of U.S. hostages and wrongfully detained persons," a White House official told Axios at the time.
What they're saying: "This week marks a decade since American Austin Tice was abducted in Damascus, Syria," Biden said in a statement Wednesday.
"He is a son, he is a brother, and he is an investigative journalist who put the truth above himself and traveled to Syria to show the world the real cost of war," Biden said of Tice.
"We know with certainty that he has been held by the Government of Syria. We have repeatedly asked the government of Syria to work with us so that we can bring Austin home," Biden added.
"On the tenth anniversary of his abduction, I am calling on Syria to end this and help us bring him home."
"The Tice family deserves answers, and more importantly, they deserve to be swiftly reunited with Austin," Biden said, adding, "Ten years is far, far too long.  So is every additional day."
Debra Tice told Axios that while she commended Biden's statement as "the most accurate and honest and heartfelt" given thus far, she questioned the lack of progress made to free Austin Tice since the May meeting.
"When are we going to follow the President's directive, the four-step directive — get the meeting, listen, find out what they want, work with them?" Debra Tice asked, referring to negotiations with the Syrian government.
"I just think about Austin. And I think about how is it going to affect him, on Sunday, when the truth is right in his face that he's been left there for 10 years," she added of the anniversary this weekend.
"He didn't have to see this anniversary in detention. The President gave a mandate three-and-a-half months ago. And we're still working to get a meeting?"
"I feel like they've been busy to make it look like they're trying to get a meeting. Rather than go directly to the Syrians and request a meeting."
The case of WNBA star Brittney Griner, which captured national attention this year and reportedly sparked discussions of a prisoner swap deal between the U.S. and Russia, illustrates "how things work when the government has a will," Debra Tice said.
"They've definitely indicated that the United States government is, in fact, willing to do the three most important things to free someone that's being held as hostage," she said.
"It's engagement, negotiation and concession. And for nine years, I've had to hear that the United States doesn't do that."
The bottom line: "I think the most important thing to keep in mind is this is not a discussion about foreign policy," Debra Tice said, adding, "This is about an American who should be at home with his family."
"Austin's waiting. And he believes that his government will do this. I think this is going to be a challenging day for him."
Go deeper