Updated Aug 1, 2022 -

World
Biden: "Justice has been delivered" with death of al-Qaeda leader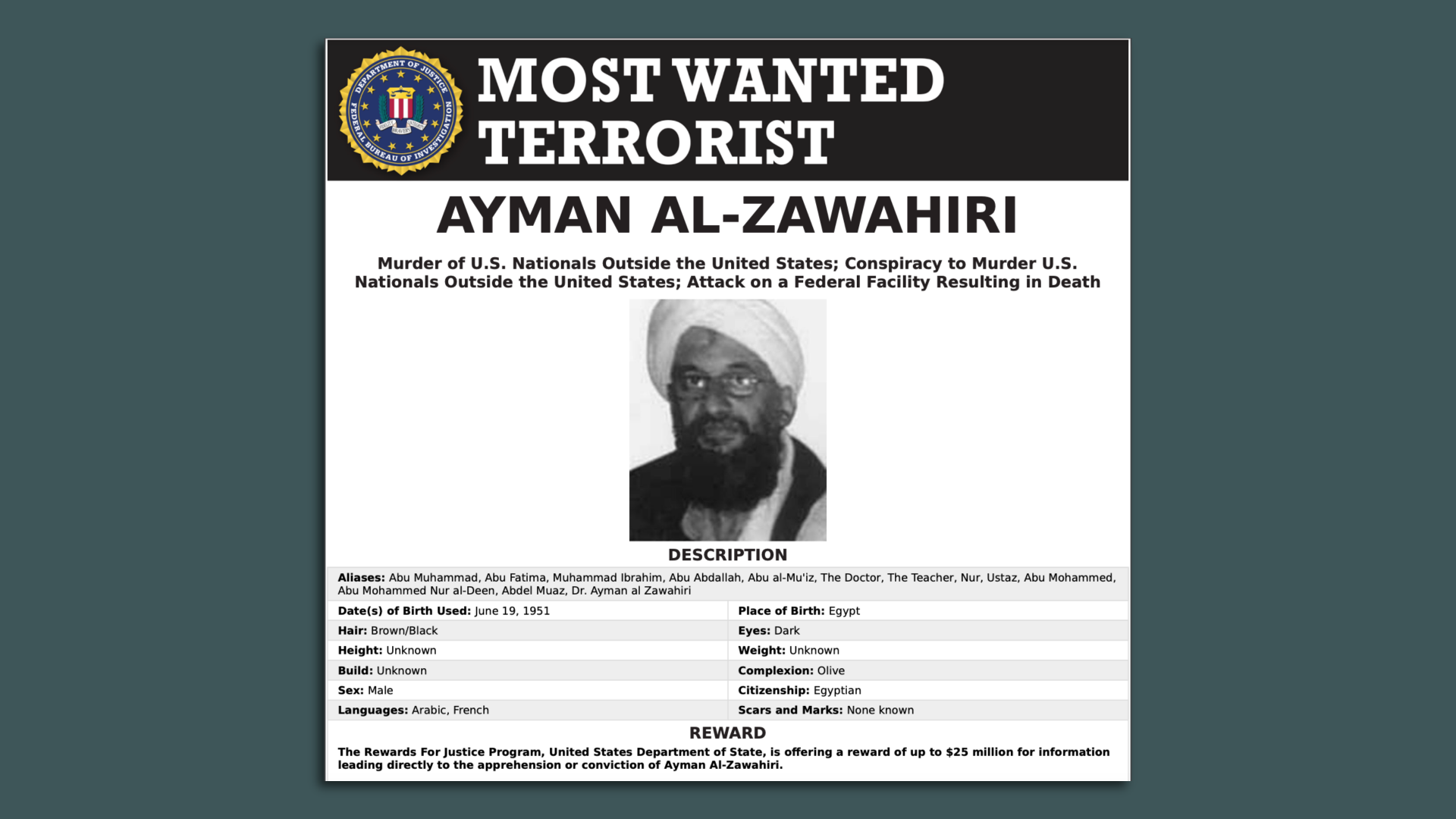 President Biden said the U.S. has "delivered" justice after a U.S. drone strike over the weekend killed al-Qaeda leader Ayman al-Zawahiri, one of the world's most wanted terrorists and a key mastermind behind 9/11.
Why it matters: The CIA operation has delivered the most significant blow to al-Qaeda since the death of Osama bin Laden, whom al-Zawahiri succeeded in 2011.
It's a major vote of confidence in the "over-the-horizon" counterterrorism capabilities that Biden touted after the U.S. withdrew its troops from Afghanistan. There were no civilian casualties, Biden said in a speech Monday.
Al-Zawahiri was long regarded by counterintelligence officials as one of the key planners behind the 9/11 terrorist attack, despite many believing bin Laden was the leader, the New York Times reports.
What he's saying: "Justice has been delivered, and this terrorist leader is no more," Biden said in a speech Monday evening from the White House. "People around the world no longer need to fear the vicious and determined killer."
"The United States continues to demonstrate our resolve and our capacity to defend the American people against those who seek to do us harm. We make it clear again tonight that no matter how long it takes, no matter where you hide, if you are a threat to our people the United States will find you and take you out," Biden continued.
"We will never forget. We continue to mourn every innocent life that was stolen from 9/11 and honor their memories," he added.
"To the families who lost fathers and mothers, husbands, wives, sons and daughters, brothers and sisters, friends and co-workers on that ... September day, it is my hope that this decisive action will bring one more measure of closure. No day shall erase them from the memory of time."
— President Biden
Between the lines: Senior Taliban officials were aware of al-Zawahiri's presence in Kabul, raising new concerns about the Afghan government's links to al-Qaeda and formal pledge not to harbor terrorists, according to a senior U.S. official.
Of note: Secretary of State Tony Blinken issued a statement late Monday stating that the Taliban "grossly violated" the Doha Agreement by "hosting and sheltering" the leader of al-Qaeda in Kabul.
Blinken said the Taliban had also made "repeated assurances to the world that they would not allow Afghan territory to be used by terrorists to threaten the security of other countries."
"They also betrayed the Afghan people and their own stated desire for recognition from and normalization with the international community," he added.
Flashback: The Doha peace agreement to end the long-running war in Afghanistan was reached between the U.S. and the Taliban in Qatar's capital in 2020.
What to watch: Blinken did not say whether the Biden administration would take any action against the Taliban and the State Department did not immediately respond to Axios' request for comment on the matter.
But Blinken said, "In the face of the Taliban's unwillingness or inability to abide by their commitments, we will continue to support the Afghan people with robust humanitarian assistance and to advocate for the protection of their human rights, especially of women and girls."
The big picture: Al-Zawahiri, who started out as a physician, led the Egyptian Islamic Jihad before it merged with al-Qaeda in 1998. He served as bin Laden's righthand man before assuming his position.
He was also indicted for his alleged involvement in the 1998 bombings of U.S. embassies in Tanzania and Kenya, which killed over 200 people.
The U.S. Department of State's Rewards for Justice Program offered up to $25 million for information leading directly to al-Zawahiri's apprehension or conviction.
Editor's note: This article has been updated with new details throughout.
Go deeper