Apple revenue and earnings top expectations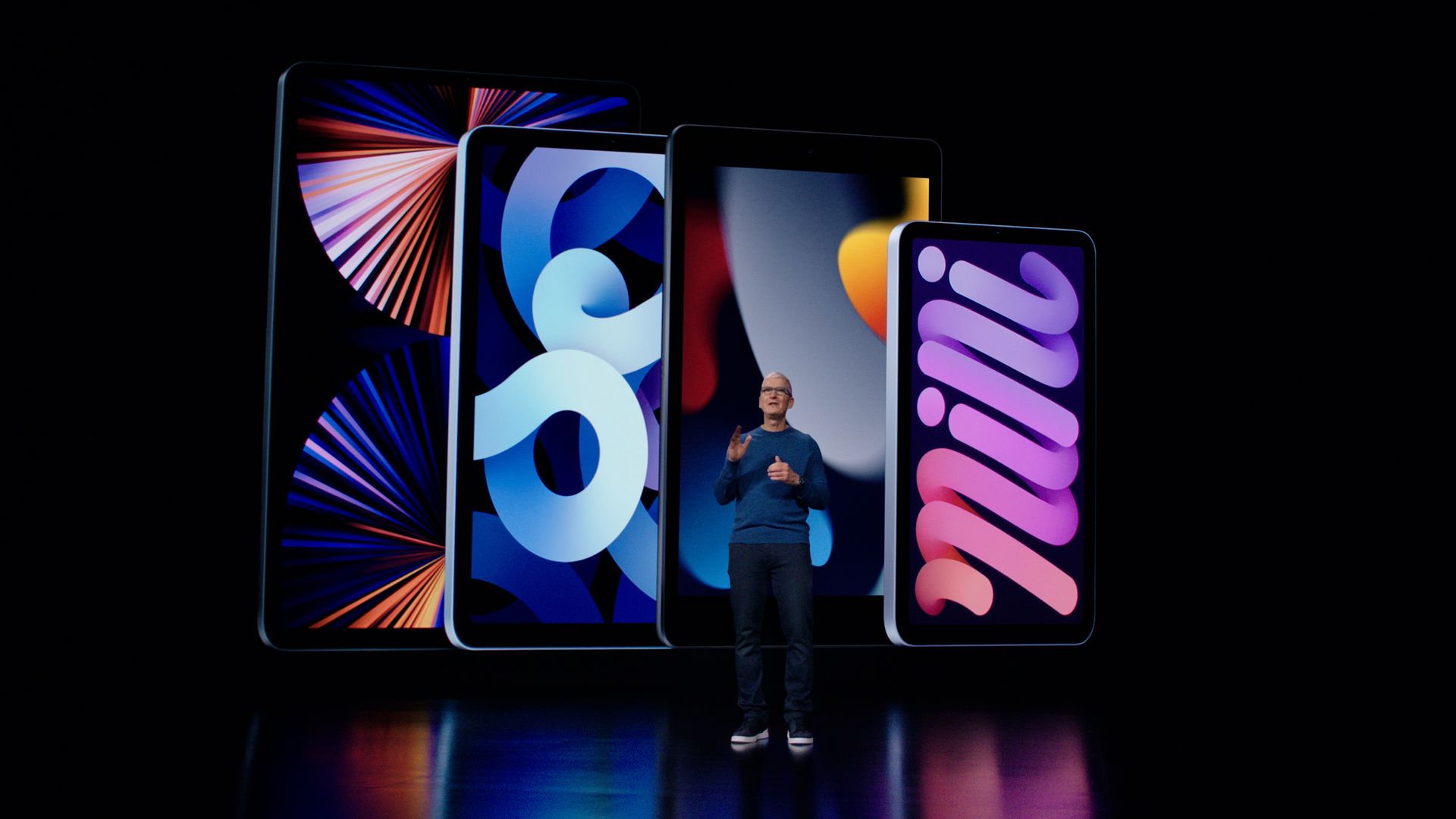 Apple on Thursday reported quarterly results that were slightly ahead of Wall Street expectations despite having to grapple with both supply chain and production challenges.
Why it matters: Apple's report comes as many of its tech peers reported weaker results, including semiconductor bellwether Intel, whose results and outlook disappointed analysts and investors.
By the numbers:
Revenue : $83 billion (up 2 percent from a year earlier)
Per-share earnings: $1.20 (down from $1.31 a year earlier)
iPhone sales: $40.7 billion (up from $39.6 billion a year earlier)
Mac revenue: $7.4 billion (down from $8.2 billion a year earlier)
iPad revenue: $7.2 billion (down from $7.4 billion a year earlier)
Wearables and accessories: $8.1 billion (down from $8.8 billion a year earlier)
Services: $19.6 billion (up from $17.5 billion a year earlier)
As for the geographic breakdown, sales in Japan and greater China were down from a year earlier, while sales increased in the Americas, Europe and the rest of Asia Pacific. On a conference call, CEO Tim Cook said sales were particularly strong in a number of developing markets including, Indonesia, India, Brazil and Vietnam.
Flashback: Apple had warned in April that a combination of component shortages and COVID 19-related production issues would dent quarterly revenue by $4 billion to $8 billion. Cook said the impact ended up being slightly less than even the lower end of that range.
What they're saying: "Our June quarter results continued to demonstrate our ability to manage our business effectively despite the challenging operating environment," Apple CFO Luca Maestri said in a statement.
Cook told analysts that iPhone sales didn't appear to be dented by macroeconomic conditions, but its sales of some wearables and accessories were impacted, as were some categories of services, including digital advertising. "Overall, we're very happy with the results," Cook said.
What's next: The company did not give specific revenue guidance for the current quarter, which runs through the end of September. However, Maestri said Apple expects its year-over-year revenue growth to be higher than the 2 percent growth for the June quarter.
That's despite an expected slowing of growth in its services business as well as a negative impact from foreign exchange rates.
On the other hand, Apple said it expects supply constraints to be less than they were in the prior quarter.
Cook said Apple will continue to hire in key areas, but noted: "We are being more deliberate in doing so."
Go deeper