Updated Jul 25, 2022 -

World
Myanmar junta kills 4 democracy activists in first executions since 1988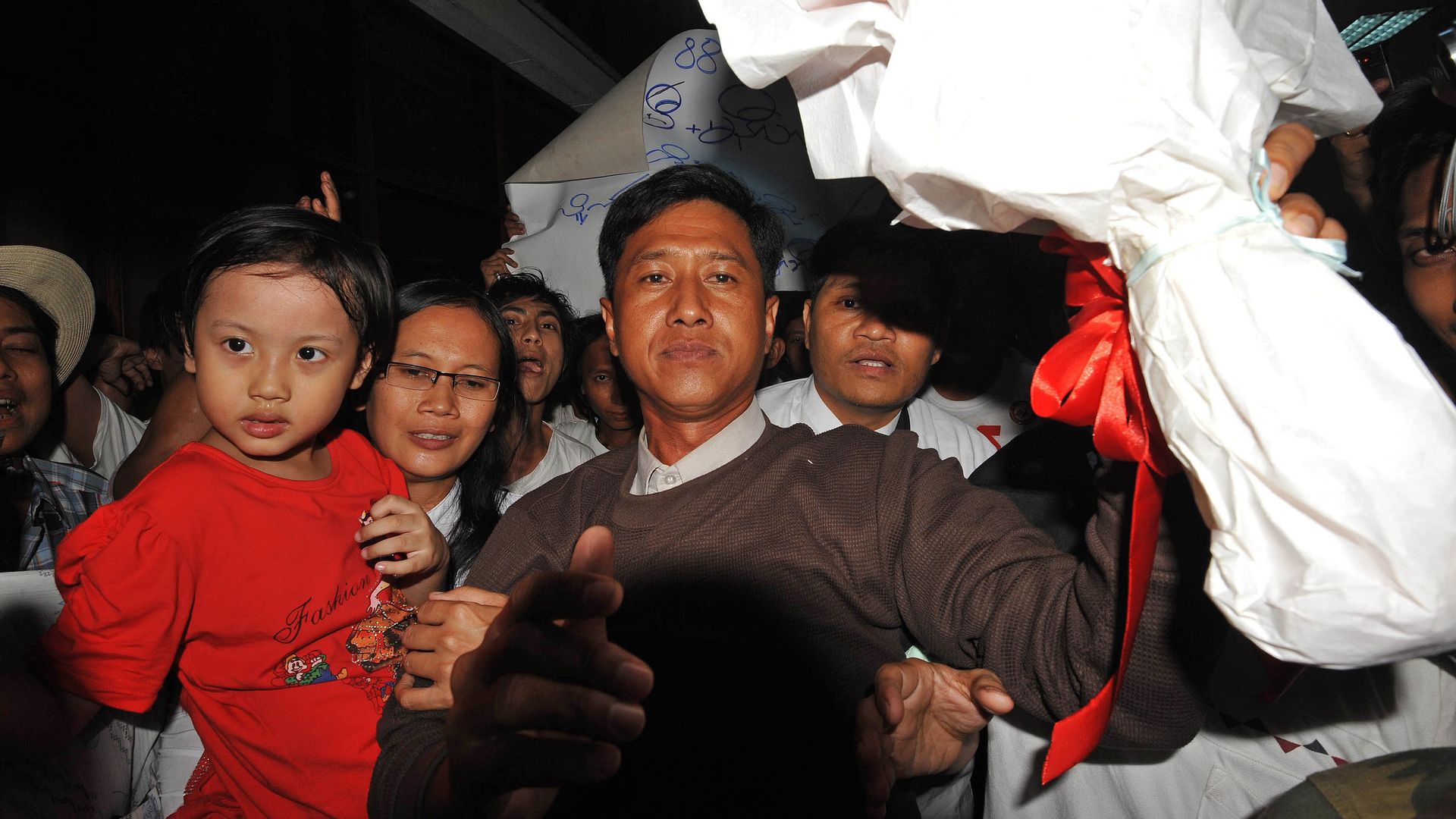 Myanmar's military junta has executed four democracy activists, including a former lawmaker from Aung San Suu Kyi's party, state media announced Monday following a trial condemned by the United Nations and rights groups.
The big picture: The killings of former National League for Democracy lawmaker Phyo Zayar Thaw, pro-democracy leader Kyaw Min Yu, better known as Ko Jimmy, and two other activists mark the first judicial executions in Myanmar since 1988, according to the U.N. The executions were swiftly condemned worldwide.
What they're saying: The United States "condemns in the strongest terms" the executions, Secretary of State Antony Blinken said in a statement Monday.
"These reprehensible acts of violence further exemplify the regime's complete disregard for human rights and the rule of law," he added. "The regime's sham trials and these executions are blatant attempts to extinguish democracy."
U.N. human rights chief Michelle Bachelet said she was "dismayed that despite appeals from across the world, the military conducted these executions with no regard for human rights."
"This cruel and regressive step is an extension of the military's ongoing repressive campaign against its own people," she added.
"These executions – the first in Myanmar in decades - are cruel violations of the rights to life, liberty and security of a person, and fair trial guarantees. For the military to widen its killing will only deepen its entanglement in the crisis it has itself  created."
— U.N. human rights chief Michelle Bachelet
Tom Andrews, UN Special Rapporteur on the situation of human rights in Myanmar, called on the international community to take stronger actions against the military junta in the country.
"These depraved acts must be a turning point for the international community," Andrews said.
"What more must the junta do before the international community is willing to take strong action?" he added. "The status quo of international inaction must be firmly rejected."
State of play: The two democracy leaders and activists Hla Myo Aung and Aung Thura Zaw were among 114 people sentenced to death since the military seized power in a coup last year, according to Human Rights Watch.
"A military tribunal sentenced Ko Jimmy and Phyo Zeya Thaw to death on January 21 under Myanmar's overbroad Counterterrorism Law of 2014," per a statement from the rights group. "Hla Myo Aung and Aung Thura Zaw were convicted in April 2021 for allegedly killing a military informant."
The closed trials "fell far short of international standards," HRW notes.
For the record: Suu Kyi has been sentenced in military court to a total of 11 years in prison for a series of offenses following her detention after the Feb. 1, 2021, coup.
The 77-year-old Nobel laureate faces several other cases involving alleged corruption and violating the country's official secrets act, which could see her imprisoned for the rest of her life. She denies any wrongdoing.
Editor's note: This article has been updated with new details throughout.
Go deeper