California beachfront taken from Black couple officially returned to family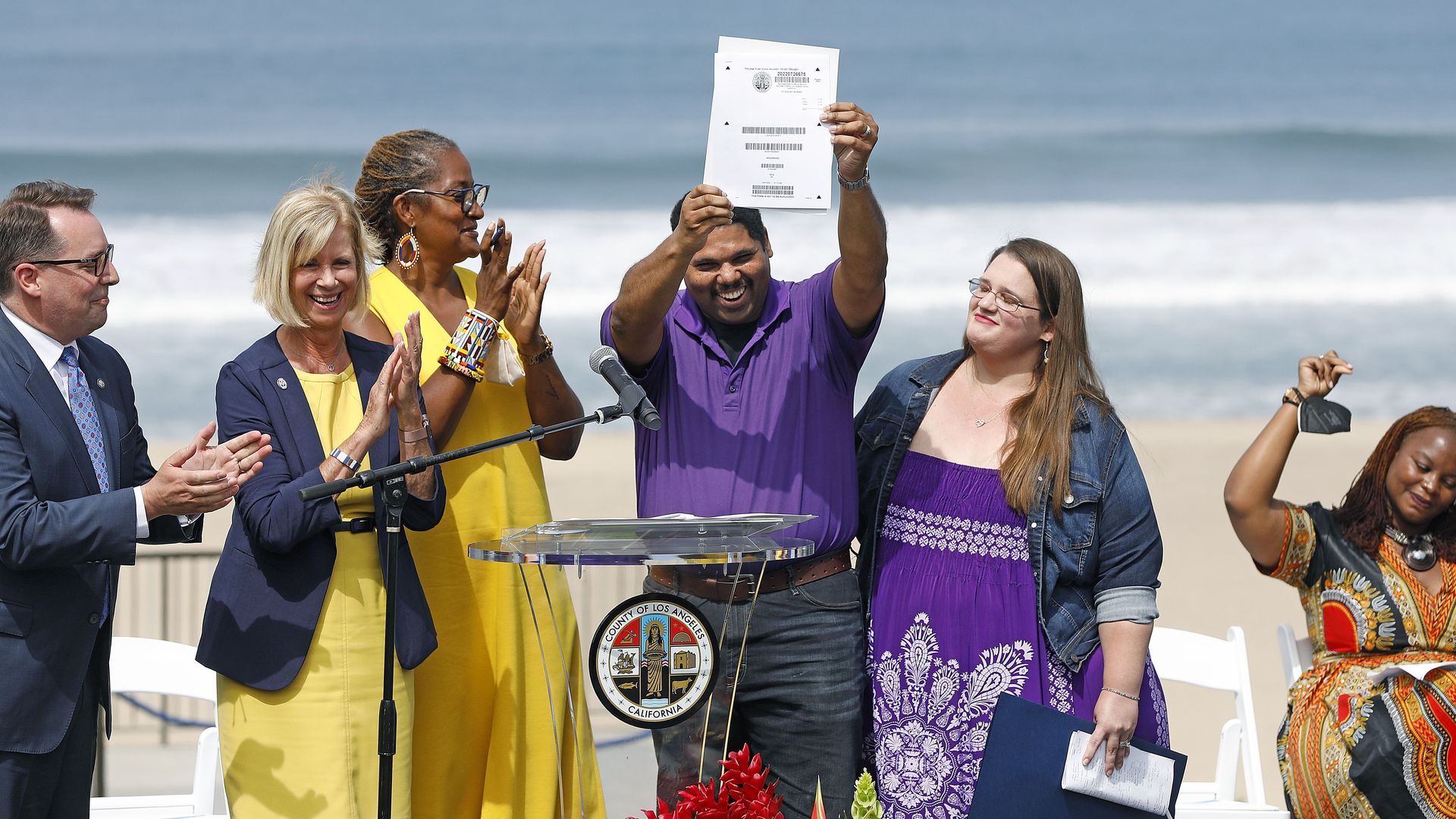 Los Angeles County made amends for a century-old racial injustice on Wednesday. The deed to beachfront property — taken from an African American couple that ran a thriving resort there in 1924 — was ceremoniously returned to their heirs, Reuters reports.
Why it matters: Dignitaries at a ceremony in Manhattan Beach called the return of government land unjustly acquired from Black citizens unprecedented in the U.S. — and a model for other jurisdictions.
What happened: Bruce's Beach — 7,000 square feet of prime real estate — had been a resort where Black people gathered and enjoyed the beach in the segregated L.A. County of the early 20th century.
"While her husband, Charles [Bruce], worked as a dining-car chef on the train running between Salt Lake City and Los Angeles, Willa ran a popular lodge, cafe and dance hall — providing Black families a way to enjoy a weekend on the coast," the L.A. Times reported in 2020.
In 1924, Manhattan Beach officials, ostensibly claiming eminent domain to build a park, forced out the Bruces. Over decades, the land was transferred to the state and then the county.
Activists and politicians determined the real motivation for eminent domain was racism. A state law was passed last year to approve returning the land to the Bruces' heirs.
The property now belongs to Marcus and Derrick Bruce, great-grandsons of Willa and Charles Bruce, who said they'll share the proceeds with their extended family.
Derrick Bruce attended Wednesday's ceremony along with his son, Anthony Bruce, who'll manage the property, which houses a lifeguard training facility. L.A. County will lease the land for $413,000 per year.
Go deeper