Ukraine's Foreign Ministry slams Victoria Spartz over "cynical" manipulations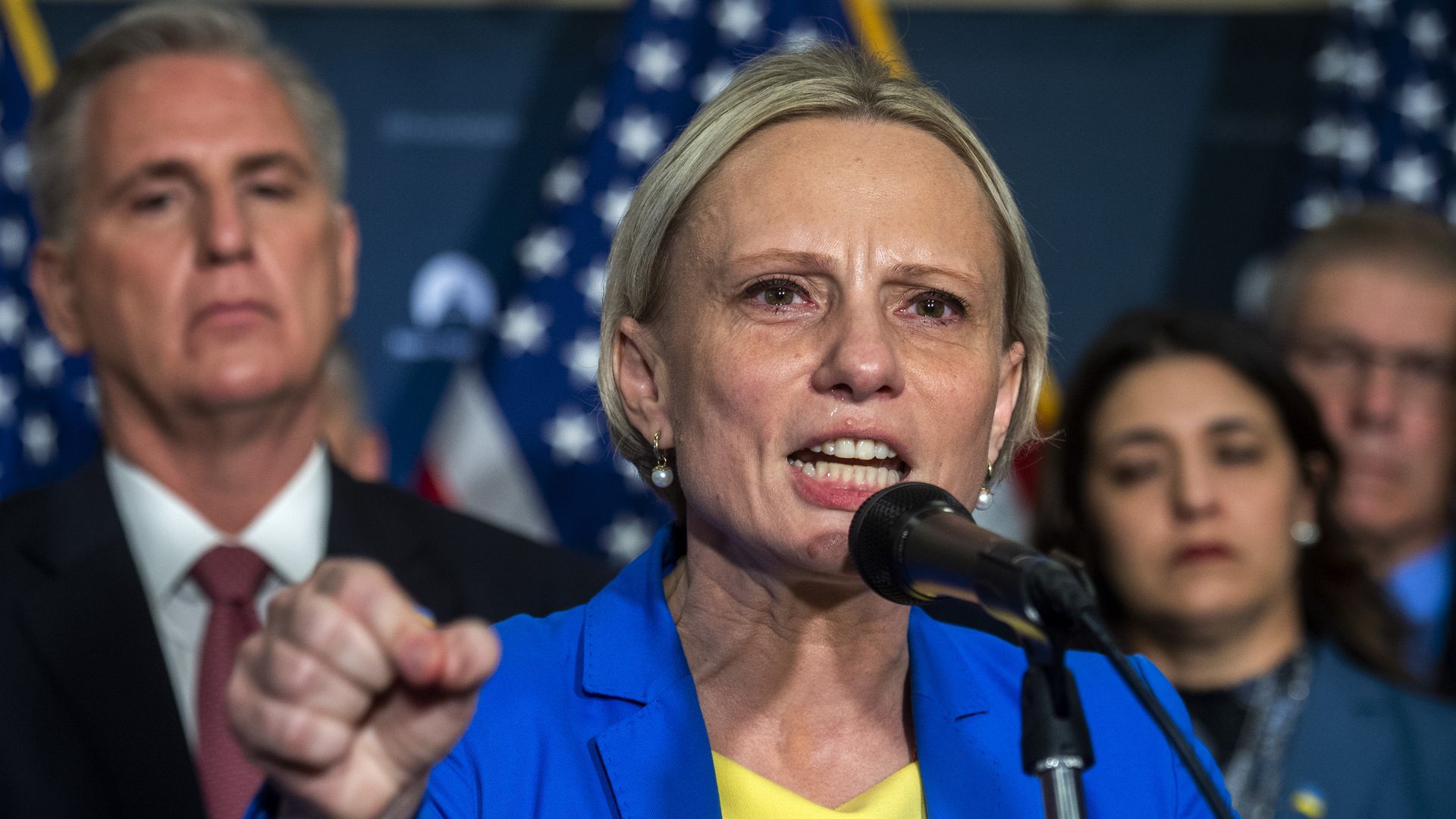 Ukraine's Foreign Ministry on Saturday slammed Rep. Victoria Spartz (R-Ind.), the only Ukraine-born lawmaker in Congress, for asking President Biden about allegations against Ukrainian President Volodymyr Zelensky's chief of staff.
Driving the news: "We advise Ms. Spartz to stop trying to earn extra political capital on baseless speculation around the topic of war in our country and the grief of Ukrainians," said Ukraine's Foreign Ministry spokesperson Oleg Nikolenko.
"Especially cynical are manipulations about Ukraine and its leadership from congresswomen of Ukrainian origin."
State of play: Spartz sent a letter to Biden asking him to brief Congress about Andriy Yermak's "alleged dealings in connection with Russia."
"Congress needs to obtain this information urgently to confirm or deny various serious allegations. Considering our material involvement in this conflict, we owe this level of rigor and accountability to the American people as Ukraine urgently needs increased levels and speed of security assistance, which unfortunately have not been prioritized by the Biden Administration," according to a press release from Spartz's office.
What they're saying: Nikolenko started his statement by thanking the U.S. for its "unwavering support in the fight against Russia's aggression," and then said, "On this background of extensive support especially contrasts the recent actions and statements" of Spartz.
"They are an undisclosed attempt to bring back into American politics classic narratives of Russian propaganda about Ukraine's leadership's seemingly ties to Russia and to drag our state into U.S. domestic politics."
"The Ukrainian side interacts with American partners as openly as possible, providing them with comprehensive information about the use of technology. Further bureaucratization and prolongation of the process, which Victoria Spartz obviously wants, will only contribute to the further advance of the Russian invaders. The Kremlin is counting on such a scenario."
Spartz responded to the ministry's comments saying, "[b]ased on the strong support I have been receiving from Americans, Ukrainians and many people around the world, I understand why my comments struck a chord with the Ministry of Foreign Affairs of Ukraine."
"I encourage the Ministry to consider my statement with the kind of seriousness these questions about Mr. Yermak demand, instead of launching ad hominem attacks as they have thus far. Ukrainians and Americans will be better served by our governments responding with due diligence — not defensive platitudes."
Go deeper