One woman's journey to day care on an electric bike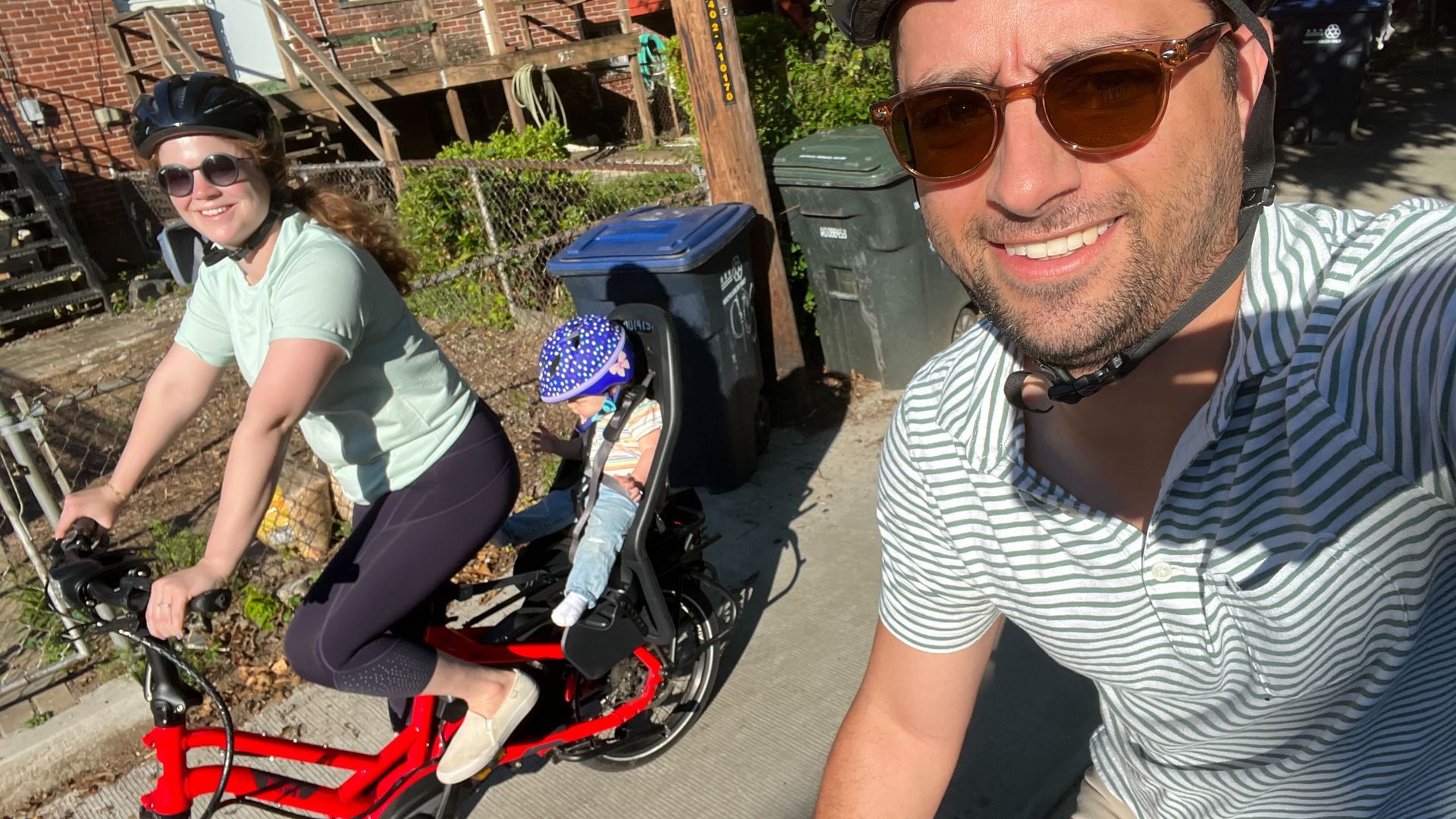 This summer I excitedly joined the ranks of parents who tote their children to day care and elsewhere via electric bike.
Why it matters: Electric bicycling is exploding in popularity — with notable uptake in urban areas like Washington, D.C., where I live.
It's an attractive option for those who like biking but don't want to be constantly sweating up hills, or for people who need another means of transport but can't afford or don't want another vehicle.
For me, a 20-minute walk to day care has turned into a 5-minute bike ride. I'm in the car less, parking is a breeze, and it brings me joy to cruise around with my kid.
Plus, I may be doing my part for the environment — and saving money on gas.
The backstory: My e-bike conversion began right after my daughter turned 1 year old and was big enough to sit on the back of a bike. I've always loved using rental e-bikes to get around D.C., and I was starting to resent having to get in my car to go somewhere with Clara that was too far to walk.
We purchased a friend's 2020 Tern HSD — a midsize cargo bike — when he upgraded to a larger model to hold his two daughters.
We added a Yepp children's seat and a front rack for storage.
And we learned how to shift the gears, navigate between power assist levels and charge the battery.
Technically, our bike is a pedelec, or electrically assisted pedal cycle (EAPC). It has an electric motor that kicks in only when the rider is pedaling.
While this is the kind you most commonly see on the street, other e-bikes are throttle-controlled and don't require pedaling.
The big picture: U.S. cities are testing out different electric bike incentives and programs, and bike advocates are pressing municipalities to add bike lanes. As Axios' Jennifer A. Kingson reported, e-bike sales were up 240% in the 12 months ending July 2021, compared with 2019.
My husband, Eli Glazier, who's a transportation planner in Montgomery County, Maryland, said he and his colleagues are implementing plans to help make biking a viable way to get around for people of all ages and abilities: "E-bikes are a fantastic tool to make that happen. We're seeing them more and more countywide."
Road test: To me, using the pedelec feels like riding a slightly heavier-than-average bike, but with a boost to go uphill without much effort — and some extra speed on flat roads.
The speed assist taps out at 20 mph, so it's hard to feel out-of-control.
I'm aware that biking for transit can be dangerous, and I'm extra careful to look out for cars and use hand signals for turning.
Ask the expert: Clara hates having her helmet put on, but once we get going, she claps and smiles, taking in the scenery. (She declined to provide a comment on her experience.)
We've taken Clara to day care, a doctors' appointment, a coffee shop and a restaurant via e-bike, with smooth experiences each time. And parking's free!
Go deeper