Musk, Twitter fight media proxy war over fake accounts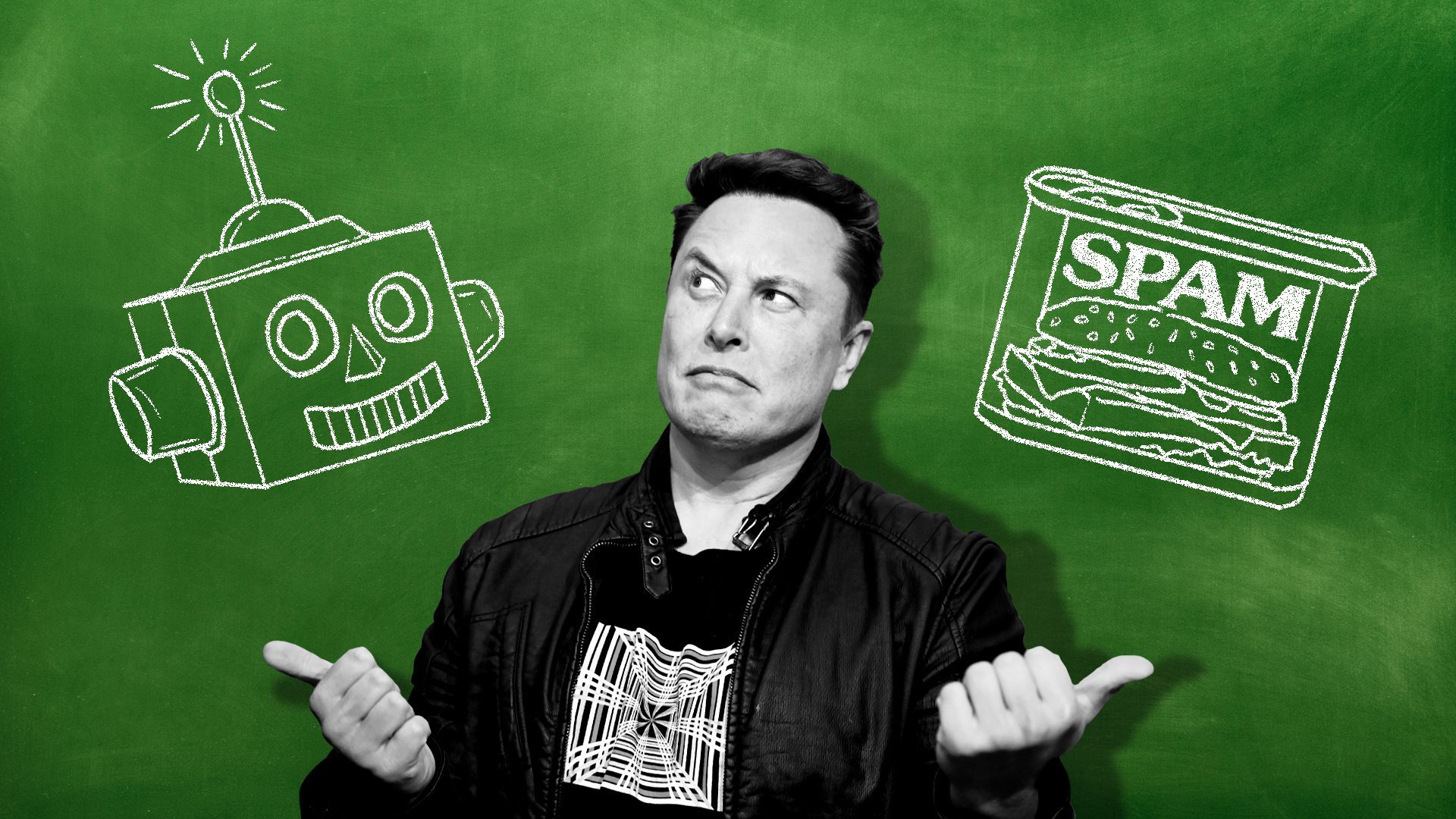 Elon Musk's team and Twitter management both took to the media Thursday to plead their cases in an ongoing argument over fake accounts, bots and spam that might scuttle Musk's deal to acquire the social media platform.
Driving the news: Sources close to Musk told the Washington Post Musk's team has "concluded that Twitter's figures on spam accounts are not verifiable" and that the deal is "in serious jeopardy."
Meanwhile, Twitter took its own case to reporters in a background briefing, laying out how it arrived at its longstanding claim that that fake accounts represent less than 5% of its base of monthly active users.
The big picture: Many observers view Musk's complaint about account metrics as an excuse for him to exit a $44 billion deal that has become far less financially attractive since its terms were set in April.
Between the lines: Musk has already signed the deal, so if he backs out, today's media fight will set the table for an epic legal fight.
Musk's case: Musk has tweeted that fake accounts could represent 20% of Twitter users, though he has never detailed his methodology or backed up the claim with evidence.
At another point he tweeted that the deal was "on hold" pending his ability to verify Twitter's claims. He has regularly demanded more information from Twitter and rejected the company's responses as insufficient.
Twitter's case: The company says it points human content reviewers at a specific sampling of tweets and relies on a variety of signals both public and private to evaluate the accounts' activity.
It says that no outsider, even those with access to its full stream of tweets, can replicate its process.
Twitter isn't claiming that only 5% of messages users see will be spam — just that less than 5% of monthly users are fake.
Many real people are active users but don't tweet at all, while spam-posting accounts are often prolific.
At issue: As we've written, the term "bot" means different things to different people.
Some use the term to refer to accounts that are actually real people copying and pasting a comment, while others apply the label even more broadly as a way to discount those with whom they disagree.
Twitter says it uses the term specifically to refer to automated accounts, i.e. those whose tweets are sent automatically via software rather than those whose messages are typed in by a human.
Between the lines: Twitter sees many automated accounts as legitimate. It raises flags on accounts, automated or human, that post spam, attempt to manipulate conversations or try to distort public opinion.
The company says that it uses a range of tools and systems to detect spam.
While it can share its full feed with researchers and other partners, when it analyzes potential fake accounts Twitter says it relies heavily on other signals.
That data, including private info such as users' IP addresses, geolocation and individual account behavior, cannot be shared with outsiders.
Twitter says it thwarts more than 1 million fake account signups each day.
Be smart: How spammy one's experience on Twitter is varies based on the accounts one follows and the conversations one joins.
If you are following accounts talking about crypto or porn, for example, expect tons of spam, Twitter says.
The experience also varies for high-profile users such as Musk, who has over 100 million followers. Users frequently tag such accounts or join in their conversations to try to grab a larger audience. By one estimate, about half of Musk's followers are fake accounts.
Yes, but: Adding hurdles for spammers can also slow the recruitment of actual new users, something both Musk and Twitter agree is a priority.
Forcing "captchas" on those who sign up — asking them to pick out which photos have crosswalks or trees, for instance — can slow spammers, but it also causes real people to decide maybe they don't need to join Twitter, especially in places where slower internet connections are the norm.
Meanwhile: Twitter announced a round of layoffs from its recruiting team, affecting less than 100 employees.
Go deeper