Israeli PM and Palestinian president hold rare call ahead of Biden visit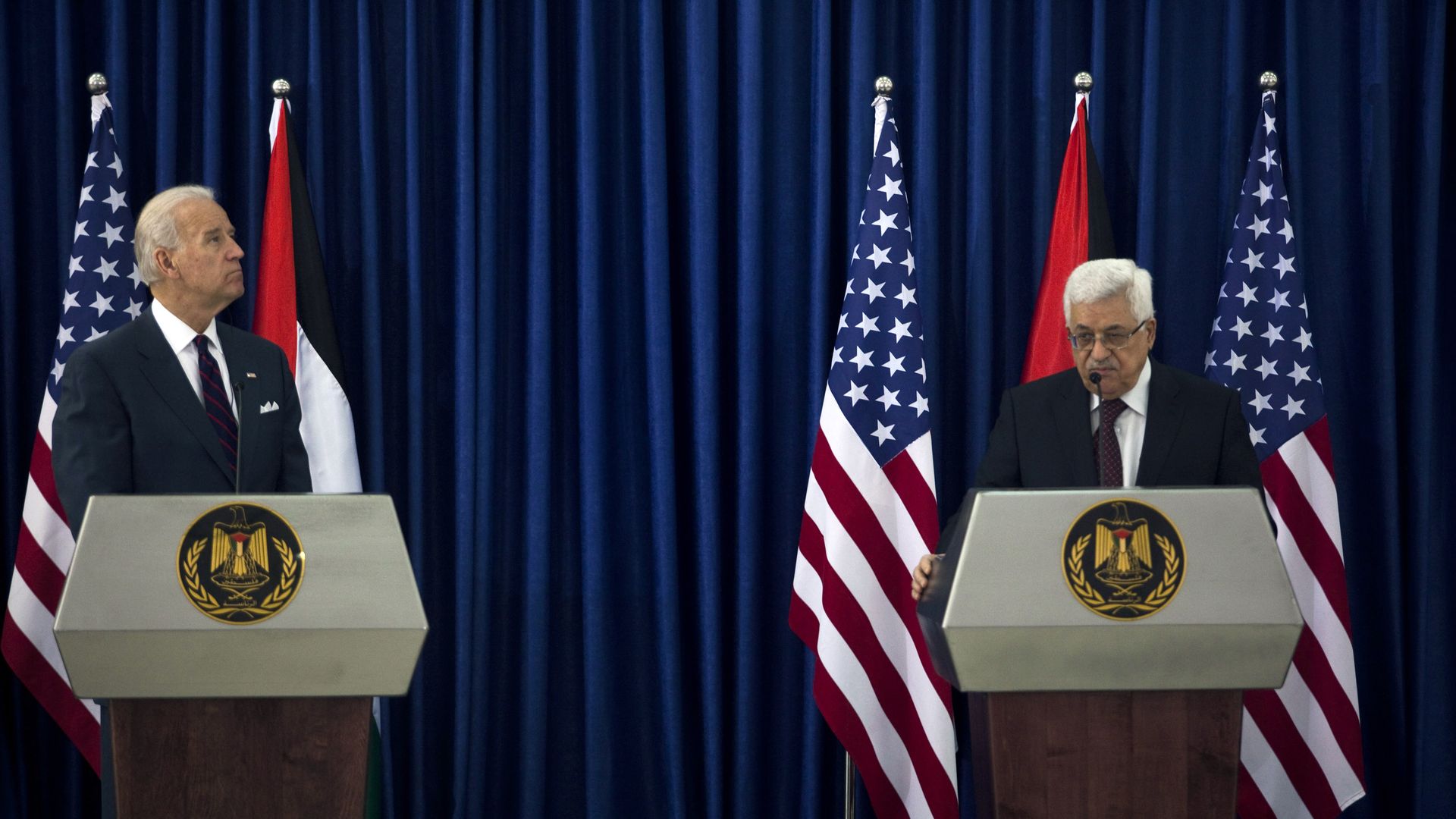 Israeli Prime Minister Yair Lapid and Palestinian President Mahmoud Abbas spoke by phone on Friday ahead of President Biden's trip to the region next week.
Why it matters: It's the first phone call between an Israeli prime minister and the Palestinian president in five years, and the Biden administration pushed for it to happen before the visit, Israeli and U.S. officials tell Axios.
On Wednesday, Secretary of State Tony Blinken asked Lapid during a phone call whether he would be willing to call Abbas to mark the Muslim holiday of Eid al-Adha.
Lapid agreed. Israeli officials say it was important for the U.S. that the call take place ahead of Biden's visit next week in order to improve the atmosphere.
Driving the news: During the call, Lapid offered Abbas best wishes for the holiday and Abbas congratulated Lapid for assuming office as prime minister, the Israeli Prime Minister's office said in a statement. 
The Palestinian readout of the call was very short and focused on the mutual greetings, but two Israeli officials say he told Lapid he hoped the call could lead to a meeting in the future.
The Israeli readout said the leaders discussed the need for continued cooperation, mainly on security issues.
The Israeli officials say Lapid also told Abbas it was important to maintain calm in the West Bank ahead of Biden's visit, and Abbas agreed and said he's working on it.
Flashback: The last such call took place in 2017, when Abbas spoke to then-Prime Minister Benjamin Netanyahu after a terror attack at the Temple Mount in Jerusalem. 
Before the call with Lapid, Abbas spoke on the phone with Israeli president Isaac Hezog. They also discussed Biden's visit, according to the Israeli readout.
On Thursday evening, Israeli Defense Minister Benny Gantz met Abbas in Ramallah for two hours. It was their third meeting in the past year.
A Ministry of Defense official briefed reporters that Gantz told Abbas the upcoming Israeli election campaign will complicate efforts to move forward on bilateral issues over the next few months.
Gantz stressed that he wants to continue strengthening the Palestinian Authority, and raised coordination between the parties around Biden's visit.
The Palestinian president's office said Abbas asked that Israel refrain from steps that could lead to an escalation in the West Bank, and proposed to Gantz that the sides work on creating a political horizon.
What to watch: Lapid said in a briefing with reporters in Paris on Tuesday that he wouldn't rule out a meeting with Abbas.
Go deeper