FBI director: Domestic terrorists increasingly inspired by international attacks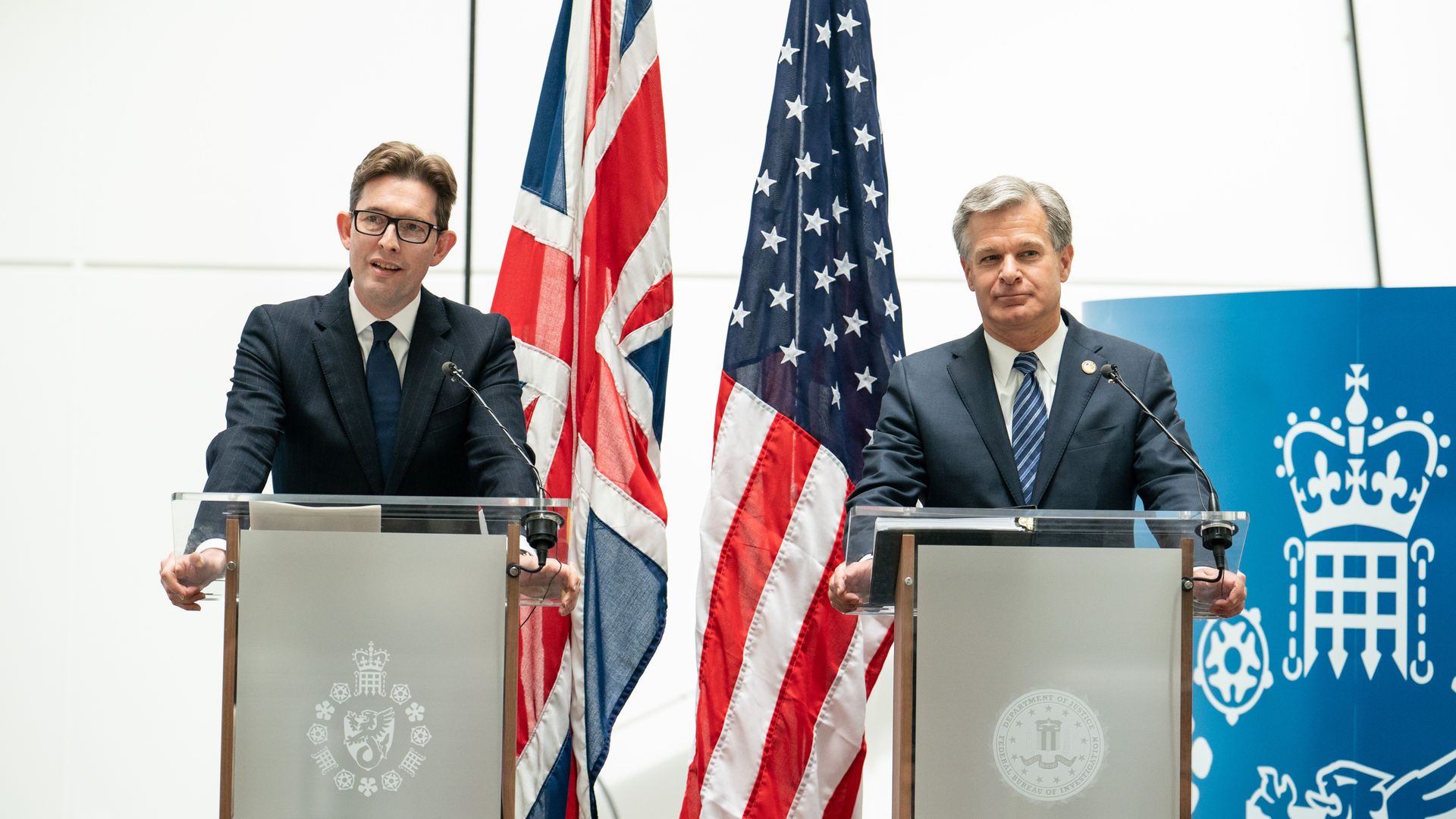 The FBI and British domestic security agency MI5 warned Friday that domestic terror cases are increasingly carrying an international component as extremists draw inspiration from neo-Nazism and racist attacks across borders, the Washington Post reports.
Why it matters: FBI Director Christopher Wray previously testified that the U.S. domestic terrorism caseload has "exploded" in size since spring 2020. Homeland Security Secretary Alejandro Mayorkas has called domestic violent extremism the "single greatest terrorism-related threat" in the U.S.
What they're saying: "Travel and technology have really blurred the lines between foreign and domestic threats," Wray told reporters alongside MI5 Director General Ken McCallum, per the Post. "You have people who may not be conspiring or colluding with each other, but who are in effect inspiring or egging each other on."
"You can see that for example with the attack in New Zealand, the attack in Norway, in some sense you see an attack in the U.S. that inspires somebody else to attack somewhere else," he added, referring to the Christchurch gunman who killed 51 people at mosques in 2019 and the Oslo far-right extremist who killed 77 people in 2011.
Roughly 20% of Britain's terrorism caseload involves bad actors motivated by racism, neo-Nazism or hateful ideologies, McCallum said. Many are on the younger side.
"The neo-Nazi racist groups, there is, if anything, a greater emphasis on juveniles within the caseload, a more obsessive interest in weaponry — in many cases even before there is some kind of attack planned," he noted.
"There's kind of an interest in weaponry for its own sake, so it creates a very difficult cocktail of risk we have to manage with great care," McCallum added.
The big picture: Experts have said an attack by a radicalized individual is much harder for law enforcement and platforms to detect or deter than coordinated mass events.
Go deeper