Biden is nowhere close to hitting his refugee goals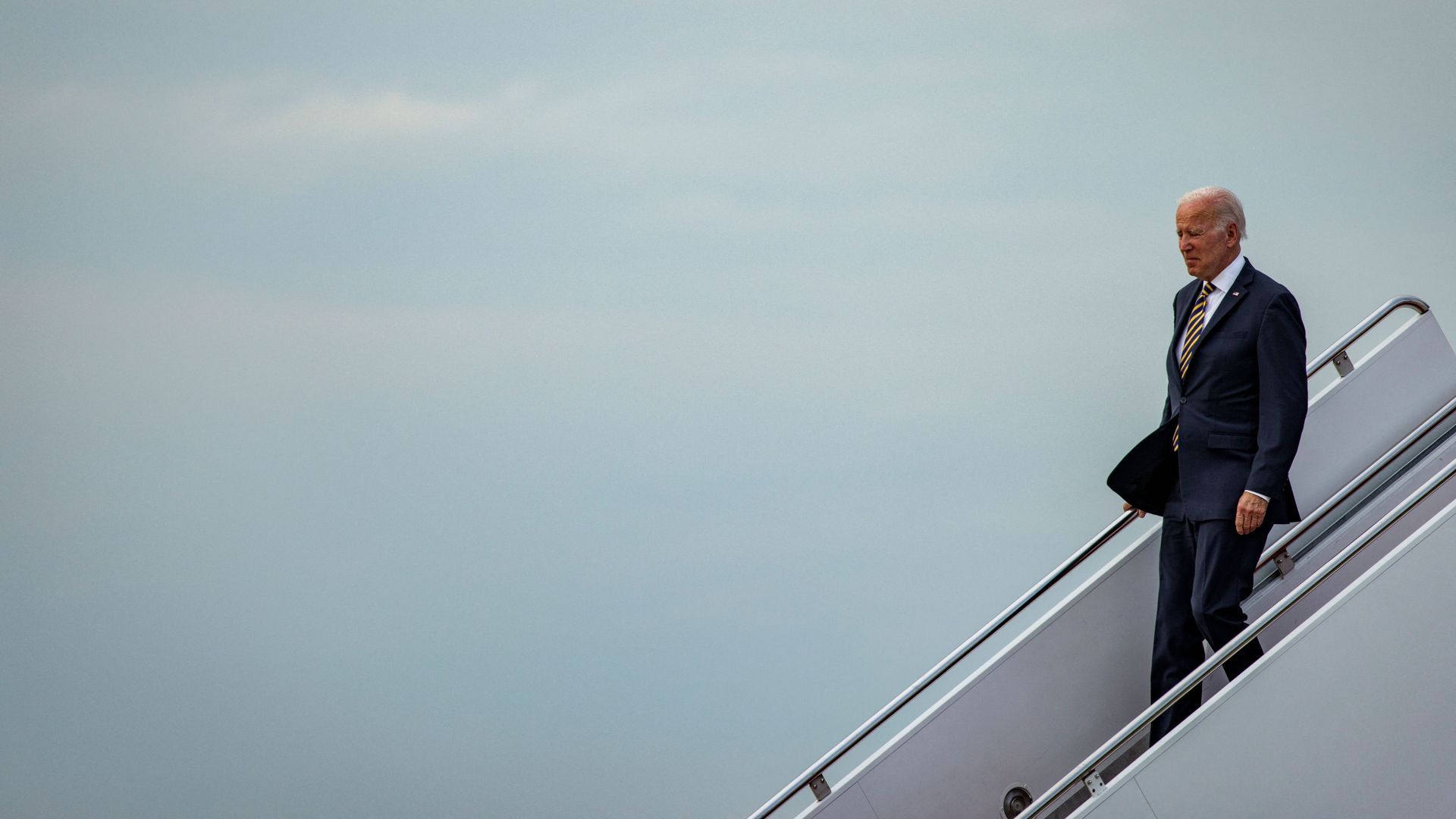 Biden officials expect to fall short by about 100,000 refugees on their goal to resettle 125,000 in the U.S. this fiscal year, according to two sources with direct knowledge of internal estimates.
Why it matters: The U.S. refugee system was drastically curtailed by the Trump administration and has since been beset by pandemic closures. Understaffed agencies have also been tasked with handling a surge in other types of humanitarian applications from Afghans and Ukrainians.
By the numbers: As of the end of June, 15,000 refugees had been resettled in the U.S. since Oct. 1, 2021, according to government data. The government expects to reach around 25,000 by the end of September, the sources said.
That would double last year's resettlement figures but account for only one-fifth of the 125,000-refugee target President Biden set last year.
The significant shortfall comes as the U.N. estimates more than 100 million people are now forcibly displaced from their homes around the globe — a historic milestone.
Between the lines: The figures do not account for the tens of thousands of Afghans and Ukrainians brought to the U.S. through other humanitarian mechanisms, such as parole.
The administration recently made it easier for Afghans in particular to access humanitarian parole for entry into the U.S., CBS News reported. This came after criticism over its rejection of thousands of applicants stranded in Taliban-controlled Afghanistan.
What to watch: Top U.S. officials have recently discussed ways to improve and expedite the sluggish refugee vetting process, such as surging hiring at relevant State Department and Homeland Security offices, the sources said.
The administration is also considering introducing online applications instead of relying on paper, and could move toward halting social media vetting for some populations due to concerns about the efficiency of the process.
What they're saying: "Despite the continuing challenges we have faced with COVID and the urgent need to rebuild the United States Refugee Admissions Program, we are committed to resettling as many refugees as possible this fiscal year," a State Department spokesperson told Axios.
Efforts to expedite the process include the use of video teleconferencing in some locations for refugee interviews by U.S. Citizenship and Immigration Services, the spokesperson added.
What to watch: Earlier this year, the administration announced efforts to expedite the refugee process for Afghans who have managed to escape Taliban control and are waiting at a base in Qatar.
While hundreds of Afghan refugees have now been through the process, more than 3,000 Afghans are still waiting in Qatar, according to one source with direct knowledge.
The government is currently processing Afghans at an average of 48 days, short of its goal of doing so within 30, the source said. 48 days is still an improvement for a process that can take years, a U.S. official said.
Go deeper