Juul decision triggers broader tobacco fight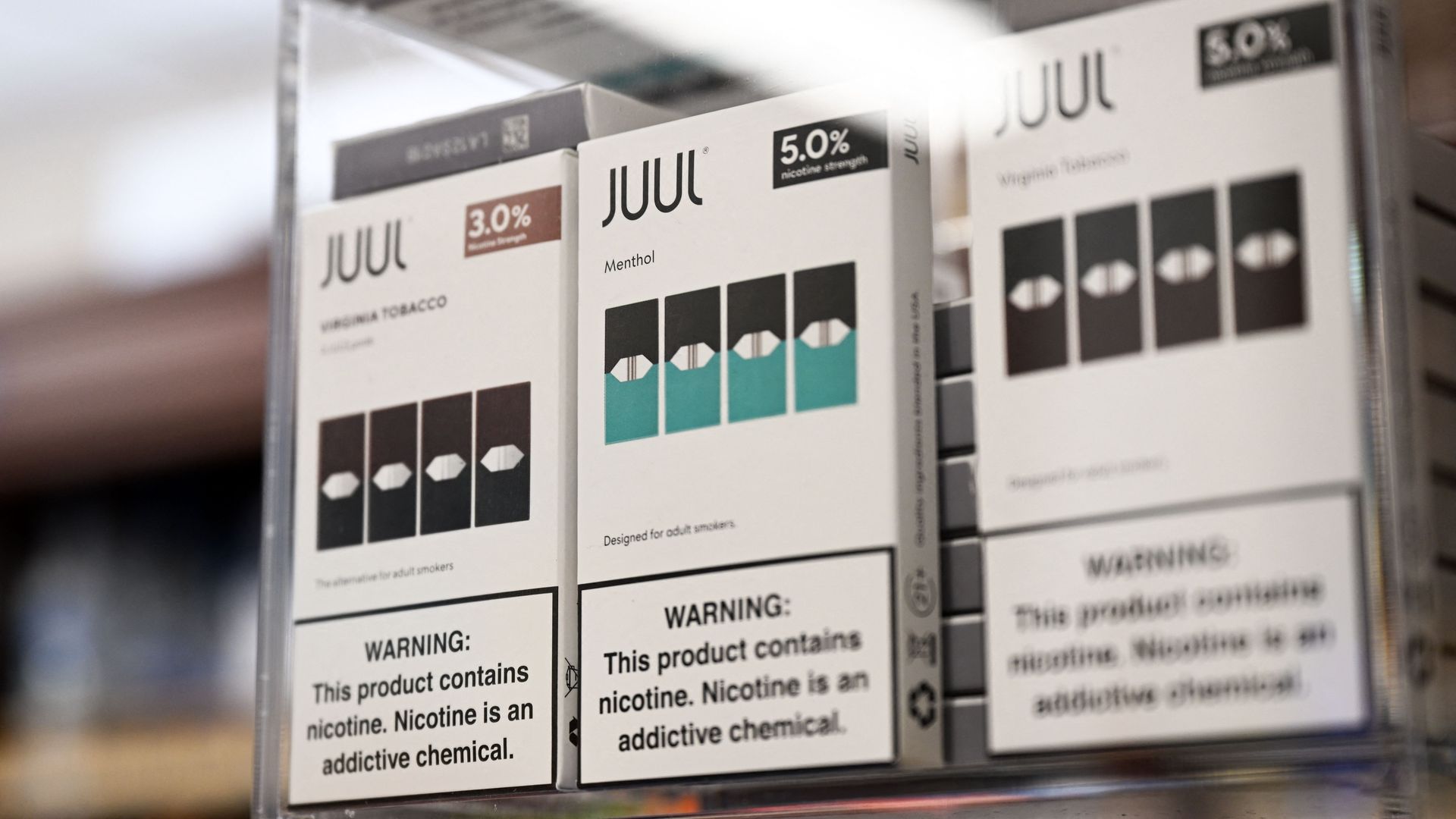 The FDA's decision to order Juul e-cigarette products off the U.S. market opens a new and grinding battle in the push to revamp the government's rules for smoking and vaping.
The big picture: With parallel efforts to cap nicotine in cigarettes and ban menthol cigarettes and flavored cigars, the Biden administration is pursuing a broad tobacco agenda not seen since the Clinton administration.
Yes, but: It could be a drawn-out and costly fight. Hours after the FDA issued its marketing denial order on Thursday, Juul said it would seek a stay and was exploring a possible appeal.
The tobacco lobby, e-cigarette makers and libertarian-leaning groups are digging in, portraying e-cigarettes as an effective cessation tool to wean adult smokers off cigarettes.
"The agency is hellbent on rigging the process to fulfill its prohibitionist agenda," said Amanda Wheeler, president of the American Vapor Manufacturers Association.
Go deeper: The FDA on Thursday said Juul's marketing application didn't have enough evidence to show the sale of the company's products would be appropriate for the protection of public health.
FDA commissioner Robert Califf also said Juul products may have played a "disproportionate role in the rise in youth vaping."
Public health groups like the American Heart Association said the decision marks a dramatic step to discourage youth smoking.
The popularity of the company's products led a new generation of teens to get hooked on smoking, driven by fruit and mint-flavored cartridges that fit in small vaping devices, research in the journal Pediatrics showed.
The burst in youth vaping led the FDA to ban most flavored cartridges products in a bid to cut off an alternative nicotine source.
The road ahead: The FDA has authorized 23 e-cigarette products and continues to work through a slew of pending applications.
These include numerous bottled vaping liquids sold to adults in different flavors and nicotine strengths, per the Washington Post.
The agency has rejected applications for close to 1 million products, but last October granted tobacco giant R.J. Reynolds permission to sell three of its Vuse vaping products.
The bottom line: Anti-tobacco advocates say Thursday's decision didn't address the continued role of flavored e-cigarettes, including menthol-flavored products, in sustaining youth e-cigarette use.
"These remain critical issues requiring FDA to deny marketing applications for all flavored e-cigarettes, including all menthol-flavored products and the flavored disposable products like Puff Bar that have become so popular with kids," said Matthew Myers, president Campaign for Tobacco-Free Kids.
But the decision still could ease some pressure on the agency from Democrats in Congress, who had accused the FDA of moving too slowly and giving big tobacco companies a free pass.
Go deeper