Abbott halts production at Michigan baby formula plant due to storm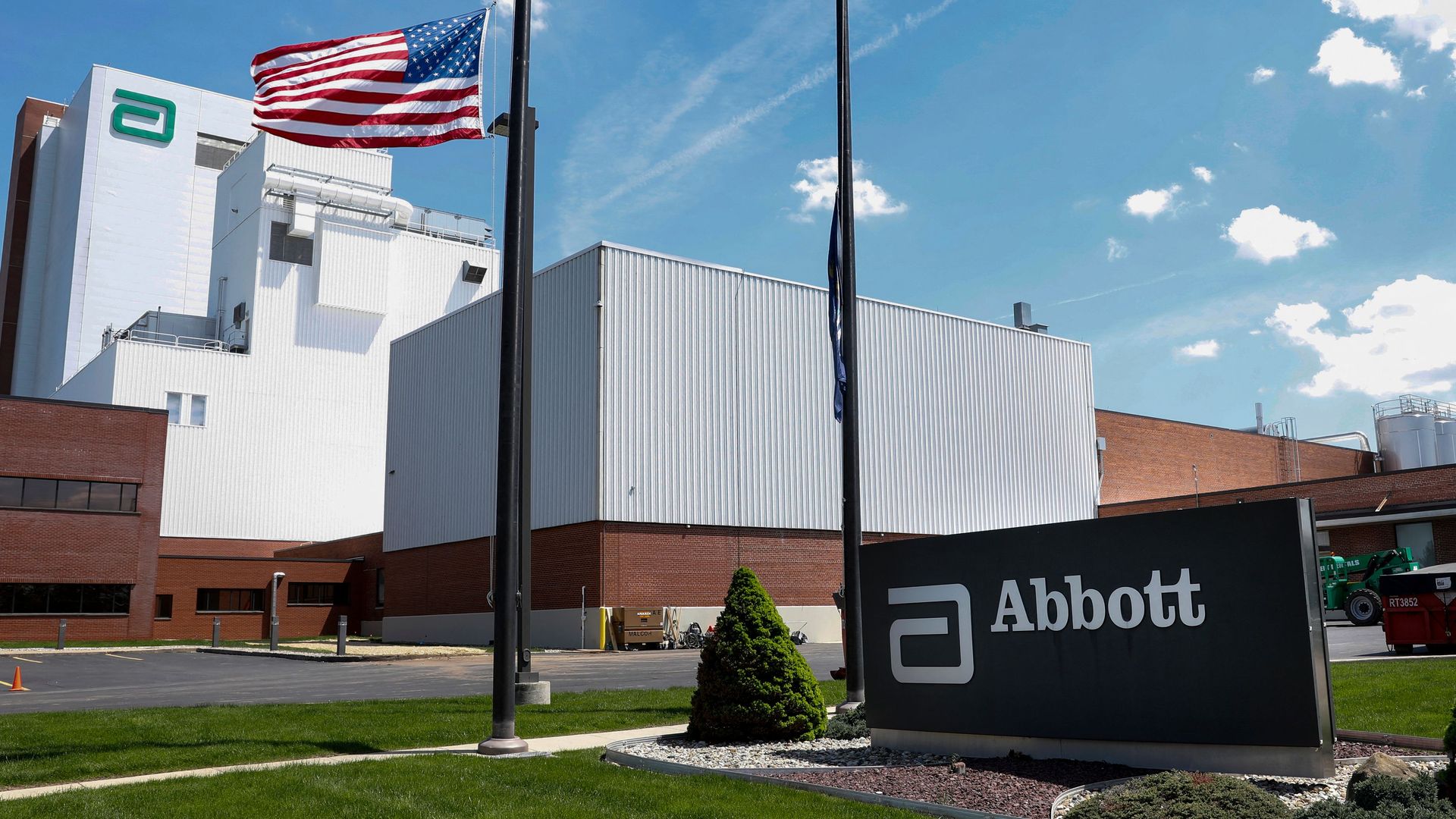 Baby formula manufacturer Abbott announced late Wednesday it has paused production at its plant in Sturgis, Michigan, due to a severe storm system that caused flooding.
Why it matters: The U.S. has faced a baby formula shortage because of supply chain issues compounded by the earlier closure of Abbott's Sturgis facility after an FDA product recall. The plant resumed production of EleCare and other specialty and metabolic formulas on June 4.
Damage to the plant from the storms that swept the Midwest and other regions means the production and distribution of Abbott's products produced at the plant will be delayed "for a few weeks," per a company statement.
Yes, but: "Based upon historical demand and current projections, Abbott has ample existing supply of EleCare and most of its specialty and metabolic formulas to meet needs for these products until new product is available," the firm said.
Driving the news: "Severe thunderstorms and heavy rains came through southwestern Michigan on Monday evening, resulting in high winds, hail, power outages and flood damage throughout the area," Abbott said.
"These torrential storms produced significant rainfall in a short period of time — overwhelming the city's stormwater system in Sturgis, Mich., and resulting in flooding in parts of the city, including areas of our plant," the company continued.
"As a result, Abbott has stopped production of its EleCare specialty formula that was underway to assess damage caused by the storm and clean and re-sanitize the plant," Abbott added.
What they're saying: Food and Drug Administration commissioner Robert Califf tweeted on Wednesday night that the FDA had been "made aware of the weather-related situation" at the Sturgis plant.
"I personally spoke to the CEO tonight and we discussed our shared desire to get the facility up and running again as quickly as possible," he said.
"While this is an unfortunate setback and a reminder that natural weather events can also cause unforeseen supply chain disruptions, I want to reassure consumers the all-of-government work to increase supply means we'll have more than enough product to meet current demand," Califf added.
Worth noting: Califf said Abbott had been "exceeding the monthly quantity of formula that it produced in 2021 — all while the Sturgis facility is out of production."
"Other producers also continue to make formula at higher-than-average rates, and we continue to exercise flexibility to import" additional formula, he added.
The bottom line: "This means that the total amount of formula available, even before the Sturgis plant is back in production, exceeds the demand for formula prior to the recall," per Califf.
What's next: Abbott said it "will conduct comprehensive testing in conjunction with the independent third party to ensure the plant is safe to resume production."
Editor's note: This article has been updated with comment from Califf.
Go deeper