Wildfires ignite in Southwest as record heat wave threatens U.S.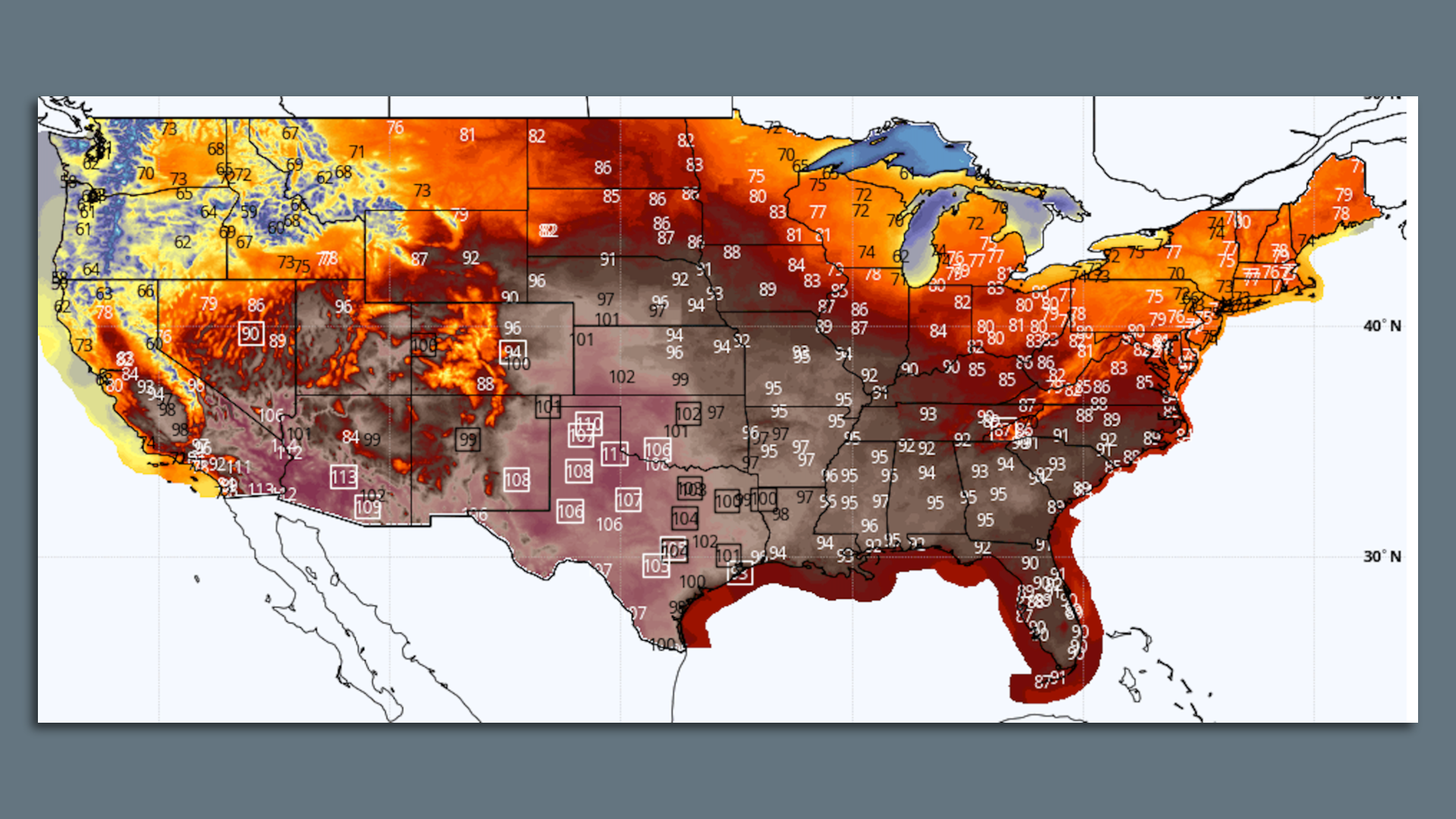 Nearly 100 million people are facing heat warnings and advisories across the U.S. this week due to an early season heat wave that saw high-temperature records set from California to Texas over the weekend.
The latest: At least three wildfires ignited in drought-stricken Southern California on Sunday, per NBC News. San Bernardino County's Sheep Fire, which ignited Saturday, has swollen to 990 acres in size and was 5% contained, according to Inciweb.
For the record: Heat waves are the deadliest type of weather emergency in the U.S. and they're growing in frequency and intensity due to global warming.
The big picture: "Dangerous heat" was set to continue across the Southwest and Southern and Central overnight before "shifting farther north and east on Monday and Tuesday," the National Weather Service warned.
Excessive heat warnings and advisories stretch from the Desert Southwest to the lower and middle Mississippi Valley, with more record heat expected across those areas Sunday night, with nighttime temperatures forecast to bottom out in the upper 70s and 80s in many locations, per the NWS.
All of Arkansas and Oklahoma, most of Louisiana, Tennessee, Nebraska, Missouri, Illinois and Texas, as well as large parts of Arizona and New Mexico, were under heat advisories and excessive heat warnings through early this week.
By the numbers: The National Weather Service issued excessive heat warnings for some 25 million people and heat advisories for nearly 72 million others Sunday.
Zoom in: Las Vegas hit a high of 109°F on both Friday and Saturday, tying the record high set back in 1956, the National Weather Service tweeted.
Temperatures in Phoenix climbed to 114°F on Saturday, a tie with the previous record set in 1918, per NWS.
Denver hit 100°F for the first time since 2013 and also broke a record for the earliest calendar day to reach the milestone.
Our thought bubble, viaAxios' Andrew Freedman: This extreme heat event is hitting normally warm places but with temperatures that are unusually hot for so early in the season.
The public health risks are compounded by record warm overnight temperatures, which deprive people of the chance to cool down, and raise heat illness risks.
The heat is likely to swell east over time, roasting the Carolinas, Midwest, Ohio Valley and Mid-Atlantic before re-settling back in the center of the country. The Southwest gets a reprieve after today, but the rest of the country does not.
Editor's note: This article has been updated with the latest details on the heat wave and wildfires. The story's caption has been corrected to reflect the temperatures are for June 12, 2022, not June 12, 2011.
Go deeper