Biden unveils historic migration agreement for Western Hemisphere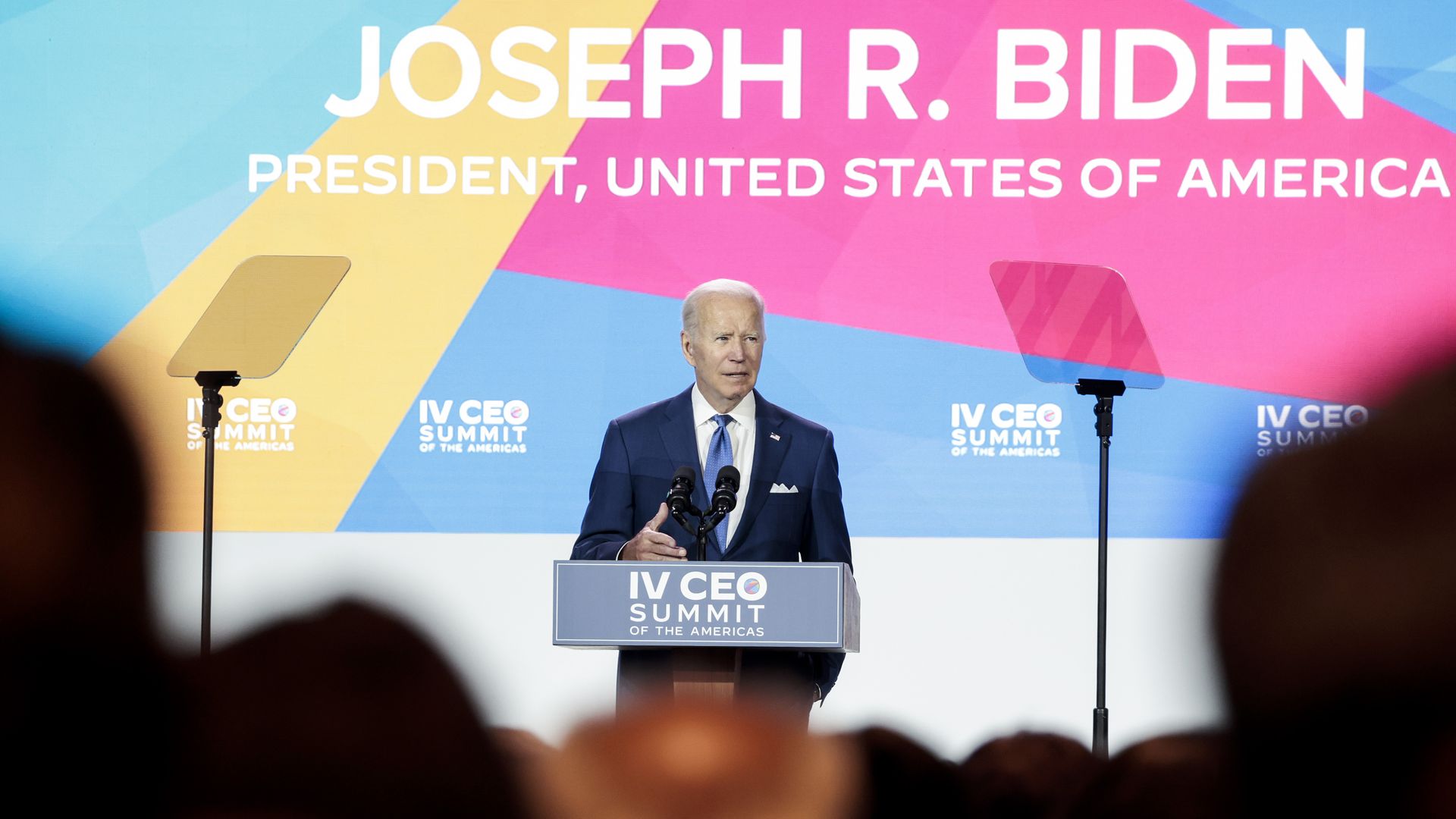 President Biden unveiled a sweeping declaration on Friday, with buy-in from countries from Canada to Ecuador, to help stem migration and promote welcoming policies throughout Latin America, the Caribbean and the U.S.
Why it matters: The move comes as record numbers of migrants continue to cross the U.S.-Mexico border. Biden announced the declaration at the Summit of the Americas despite the absence of heads of state in several key countries such as Mexico, Guatemala and Honduras.
Argentina, Barbados, Belize, Brazil, Canada, Chile, Colombia, Costa Rica, Ecuador, El Salvador, Guatemala, Haiti, Honduras, Jamaica, Mexico, Panama, Paraguay, Peru and Uruguay joined the U.S. in the declaration.
What they're saying: "We embrace the need to promote the political, economic, security, social, and environmental conditions for people to lead peaceful, productive, and dignified lives in their countries of origin. Migration should be a voluntary, informed choice and not a necessity," the countries said in the declaration.
"We remain committed to collectively leveraging the benefits of migration while addressing its challenges in countries and communities of origin, transit, destination, and return," they added.
"We do so in a spirit of collaboration, solidarity, and shared responsibility among States and in partnership with civil society and international organizations."
The details: An overview released Friday listed actions taken by Belize, Colombia, Costa Rica, Ecuador, Canada, Guatemala, Mexico and the U.S. to expand temporary labor programs, set new refugee targets, create new temporary protected status programs and pour new humanitarian funding into the region among other efforts.
The U.S. is committing to hundreds of millions of dollars in aid for refugees and vulnerable migrants in the region as well as supporting new programs in Ecuador and Costa Rica that provide temporary legal status.
Canada will also invest $27 million in 2022-2023 to address root causes.
Belize plans to launch a regularization program in August for Central American and Caribbean migrants living there illegally.
The Biden administration is pledging to bring in 20,000 refugees from the region in the two upcoming fiscal years — three times as many as this year — as well as resettling more Haitian refugees.
Canada aims to welcome up to 4,000 refugees from the Americas by 2028.
The U.S., Canada, Mexico and Guatemala will all expand or improve legal, temporary work programs for migrants.
Spain is also doubling the number of labor pathways for Hondurans.
What to watch: The Biden administration is also launching a sweeping, first-of-its-kind "Sting Operation" targeting human smuggling networks across the Hemisphere, which launched in April.
""We have brought an all-of-government effort to attack the smuggling organizations....I think it's scale and scope; it's tactics and strategy. It's really unprecedented," Homeland Security Secretary Alejandro Mayorkas told CNN.
The Department of Homeland Security said these efforts have already led to 20,000 arrests, prosecutions, property seizures or criminal investigations as well as an estimated 900 fewer migrants arriving at the U.S.-Mexico border each day.
Go deeper